In her final update from her season of volunteering with the Yosemite bird-banding crew, Chris Singfield recalls notable moments from the last 10-day data-collection session of 2019, which aligned with the 10th MAPS (Monitoring Avian Productivity and Survivorship) period, and recaps the team's accomplishments from nearly three months of hard work in the meadows.
July 30–August 8, 2019 —​ I can't believe our last period of bird-banding has approached already! We're finishing strong, catching even greater numbers of juvenile and dispersing birds than in earlier periods.
Big Meadow didn't disappoint. Remember the male American redstart we caught here back in June? Well he's still here! We recaptured him —and this time he was adorned in magnificent adult plumage. (One of the rewarding aspects of banding toward the end of the breeding season is that you get to see birds beginning their post-breeding molt prior to migration. We have been reading about molt patterns for months, and now the text is coming to life as we see individual birds who have molted before our very eyes!)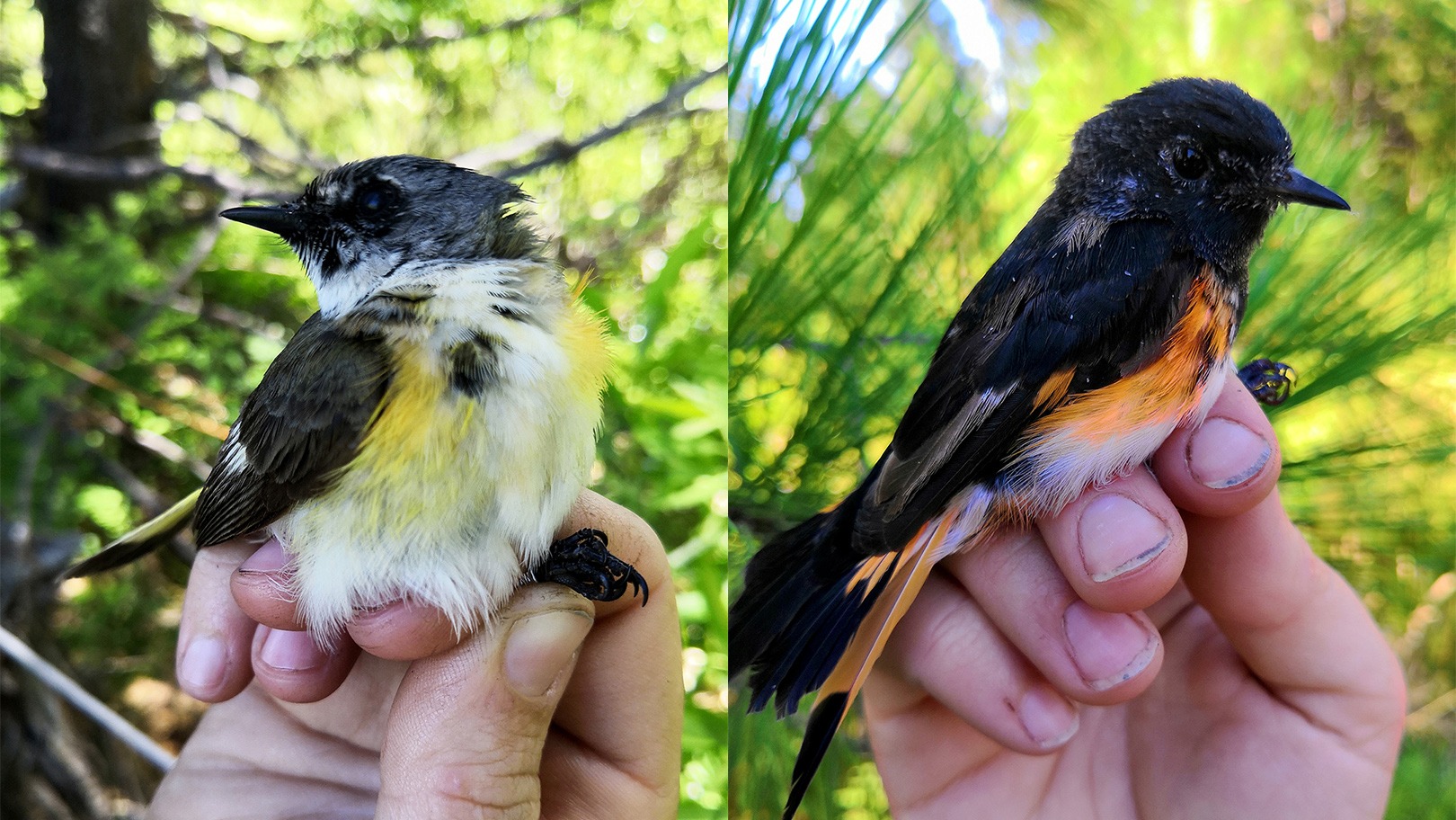 While at Big Meadow, we enjoyed a visit from an entire family of mountain quail that walked by the banding station in a line, the young birds following the adults. It was a beautiful moment. Later in the day, Yosemite's other resident quail species, the California quail, made an appearance, too.
At Hodgdon Meadow, orange-crowned warblers inundated our station in the lower meadow again. We caught 34 of the warblers in total: 30 new birds and four recaptures. The highlight of the day was a special visit from a young Townsend's solitaire who was eating berries off a bush right next to the banding station. Later on, we caught that same berry-eating bird, our first (and last) Townsend's solitaire for the whole 2019 season.
In another first, I banded my inaugural olive-sided flycatcher. They're surprisingly large — at first, I thought it was the biggest pewee I'd ever seen until I realized what I was holding!
Ackerson Meadow held onto its title as busiest site of the season! We saw a wide variety of birds, as always, including a flock of lesser goldfinches that landed in a single net, but the star of the day was the first Bullock's oriole of the season. We weren't the only people at work in this part of the park; members of the Ackerson restoration team were out taking a look at the meadow, and they enjoyed meeting some of our birds.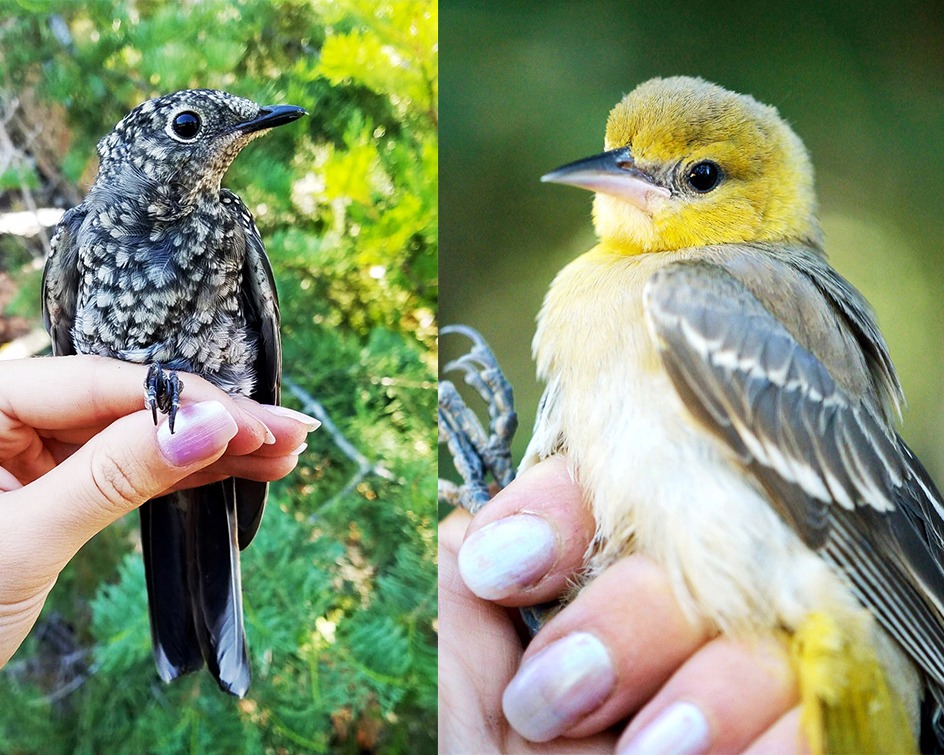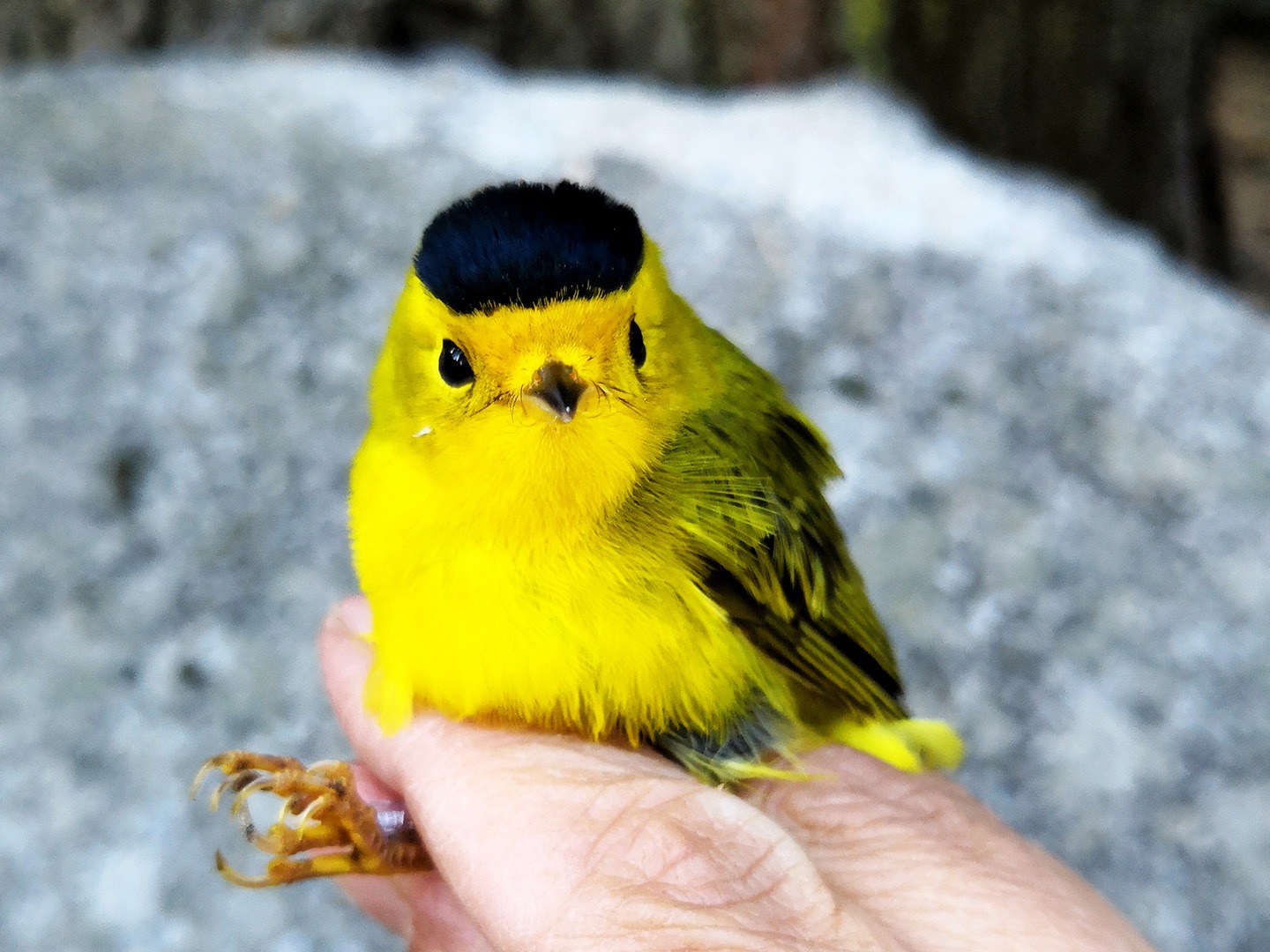 I wasn't expecting to see any more Wilson's warblers this season, as I thought they'd all gone, but they reappeared early in the morning while we were working at Crane Flat, much to my delight! At nearby Gin Flat, I banded Pacific-slope flycatchers, orange-crowned warblers and Lincoln's sparrows.
On our very last day, we banded more birds than we expected at the usually quiet White Wolf site. I got to say goodbye to some of the species that had become "regulars" over the course of the season, including orange-crowned warblers, Oregon juncos and a mountain chickadee.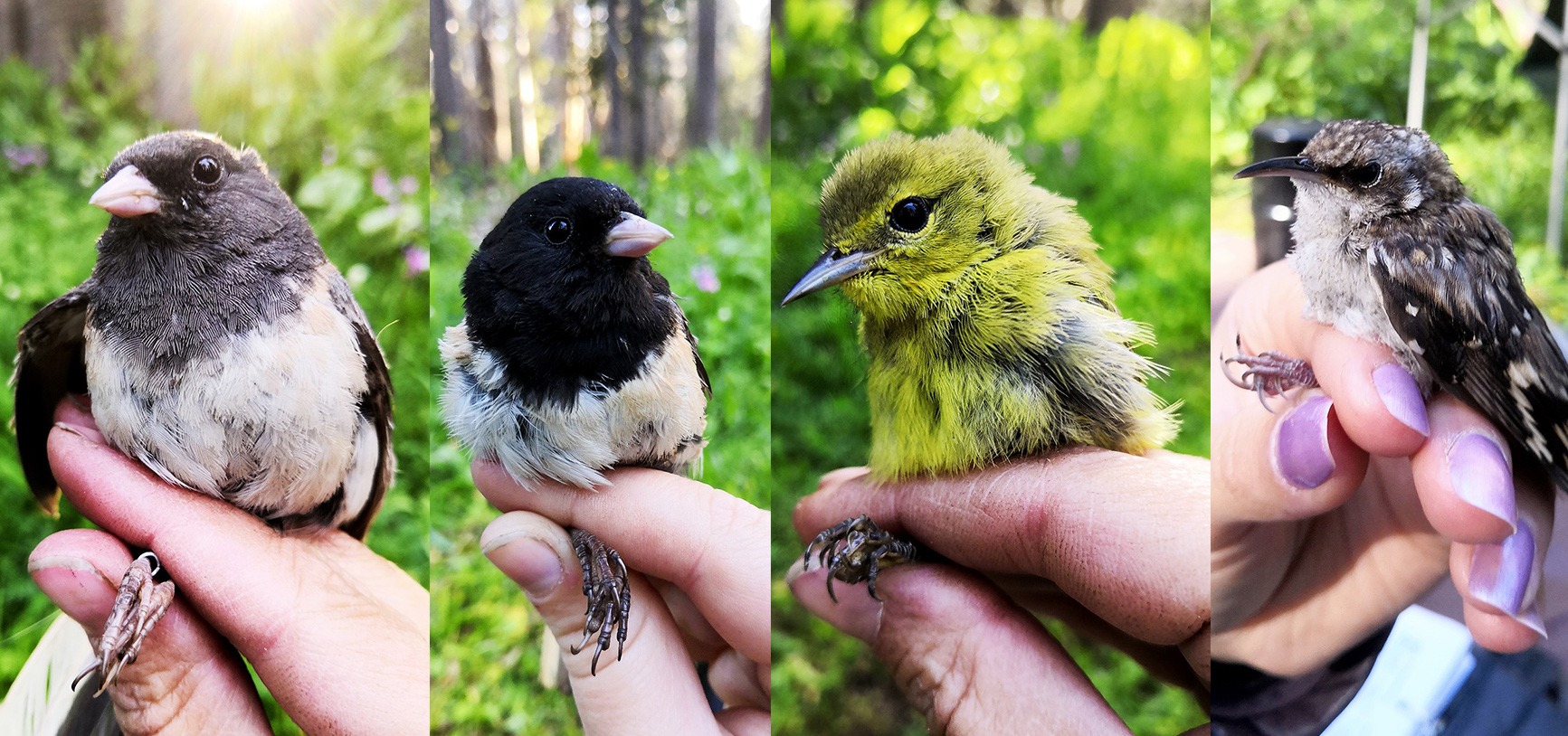 It is with a tear in my eye that I leave you with a photo of myself holding our final bird of the season: a baby Audubon's warbler. This young bird was just starting to molt into its formative plumage; most of its body was covered in fluffy juvenile feathers, but I spotted a few adult feathers on its forehead.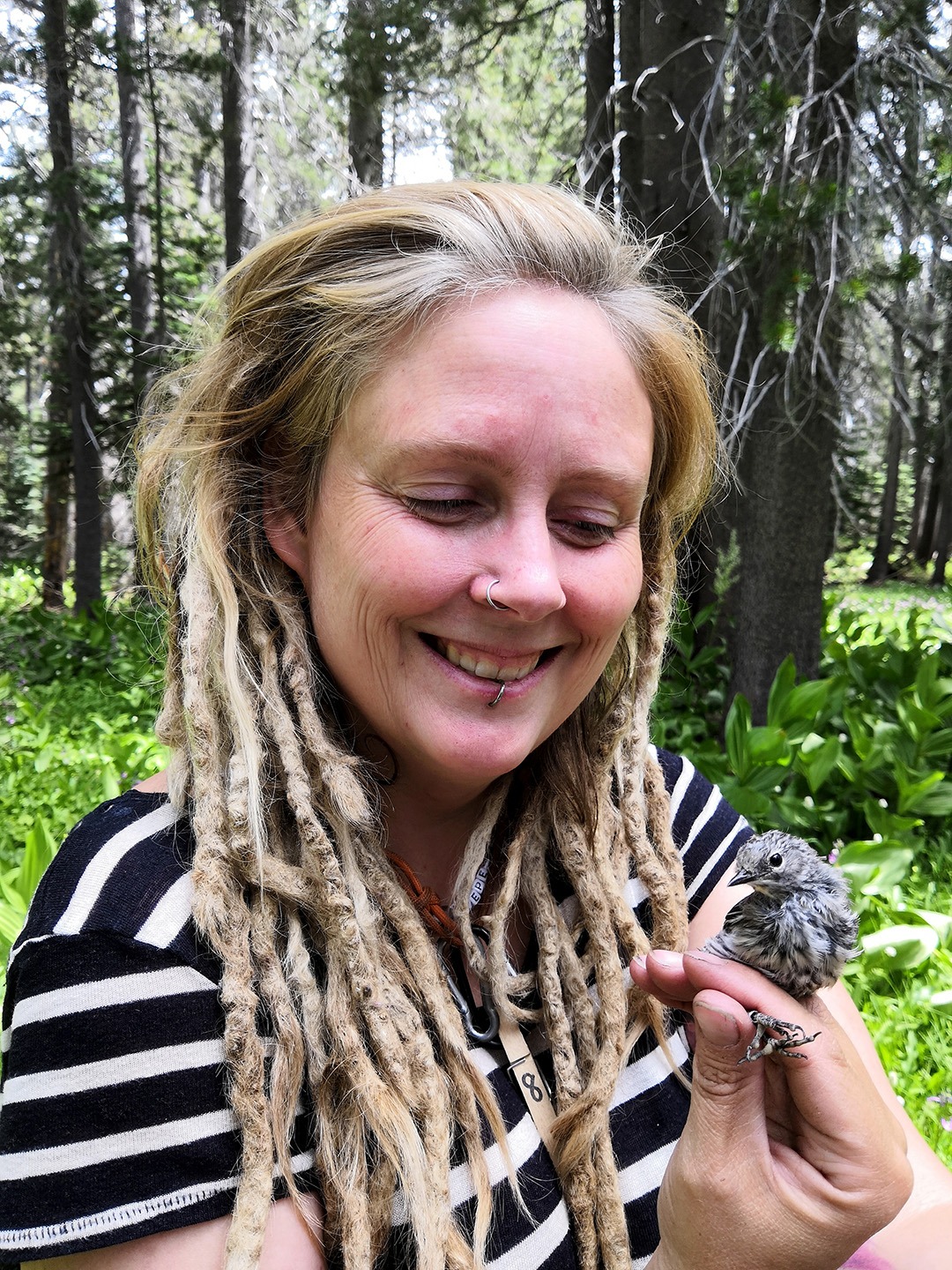 I had a stellar season working in Yosemite National Park, and it was a privilege to be here for the 30th year of the bird-banding program. In just under three months, we collected data on 2,070 birds: 1,444 new birds, 507 recaptured birds, and 119 unbanded birds (such as hummingbirds). I personally banded 452 birds, extracted many more from our nets, and saw and heard around 80 different species in the park.
I hope you've enjoyed getting some insights into the world of bird-banding and bird-monitoring. The time has come to say goodbye to my new human, feathered and furry friends. I am sad to be leaving, but I will never forget my experience this summer of volunteering and camping in Yosemite.
I'd like to thank Sarah Stock, the NPS wildlife biologist who manages Yosemite's bird-banding program (among other wildlife projects!); Linda Bennett, officer for the NPS International Volunteers in Parks European Programs; Yosemite Conservancy; and the Institute for Bird Populations for making my dream to volunteer in Yosemite National Park come true!
We can't thank Chris enough for sharing her updates from the field throughout the 2019 bird-banding session, and for the many weeks she dedicated to studying the diverse birds that make Yosemite their year-round or seasonal home. (If you missed her earlier posts, catch up on her first, second, third, fourth, and fifth updates.) Our congratulations — and deep gratitude — go out to Chris and the whole team for a successful 30th consecutive year of MAPS research in Yosemite.
Before we close out this "Songbird Notes" series, here's a list of just some of the dozens of birds and other wildlife Chris got to see during her season in Yosemite. Have you spotted any of these animals during your travels in the park or elsewhere?
Acorn woodpecker
Allen's hummingbird
American redstart
Anna's hummingbird
Audubon's warbler
Bald eagle
Belding's ground squirrel
Black bear
Black-headed grosbeak
Black-throated gray warbler
Brewer's blackbird
Brewer's sparrow
Bullock's oriole
Bushtit
California ground squirrel
California quail
California scrub-jay
Calliope hummingbird
Cassin's vireo
Downy woodpecker
Fox sparrow
Green-tailed towhee
Hammond's flycatcher
Hermit thrush
Hermit warbler
Killdeer
Lawrence's goldfinch
Lazuli bunting
Lesser goldfinch
Lincoln's sparrow
MacGillivray's warbler
Mountain chickadee
Mountain quail
Nuttall's woodpecker
Olive-sided flycatcher
Orange-crowned warbler
Oregon junco
Pacific-slope flycatcher
Pine siskin
Purple finch
Red-breasted nuthatch
Red-breasted sapsucker
Red-shafted flicker
Red-tailed hawk
Red-winged blackbird
Rufous hummingbird
Sierra newt
Song sparrow
Steller's jay
Townsend's solitaire
Warbling vireo
Western tanager
Western wood-pewee
White-headed woodpecker
Williamson's sapsucker
Wilson's warbler
Yellow warbler
Yellow-bellied marmot

(Chris and the rest of the research team draw on extensive training and strict protocols when handling the birds they study. When you're observing birds or other wildlife, remember to watch from a safe distance!)
Thank you to our donors for supporting this long-running research program and many other wildlife-focused projects in the park! To learn more about important work you can make possible in Yosemite, check out our current grants.
All photos courtesy of Chris Singfield, unless otherwise noted.