We're taking a quick trip back in time to late June and July, when snow was finally melting out of high-elevation meadows and the Yosemite bird-research team completed their fifth, sixth, seventh and eighth sessions of data collection for the 2019 season.
We've been sharing updates from intern Chris Singfield, who joined the park's avian team this spring and summer through the National Park Service's International Volunteers in Parks program. Here are a few more of her notes from the park's bird-banding stations, which follow the MAPS (Monitoring Avian Productivity and Survivorship) protocol to gather important data on the Sierra's resident and migratory bird species. 
June 20–26, 2019 (MAPS Period 6) — We caught many of the usual suspects this banding period: song sparrows, Lincoln's sparrows, Oregon juncos, lazuli buntings, warbling vireos and orange-crowned warblers.
The baby song and Lincoln's sparrows can be quite hard to tell apart, since they both have a buffy (yellowish-brown) appearance, but we look for a few distinguishing features: a white throat, a chunkier body, and a distinctive malar stripe, a marking that resembles a mustache, point to a song sparrow. If we're really stuck on identifying the species, we look at how long the wing feathers are — song sparrows have longer feathers than Lincoln's sparrows.
Meet some of our regulars: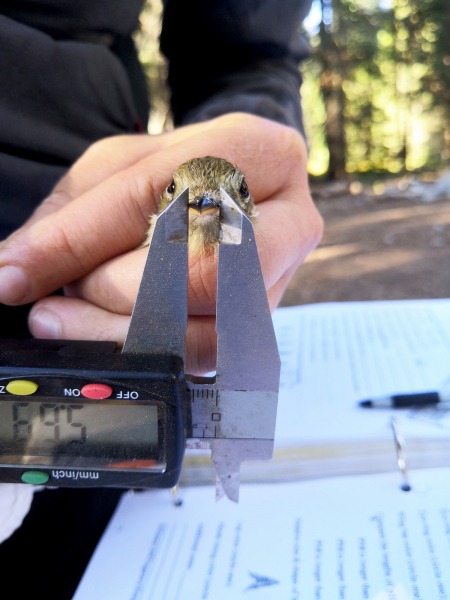 Flycatchers dominated this period's banding session at Ackerson Meadow. Flycatchers in the Empidonax genus often have overlapping features. To identify different species, such as dusky, grey and Hammond's flycatchers, we rely on a plethora of measurements, including bill width and length.
Along with all the flycatcher sightings at Ackerson Meadow, we also saw our first rufous hummingbird of the season! (Scroll up to see that colorful visitor captured in the image at the top of this post.)
By late June, the snow had melted enough for us to set up and work at White Wolf, our seventh, final and highest-elevation banding site. While the cool morning temperatures at around 8,000 feet meant our birding day started a little later than usual, we still managed to achieve the minimum hours required for data collection.
White Wolf is a less busy site than some of our other locations, bird-wise, but we did get to observe several birds, including a particularly interesting visitor: an Oregon junco with white patches on its head, a sign of leucism, a genetic condition that prevents pigment from reaching a bird's feathers.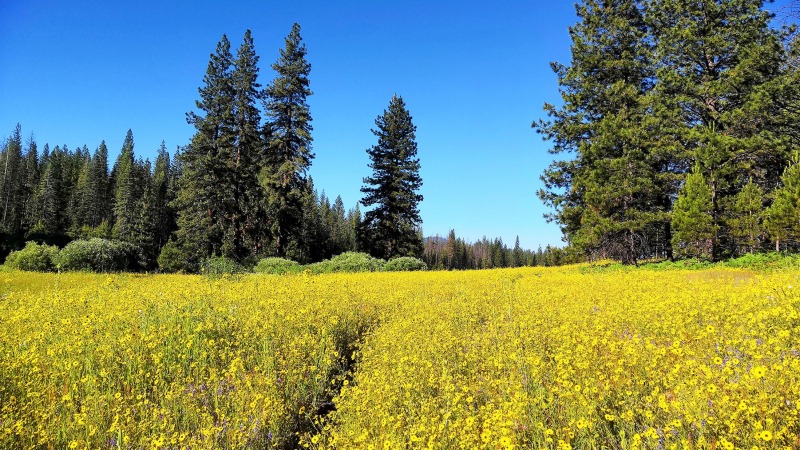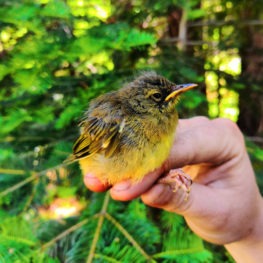 June 30–July 7, 2019 (MAPS Period 7) — This banding period started on an exciting note, when I found a bird I'd never seen before in our net at Big Meadow. It turned out to be a handsome male American redstart in his second calendar-year of life.
American redstarts are usually found in the eastern U.S., and this was the first time the species had been banded at Big Meadow. After a bit of research, we found that a few American redstarts have turned up in California this season.
At Hodgdon Meadow, I saw a flash of red on a wing while removing a bird from a net, and thought I'd caught a young male red-winged blackbird. After spending time looking at the bird while banding it, though, we saw that she was instead a beautiful old female red-winged blackbird!
The bright yellow and purple flowers at Ackerson Meadow kicked off our Fourth of July celebrations, and we spent the holiday banding lots of baby birds, including the youngest and smallest bird we've seen all season (so far): a MacGillivray's warbler that we nicknamed "Grumpybird," because the baby fluff on its head gave it a grumpy expression.
During my Ackerson Meadow rounds, I also got the opportunity to band some western wood-pewees and found our first black-throated grey warbler of the season, a species we'd heard singing previously but hadn't yet caught.
On my time off, I enjoyed watching our resident female California ground squirrel and her six babies running around at camp. I also visited Tuolumne Meadows for the first time, where I got a great view of the park's biggest meadow from the top of Lembert Dome, saw yellow-bellied marmots and a Belding's ground squirrel in the meadow, and watched pine siskins and fluffy baby killdeers at Soda Springs.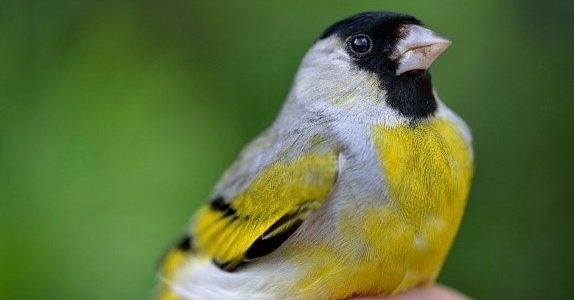 July 10–17, 2019 (MAPS Period 8) — During this banding period, we caught more birds in the meadows than in any other stretch this season, with lots of young birds bolstering the numbers. We also began assessing habitat structure at Big Meadow, Ackerson Meadow and Crane Flat. Through the assessments, which done every five years, I'm getting to know more about local flowers and trees, including how to identify a red fir from a white fir!
At Big Meadow, we welcomed several Foresta residents for a public bird-banding event, and all involved had the opportunity to learn from one another. Our guests told us what it was like to live through a forest fire, and we taught them how to identify many of the birds in their backyards. We even got to show them a pair of Lawrence's goldfinches, a localized species found only in California and Baja this time of year.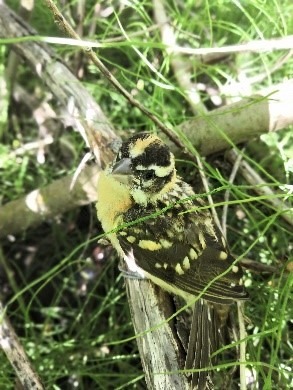 When Youth Conservation Corps members joined us for a day at Hodgdon Meadow, we found what seemed like an entire family of song sparrows and Lincoln's sparrows! I was impressed with the students' questions and the fact that they remember all the species we caught.
More news from Hodgdon, where we…
Welcomed a volunteer interpretive ranger who has been our campsite neighbor this summer. During his morning with us, he got to meet a red-breasted nuthatch, a soecies he'd heard meep (or laugh, as he described it) back at the campground.
Found a baby hatch-year black-headed grosbeak. Since the grosbeak was a local bird that hadn't completely grown in its first flight feathers, I returned it to where it was caught (and managed to grab a photo before it hopped away).
Caught our first Allen's hummingbird of the season. With the bird in hand, we could look closely at its plumage and see how narrow its tail feathers are compared to other hummingbird species we encounter more regularly, such as the rufous hummingbird.
Speaking of hummingbirds, we caught 17 hummingbirds from all four species found in the park — Anna's, Allen's, rufous and Calliope — during our rounds at Ackerson Meadow. Surrounded by bright yellow monkeyflowers and purple lupines, we got to watch the birds zipping around us and doing aerial territorial displays.
Baby juncos stole the show at Crane Flat … and we broke our record for this season for the most birds caught in a morning: 85! We found more young Oregon juncos in the meadows at Gin Flat and White Wolf; at Gin Flat, I also saw an adult junco carrying a massive bug in its mouth, a sign that the species is still breeding in the meadow.
During my time off, I saw loads of marmots, a red-tailed hawk and a fox sparrow (my first encounter with the species). I also joined the Mariposa MAPS crew to do some bird-banding by the Merced River, where I saw my first Nuttall's woodpecker … and had another memorable wildlife encounter. Previous banding crews had mentioned the presence of "slave raiding ants," which steal another ant species' young to serve as slaves. According to the "Laws Guide to the Sierra Nevada," the ants head out for raids at around 4 p.m. One afternoon at camp, we saw the raiding ants march off in a wide belt to invade a colony — and it was 4 p.m., just as John Muir Laws said!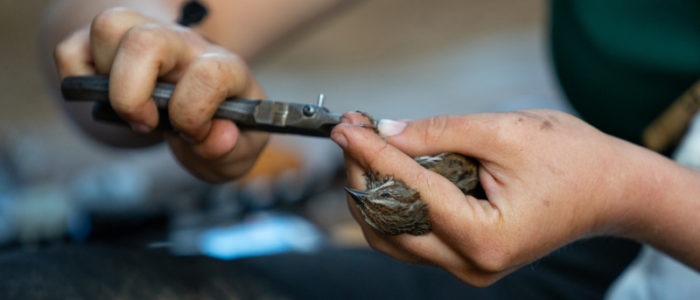 July 20–26, 2019 (MAPS Period 9) — I can't believe its our penultimate bird-banding period. The summer has gone so fast!
At the start of this period, we found a "keg" at Big Meadow. No, not a barrel of beer – in bird terms, a "keg" is a group of Brewer's blackbirds, in this case around 80 of them. While there, we also completed a Habitat Structure Assessment for the woods, burned area and meadow.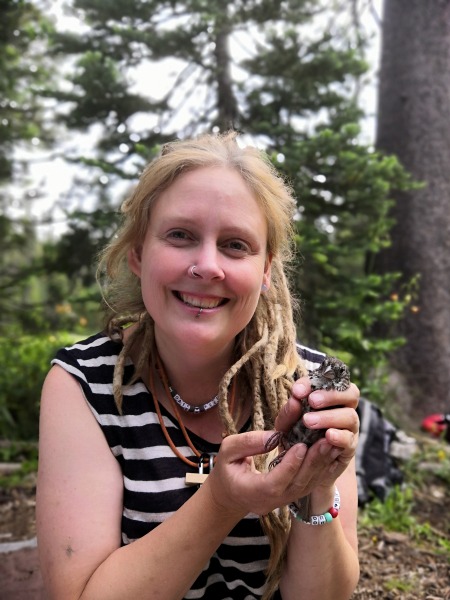 Baby bushtits and Audubon's warblers delighted us at Hodgdon Meadow, and I got my first close-up look at a Cassin's vireo.
Teens from a National Geographic Student Expedition joined us at Ackerson Meadow, and they had fun learning about birds and photographing the banding operation (see above!). That was also our busiest day of the year so far: We caught 106 birds!
A group of NPS employees from different work areas in the park joined us for a morning at Crane Flat. I enjoyed seeing the joy on their faces as they released the birds we had caught at the banding station.
At Gin Flat, I banded my first Hammond's flycatcher, and caught a bird I couldn't immediately identify. At first, I thought it was some sort of finch. Then, I remembered the bird I had seen at Virginia Lakes during my time off earlier in the month, which like this one had a grey head, spotted chest and brown on the end of its wings: another fox sparrow!
I celebrated my birthday at White Wolf, where I met a family of hermit warblers and banded a baby treecreeper.
Thanks again to Chris for sharing updates and photos from the field throughout the 2019 bird-banding season! If you missed her earlier posts, you can read them online anytime; check out her notes and snapshots from the first, second, third and fourth research periods.
All photos courtesy of Chris Singfield, unless otherwise noted.