Volunteer Chris Singfield is back on the blog with another update from the songbird science season! This post covers the Yosemite team's second data-collection cycle of the season, May 31–June 9, which aligns with the fourth of 10 designated MAPS (Monitoring Avian Productivity and Survivorship) periods set for this spring and summer. (If you missed Chris's earlier updates, check out her fist and second posts.)
---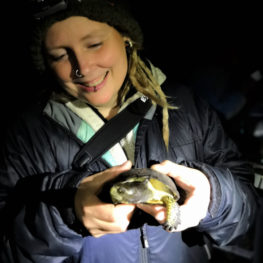 May 31–June 9 — During this data-gathering period, we had the pleasure of hosting staff from Yosemite National Park's wildlife branch at Ackerson Meadow, where they got to see the birds we were banding up-close. In return, we got to participate in monitoring western pond turtles, another first for me.
I caught and banded our first baby sparrow, a song sparrow. It was what we call a "local bird," because it was growing its first flight feathers and had short stubby wing and tail feathers along with a big yellow gape at the base of its bill. Once we had recorded a few details, we returned it back to the willows and its parents.
There was also much excitement when I brought back the first Brewer's sparrow ever recorded at Ackerson Meadow. This bird is much more common east of the Sierra, so its presence was quite surprising to us.
At Big Meadow, I marvelled at the size of a bushtit's finely crafted nest compared to the teeny-tiny size of the bird that built it. See the photo above — can you spot the bushtit's nest in the shrub?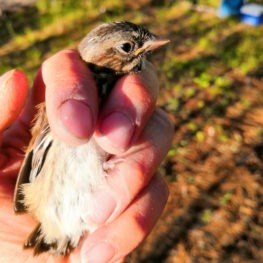 At Hodgdon Meadow, we finally caught an olive-sided flycatcher after weeks of hearing their song — "quick, three beers" — ringing through the tree tops. Another highlight was banding a handsome western tanager that I got to carefully take out of the nets we use to capture birds at the stations. With so many birds around, we can't spot every one; that same morning, I missed seeing a well-camouflaged great horned owl!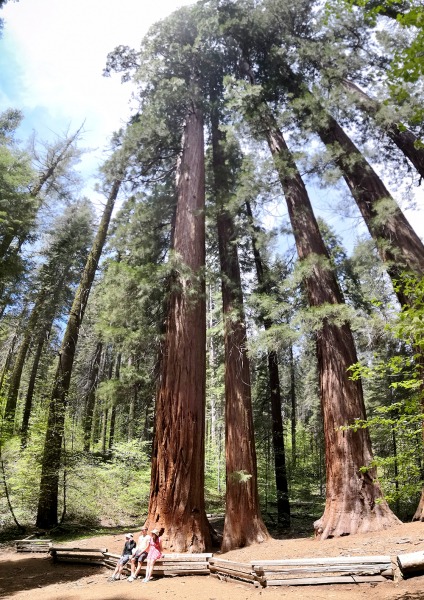 I also spent some time enjoying watching acorn woodpeckers near one of our banding stations. They launched themselves off the branches of a tall bare tree to catch insects, flashing their bright white rumps and wing patches. They were eventually joined by several Steller's jays doing the same.
On our days off we met up with the nearby Mariposa MAPS crew, sorted out our paperwork, and learned how to fix nets — a valuable skill. We also took a hike to Merced Grove to see the huge giant sequoias and do some birding. I saw some cute baby woodpeckers poking their heads out of a hole and being fed.
---
Check back for more of Chris's notes from the 2019 MAPS bird-banding season! And while you're waiting for the next post, browse our current grants to learn about supporting songbird research and other important projects in Yosemite.  
All photos courtesy of Chris Singfield, unless otherwise noted.​