We're back with another dispatch from bird-banding volunteer Chris Singfield! If you missed her first post, read it here. This update covers the Yosemite bird team's first banding cycle of the season, which aligns with the third of 10 official MAPS (Monitoring Avian Productivity and Survivorship) data-collection periods for 2019 (the first period was May 1–10, the second was May 11–20, the third was May 21–May 30). The 10-day periods continue until early August.
And now, here's the news from Chris!
---
May 21–30, 2019 — The recent weather had been cold and snowy, and we wondered whether we would successfully be able to complete the minimum hours required in our first 10-day bird-banding period of the 2019 season here in Yosemite.
Our first day of banding, at Big Meadow, began late while we waited for the temperature to reach the required minimum: 40 degrees Fahrenheit. We were expecting a slow day for birds because of previous years' figures, so were thrown off guard by the busy bird activity: We captured 36 new birds, the same as the total number of birds caught during the entire 2018 summer at Big Meadow!
We hypothesized that the first day of good weather following all the snow and rain had brought all the birds out to feed, and we observed a good number of ladybugs and other insects flying around. Here's biologist Amanda holding a California scrub-jay we caught on the first day (she has eight years of banding experience and a true love for all things birdy):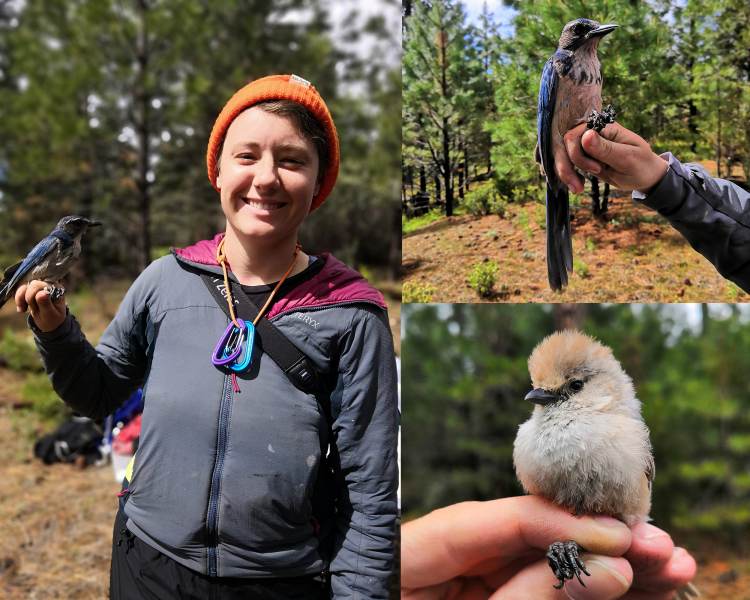 Hodgdon Meadow, another banding site, provides opportunities to observe a range of different birds. Both male Brewer's blackbirds and red-winged blackbirds have territories at Hodgdon Meadow, and we had been listening to their songs while banding there. I rounded the willows to one of the nets, and was excited to find that we had caught one of each species. They are feisty birds. I love the iridescent black-blue color of the Brewer's and the bright red and yellow wing patches of the red-winged blackbirds.
While at Hodgdon Meadow, we also caught a brightly colored Steller's jay and saw a somewhat rare black-backed woodpecker searching for food, and were privileged to catch a white-headed woodpecker, a downy woodpecker, and a red-breasted nuthatch — all personal favorites.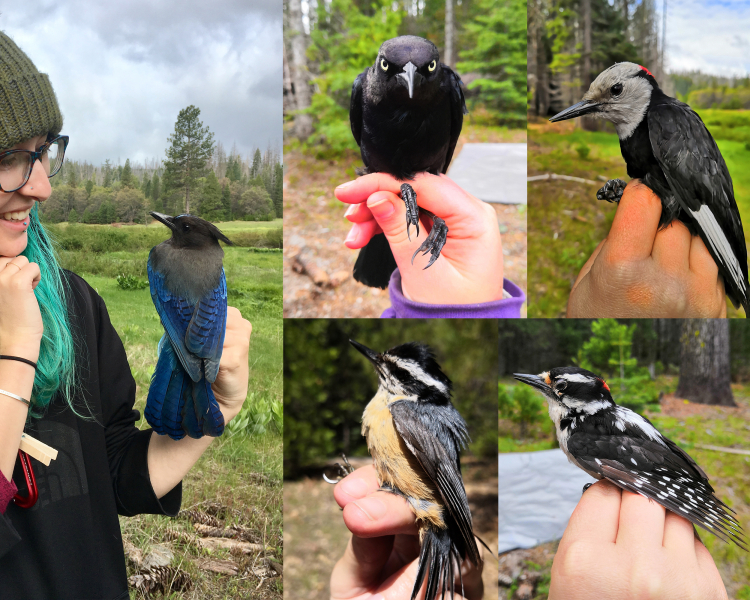 Speaking of favorite birds, our day of banding at Ackerson Meadow was filled with Wilson's warblers — which you already know I love from my first post!
From Ackerson Meadow, we moved on to our last site, Crane Flat. There were several days where the temperature didn't reach the required 40 degrees F all day, due to the site's high elevation and lingering snowpack.
Since it was too cold for banding, we took advantage of the opportunity to enjoy some of the sights of Yosemite. We spent a day in Yosemite Valley where we learned about the history of the area and got splashed by Bridalveil Fall.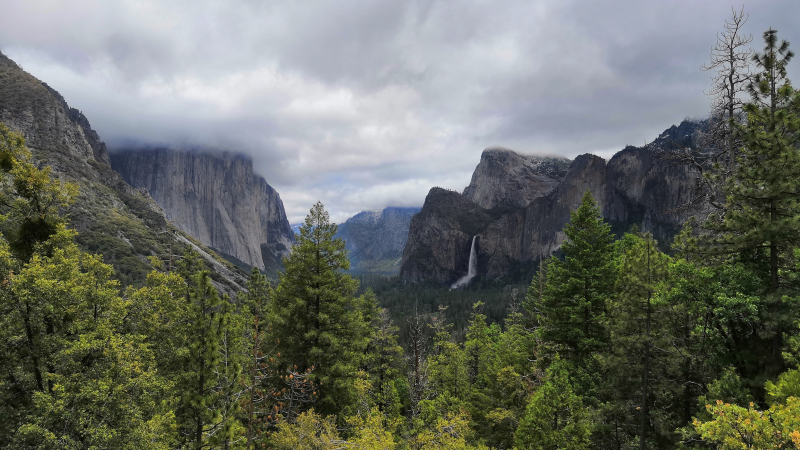 We also took a fun hike around Hetch Hetchy to the thundering Wapama Falls on what turned out to be a beautiful day. I saw and heard a canyon wren for the first time. Rough-winged swallows were circling overhead. California ground squirrels were munching on the grass, bees were licking minerals from the ground, and I even spotted a Sierra Newt crossing the path.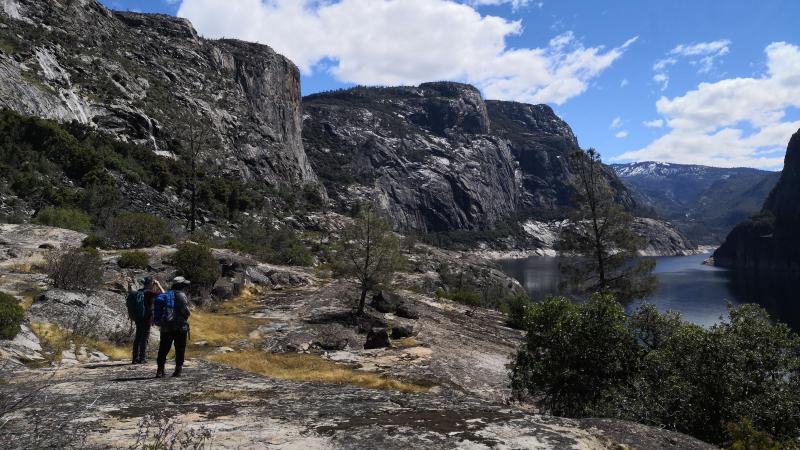 On the way back from our Hetch Hetchy hike, Lyndsi (one of our two Institute for Bird Populations volunteers) got a shock when she rounded the corner to find a bear on the path! The bear seemed unconcerned with its human visitors and continued to forage while we waited for it to finish its lunch and move away.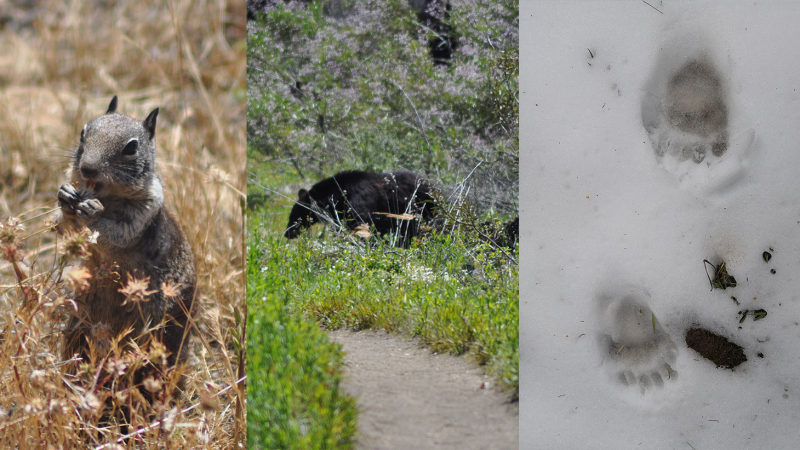 When we went back to check the snow levels at Crane Flat, we saw that our bear friends had also visited there. Finally, the temperature got warm enough, and we were able to successfully complete all the banding required for our initial MAPS period!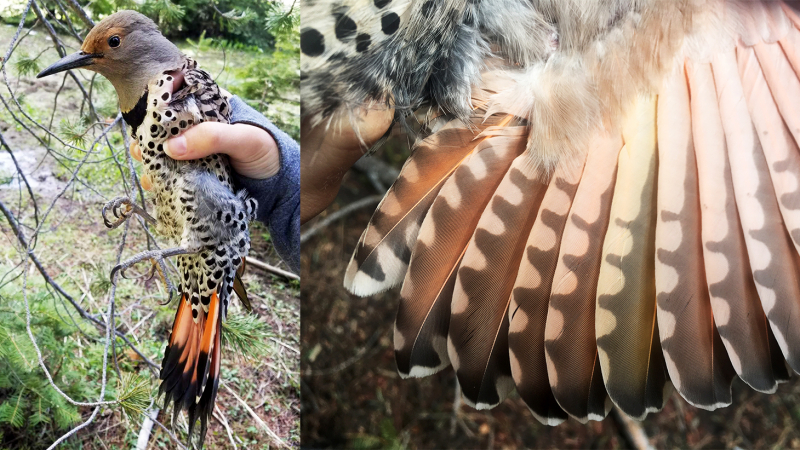 ---
Thanks to Chris and her fellow bird-banding volunteers and biologists for their dedication to studying avian species (and their patience in snowy, chilly conditions)! Stay tuned for more of Chris's notes from the field this summer. In the meantime, check out our current grants to learn more about Yosemite's songbird research program and other projects you can support in the park.
All photos courtesy of Chris Singfield, unless otherwise noted.​