The songbird team has been hard at work in Yosemite's meadows, and we're delighted to be able to share behind-the-scenes looks from volunteer Chris Singfield! The park's long-running songbird research effort is part of the MAPS (Monitoring Avian Productivity and Survivorship) program, which uses a standardized approach and strict set of protocols for gathering data on birds throughout North America during the breeding season. Read on for Chris's latest update, which focuses on the Yosemite team's fourth banding session of the season, June 10–June 19.  (And don't miss her first, second and third posts for more fun notes from the field.)
---
June 10–19 — It was a colourful banding period in Yosemite's meadows! Lazuli buntings began to make an appearance. We also caught a purple finch that wasn't very purple; instead, it had a rarer yellow-orange colouring.
Hatch-year orange-crowned warblers started arriving at our study sites, and I got to band my first one at Hodgdon Meadow. These young warblers weren't born here in Yosemite — they hatched at lower elevations and are now dispersing up to higher elevations. (MAPS defines hatch-year birds as those capable of sustained flight and known to have hatched during the calendar year in which they were captured at the banding station — in this case, 2019.)
We entertained a few visitors during this banding period. Andrea Canapary, a Yosemite Conservancy naturalist, came up to a study station to learn more about the birds we're studying. We also welcomed members of the public to a bird-banding day at Ackerson Meadow, and they got to see a wide variety of birds both young and old.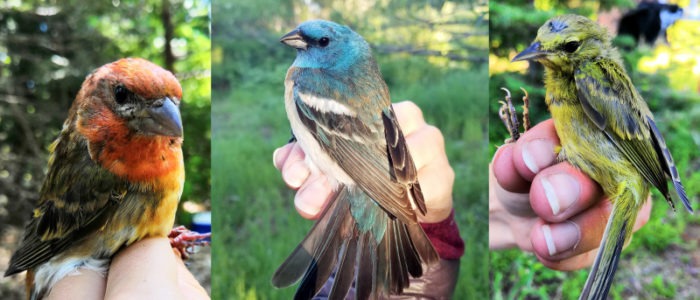 At Ackerson Meadow, we had a day of lazuli buntings, and I got to band three of the four we caught. It's easy to figure out how old a lazuli bunting is. You look to see whether the bird has blue edging to its flight feathers to determine whether it's a second-year (in its second calendar year of life) or after-second-year (in at least its third calendar year of life) bird. Other birds, such as sparrows, can be tricky to age.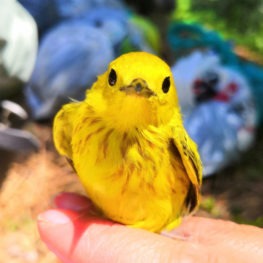 You might recall from my last update that we caught our first local bird, a hatch-year song sparrow at Ackerson Meadow. We recaptured that same sparrow again this period — its flight feathers had all grown and were nearly full length. I also got to band my first yellow warbler, a handsome after-second-year male.
At Crane Flat, we are serenaded by the ethereal flute-like song of the hermit thrush each time we visit. This period, I finally got to see one up close and had the pleasure to band it (see the photo at the top of this post)!
We attempted to set up our sixth banding site at Gin Flat at the start of the period (mid-June), but found that some of the locations for our nets were still under 3 feet of snow. We did what we could, and returned at the end of the period with a shovel in hand to dig out the net lanes that were still buried.
Despite the lingering snow, we managed to band the minimum hours for the period at Gin Flat. We also caught two Williamson's sapsuckers! We caught the female first, while the male was watching nearby. When we returned later, the male had flown into the net too. I'd had the pleasure of banding this species in Oregon, but for everyone else it was their first time seeing them so close-up.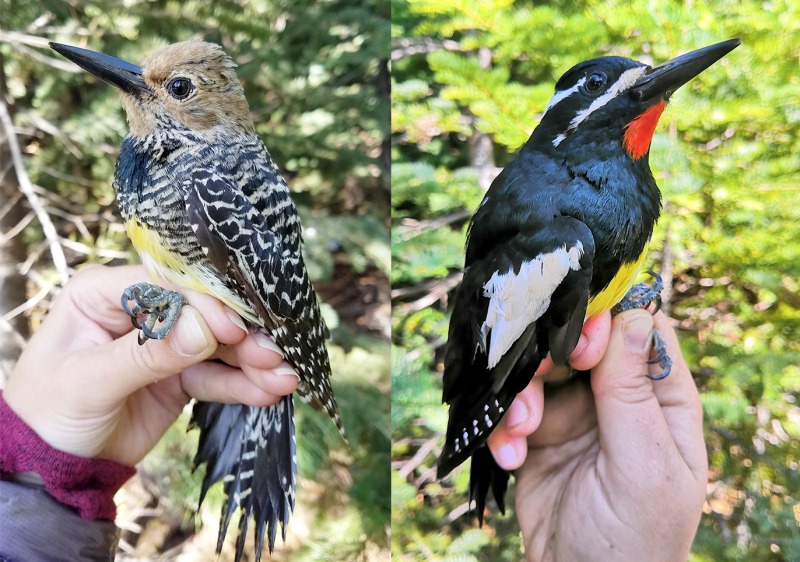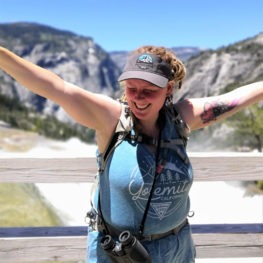 During my time off I had the opportunity to work with a Ph.D. student and researchers from the Institute for Bird Populations, who were doing targeted captures of hermit warblers.
The researchers used a recording of the hermit warbler's song and a wooden warbler on a stick to attract the birds to the nets, then attached coloured rings and small geolocators to the birds before releasing them.
I also continued my adventures in Yosemite, and did my first proper hike up the Mist Trail to the top of Nevada Fall. Ascending 2,500 feet, getting drenched by the spray from Vernal Fall on the way up and drying off in the sun at the top was an unforgettable experience.
---
Want to learn more about songbird science in Yosemite? Take a peek at our our current grants to learn about that research program, which is celebrating its 30th year in 2019, and other work you can support in the park. We'll post more updates from Chris, too —stay tuned!
All photos courtesy of Chris Singfield, unless otherwise noted.​