On August 4, 1923, the National Park Service was just shy of its seventh birthday. At the time, the young agency, headed by Stephen Mather, was overseeing a growing system of public lands, including Yosemite, which had been established as the country's third national park in 1890.
And speaking of Yosemite … on that day in 1923, a group of nature scholars and enthusiasts, including NPS Chief Naturalist Ansel F. Hall, Joseph Grinnell (director of UC Berkeley's zoology museum), Barton W. Evermann (director of the California Academy of Sciences), and William Frederick Badè (a Sierra Club leader), launched the Yosemite Museum Association to manage funds for the construction of a new museum in the park.
Park-focused philanthropy wasn't an unprecedented concept. In 1907, William and Elizabeth Kent donated nearly 300 acres of northern California redwood forest to the federal government; the following year, that area became Muir Woods National Monument. A similar land donation in 1916 helped protect what would later become Maine's Acadia National Park. Back in the Sierra, before taking on the role as the first NPS director, conservationist (and borax-industry millionaire) Mather helped spearhead a 1915 campaign to purchase Tioga Road and donate it to Yosemite for public use.
While prior public-lands philanthropy had focused mostly on property donations, the Yosemite Museum Association was formed to help complete a specific project – one that answered Mather's call for "adequate museums" across the growing park system. Using funds donated by the Laura Spelman Rockefeller Memorial, the association catalyzed construction of two new buildings: the Glacier Point Trailside Museum (also known as the Geology Hut), which brought educational exhibits to one of Yosemite's prominent overlooks, and the Yosemite Museum, which opened on the Valley floor in 1926.
Both structures remain popular destinations today, but their historic value reverberates far beyond park borders:
Unknowingly, the founders of the Yosemite Museum Association had established a precedent-setting partnership — one that would be emulated throughout the country as other Service managers recognized the potential benefits of working with private-sector partners to support museums, libraries, exhibits, publications, and other aspects of the interpretive, educational, and scientific research programs in parks.  –  Director's Order 32 Reference Manual, June 2000
A decade after the Yosemite Museum opened its doors, the U.S. Department of the Interior officially recognized the private-public park partnership model. Similar cooperative arrangements took root across the country. Today, there are dozens of park-partner groups in the National Park System – including Yosemite Conservancy, the Yosemite Museum Association's 21st-century descendant.
How did we evolve from a small group founded to manage museum construction into a longstanding park partner dedicated to preserving Yosemite and providing enriching visitor experiences? Let's take a quick trip through the past 95 years …
In the mid-1920s, as plans for the museums took shape, the association's mission grew beyond building rustic stone structures to focus more broadly on education and research. A new name accompanied that wider scope: the Yosemite Natural History Association (YNHA).
The YNHA played a key role in the Yosemite School of Field Natural History and the Junior Nature School, ancestors of modern-day park-based educational activities (including the Conservancy's Outdoor Adventures) and the NPS-wide Junior Ranger program, and started a publishing program that continues to thrive.
In the 1980s, the organization shortened its name to Yosemite Association, reflecting an evolving role that included offering a wide variety of activities and services visitors can still take advantage of today: the Yosemite Theater, park-based art workshops, award-winning books, and expert-led field seminars and expeditions.
Meanwhile, the Yosemite Fund – a fundraising-focused nonprofit born out of the association in the mid-'80s– began awarding grants to the park to support efforts to restore trails and wilderness areas, study rare great gray owls, return endangered bighorn sheep to the Yosemite area, and more.
In January 2010, the two groups merged back together, creating Yosemite Conservancy.
All told, the organization, in its various iterations from inaugural cooperating association to well-established park partner, has provided $119 million in grant funding to Yosemite for more than 600 projects, and has helped countless people learn about and connect with the park, including through adventures, art and theater, volunteer opportunities, educational programs, wilderness services, and publications.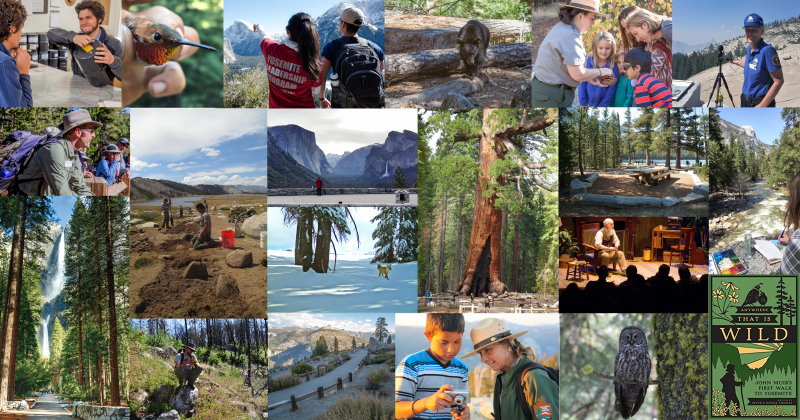 None of that would be possible without the continuing, generous support of generations of people who care passionately about Yosemite. Their contributions have enabled the park to…
… and much more.
For decades, people who cherish Yosemite have been finding ways to make a difference — whether by making donations and volunteering, leading and participating in park-based programs, or publishing and purchasing books about the wonders of this stretch of the Sierra. The impact of their investments of money, time, talents and energy are summed up in Director's Order 21, the federal rulebook for philanthropic park partnerships:
Private support for national parks and programs is both a noble tradition and a vital element in the success of today's National Park System.
We're inexpressibly grateful to our partners in and around Yosemite, to everyone who has played a role in the past near-century of collaboration, and to the tens of thousands of donors who allow us to continue pursuing our mission today.
Here's to another 95 years!
Help us celebrate our birthday, or your own: Create a Facebook Fundraiser to support your park.
Above: The view from the Glacier Point Geology Hut, captured by Cyanne F., a middle-school student who participated in the Conservancy-supported Parks in Focus program. Photo courtesy of the Udall Foundation.