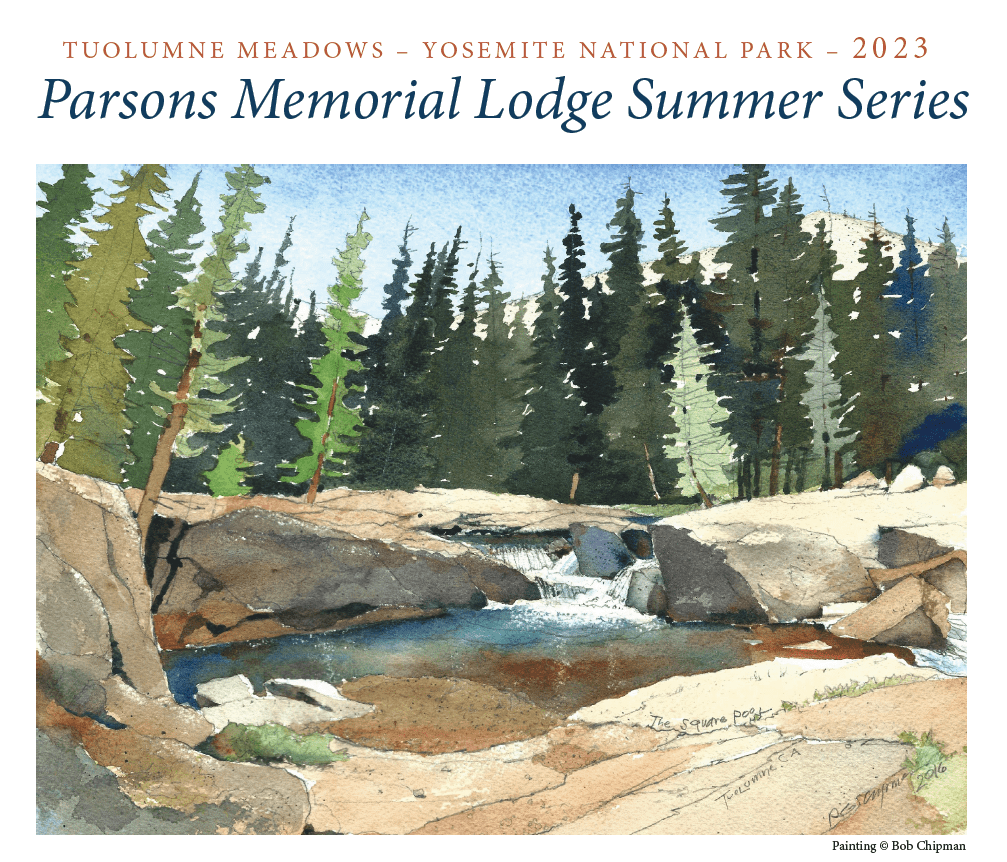 The Parsons Memorial Lodge Summer Series is back this year! This popular seasonal series of free presentations and poetry will take place at Parsons Memorial Lodge, a 115-year-old stone building in Tuolumne Meadows.
Check out the event calendar below (or download the flyer as a PDF).
The annual summer series of free weekend presentations, which began in 1992 and has been supported by Conservancy donors since 2011, typically takes place at the historic Parsons Memorial Lodge, which is one of the oldest rustic stone structures in a national park. The presentations, performances and workshops feature perspectives and expertise from a variety of fields, and all honor the lodge's founding purpose as a vibrant gathering place to share powerful ideas.
Past presenters have included renowned writers, musicians, scientists, park rangers, poets and historians, among many other innovative thinkers. Whether hearing about research on Yosemite ecology and geology, learning about the Sierra Nevada's human history, or listening to nature-based poetry and essays, guests gain a deeper appreciation for the park and our planet.
Allow 30 minutes walking time to Parsons Memorial Lodge from either Lembert Dome parking area or the parking lot east of the Tuolumne Meadows Visitor Center. Admission is free.
---
Parsons Memorial Lodge Summer Series 2023
Saturday, July 29 2:00-3:30pm
Reseeding the Future
A talk by Rowen White, seed keeper and farmer from the Mohawk community of Akwesasne and a passionate activist for indigenous seed and food sovereignty
Sunday, July 30 2:00-3:30pm
Finding Hope in the High Country
Award-winning author Pam Houston discusses her memoir Deep Creek: Finding Hope in the High Country.
Saturday, August 5 2:00-3:30pm
World of Wonders: In Praise of Fireflies, Whale Sharks, & Other Astonishments
Bestselling author Aimee Nezhukumatathil muses about a sense of place and wonder in the natural world.
Sunday, August 6 2:00-3:30pm
Giant Sequoias and Vulnerability in the Pyrocene
A talk by Garrett Dickman, Forest Ecologist, Yosemite National Park
Saturday, August 12 10:00-11:30am
Alpine Inspiration: A Wellness Retreat in the Meadows
Mindfulness practice with Heather Sullivan, Executive Director and co-founder of Balanced Rock; bring a yoga mat or blanket, pen and paper, water, and appropriate layers of clothing.
Saturday, August 12 2:00-3:30pm
Acoustic Merriment with The Musers
An afternoon of music with the "Free Range" folk quartet from Sonoma County
Sunday, August 13 2:00-3:30pm
Nature Swagger: Stories and Visions of Black Joy in the Outdoors
A talk of adventure by Rue Mapp, founder and CEO of Outdoor Afro
Saturday & Sunday, August 19 & 20
27th Annual Tuolumne Meadows Poetry Festival
Morning workshops and afternoon readings with music featuring poets Marcelo Hernandez Castillo, Forrest Gander, Rosemerry Wahtola Trommer, and musician Shira Kammen
Saturday Workshop 10:00 – 11:30 a.m. with Rosemerry Wahtola Trommer
Sunday Workshop 10:00 – 11:30 a.m. with Forrest Gander
Readings 2:00-3:30pm
Main image: Photo © Keith Walklet