For most Yosemite visitors, "caution" probably isn't the first thing that comes to mind when surrounded by jaw-dropping cliffs and waterfalls. That's where PSAR (Preventive Search and Rescue) comes in!
For several years, our donors have been funding Yosemite's PSAR program, which aims to educate visitors about staying out of harm's way while they explore the world-famous landscape. Whether warding people away from slippery spots or ensuring that hikers have ample hydration, the PSAR crew dedicates thousands of hours each year to keeping people safe in Yosemite.
We're sharing a guest post from (now former) Yosemite PSAR Supervisor Alan Hageman, who oversees the team of interns and volunteers that roam the trails, spread safety messages, and help prevent everything from minor mishaps to major emergencies.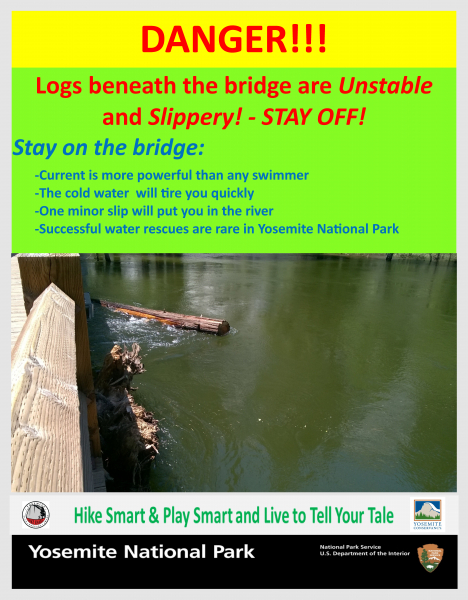 The Preventive Search and Rescue team has been working hard to stay in step with Yosemite's tempo in 2017, as we face a combination of high water, high temperatures, and high numbers of visitors. So far, our three summer interns and army of volunteers have been doing a remarkable job at keeping up with the fast pace of the busy season.
We have continued to see a decline in the rate of search and rescue calls, thanks to the team's focus on spreading critical information about ways to stay safe amid potentially dangerous environmental conditions, including exceptional water levels and hot summer weather. We work hard to educate visitors so they can enjoy their time in Yosemite without exposing themselves to unnecessary hazards, and those efforts appear to be paying off.
Keeping people safe in Yosemite — especially when there are a lot of people, and a lot of environmental factors at play — is no small effort! Usually, we focus our efforts on Yosemite Valley; this year, with high water and high visitation affecting other parts of the park, we have been helping to share preventive safety messages in other places, too, including Hetch Hetchy, Wawona and Tuolumne Meadows. Our 2017 PSAR team is on track to reach an unprecedented annual number of visitors.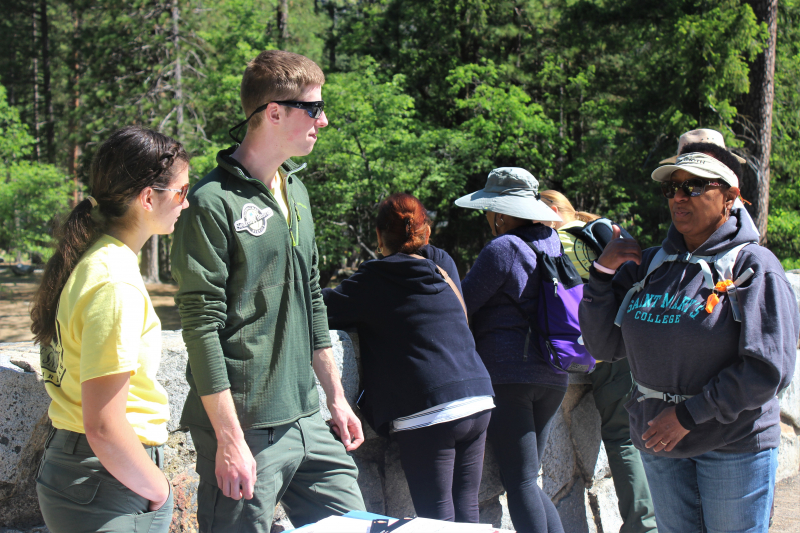 Yosemite Conservancy donors have been supporting the PSAR program in the park since 2015, helping to cover the costs for our varied messaging efforts, and for hiring, training and managing our interns and volunteers. Without that generous support, PSAR would be a significantly smaller program. Ultimately, Conservancy donors aren't just helping our PSAR team — they're helping the tens thousands of visitors who benefit from the program every year.
Although 2017 is shaping up to be a successful year for PSAR, we recognize this is no time to slip into complacency. Sadly, several tragedies have occurred in Yosemite in recent months, as well as a number of more common, minor incidents. With much of the busy season still to come, we are working to continue and improve upon our successes today. The true success of Yosemite's PSAR program, however, requires more than our dedicated interns and volunteers; it requires everyone in the park, from first-time visitors to long-time residents, to make safety a priority.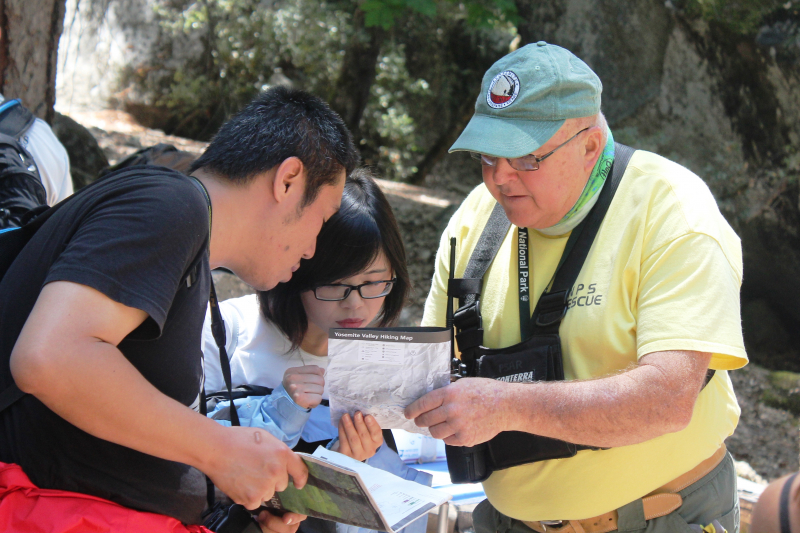 The next time you visit Yosemite (or any other national park, wilderness area, etc.), follow these PSAR tips for a safe, enjoyable experience!
Always leave a plan with a trusted person. Your plan should include, at minimum, starting time and place, route, destination or goal, and return place and time.
Do some in-depth pre-trip planning, beyond setting destinations and figuring out routes. How steep is the hike? How much effort will it require? How much time should you allow? How much food and water is enough? Are there any known hazards? What is the weather forecast?
Stay on the trail or other developed areas. Almost all of our serious incidents occur off-trail, where you might run into water or dangerous terrain. If you're planning a hike that involves cross-country (off-trail) travel, make sure you have the necessary skills and equipment, and be well-versed in wilderness ethics.
Carry and consume lots of water. Poor hydration and nutrition on the trail can sap your energy and make you more vulnerable to cramps, exhaustion and falls. Aim to drink about a quart or liter of water for every two to three hours of activity. Replace sodium lost through sweat by supplementing your water intake frequently with salty, easily digested snacks, such as trail mix or nuts. Hikers who follow this fueling formula are often surprised at how much better they feel!
Respect your physical limits. Many Yosemite trails are steep, have difficult footing, and are located at higher elevations than your body is used to. At 4,000 feet, Yosemite Valley is high enough above sea level to make you feel more fatigued during physical effort than you would at a lower elevation. From the Valley, elevations increase; Tuolumne Meadows is at 8,600 feet, and some peaks rise above 12,000 feet. Altitude illness can occur above 6,000 feet, and the only definitive cure is to descend to lower elevations. Turn back if you need to, and remember that for many hikers, walking a mile on a Yosemite trail requires noticeably more effort than covering the same distance back at home.
Bring your "10 essentials." A big part of staying safe is having adequate, appropriate supplies. Be sure to pack:

Map and compass
Sun protection (sunglasses, hat, sunscreen)
Extra clothing layers (temperatures and precipitation can vary widely, and quickly, in Yosemite, even in the summer)
Headlamp or flashlight, plus extra batteries
First-aid supplies
Lighter or matches
Basic repair kit, including duct tape, a knife, and anything specific to your activity
Extra food, in case your plans change
Plenty of water (and a way to filter or treat water from natural sources)
Emergency shelter (tent, tarp, space blanket)
Don't forget the 11th essential, too: Your sense of fun and adventure. You are in one of the world's greatest outdoor playgrounds. Enjoy it — and stay safe!
Thanks to the PSAR team, incidents requiring emergency responses have been on the decline in Yosemite; in 2016, they calculated a rate of 5.21 incidents per 100,000 visitors, down from 5.53 the year before. As you explore the park, keep Alan's tips in mind, and keep an eye out for the PSAR crew's recognizable yellow shirts!
Want to know more? Take a tour of our website, where you can become a donor and support PSAR and other visitor services, read the Yosemite National Park PSAR blog, and visit the Friends of YOSAR page (friendsofyosar.org), where you can learn about all aspects of Yosemite's Search and Rescue activities and apply to join the SAR and PSAR teams.
Above: PSAR intern Adam shares safety tips and statistics with visitors in Yosemite National Park. Photo courtesy of NPS.