It can be challenging to keep up with the latest on Yosemite's trail and road closures, weather events, and seasonal operations, especially from afar — but this information is often essential for a successful visit. We've got the expert advice and comprehensive resources you'll need to make the most of your trip to Yosemite National Park in every season — and we've made it short, sweet and share-able for your convenience.
Current Conditions
The Yosemite branch of the National Park Service is your go-to for information about current conditions including road closures, changing traffic patterns, air quality, and more. You'll also receive a copy of the latest Yosemite Guide when you enter the park — it contains information about seasonal activities, scheduled events, and hours of operations for different facilities and services. Here are the latest top 3 tips you'll need to keep in mind for a winter 2022 visit:
Winter road closures are in effect.

Tioga Road (Highway 120) and Glacier Point Road are closed for the season due to snow.

Tioga Road usually reopens in late May or June.
Glacier Point Road will remain closed for rehabilitation in 2022. From approximately mid December through March, the first five miles of this road are open to the Badger Pass Ski Area.

Mariposa Grove Road and associated shuttle system close for the season on or about November 30 and reopen no earlier than March 15 (but usually not until sometime in April). The Washburn Trail is always open to hiking, snowshoeing, and skiing, and is the most direct route to Mariposa Grove in winter.
Carry tire chains in your car and be prepared to use them (even if your car has four-wheel drive). Chains may become mandatory at any time. Drive carefully and observe posted speed limits even when there are no chain requirements — you may encounter icy spots, even on mostly dry roads. Check current road conditions and tire chain restrictions by calling 209-372-0200 (press 1, then 1).

COVID-19: Some services and facilities are limited in Yosemite National Park, and shuttles are operating on a limited basis. Reservations are not currently required to visit Yosemite, but beginning May 20, 2022, anyone planning to enter the park between 6 am and 4 pm will need a peak hours reservation, in-park lodging reservation, Conservancy program registration, or another relevant exemption. Learn more in our blog post about the 2022 reservation system.
Construction continues in the Bridalveil Fall area. The trail to Bridalveil Fall is closed due to the ongoing restoration project, made possible in part by Conservancy donors. Construction is scheduled to be completed in late 2022.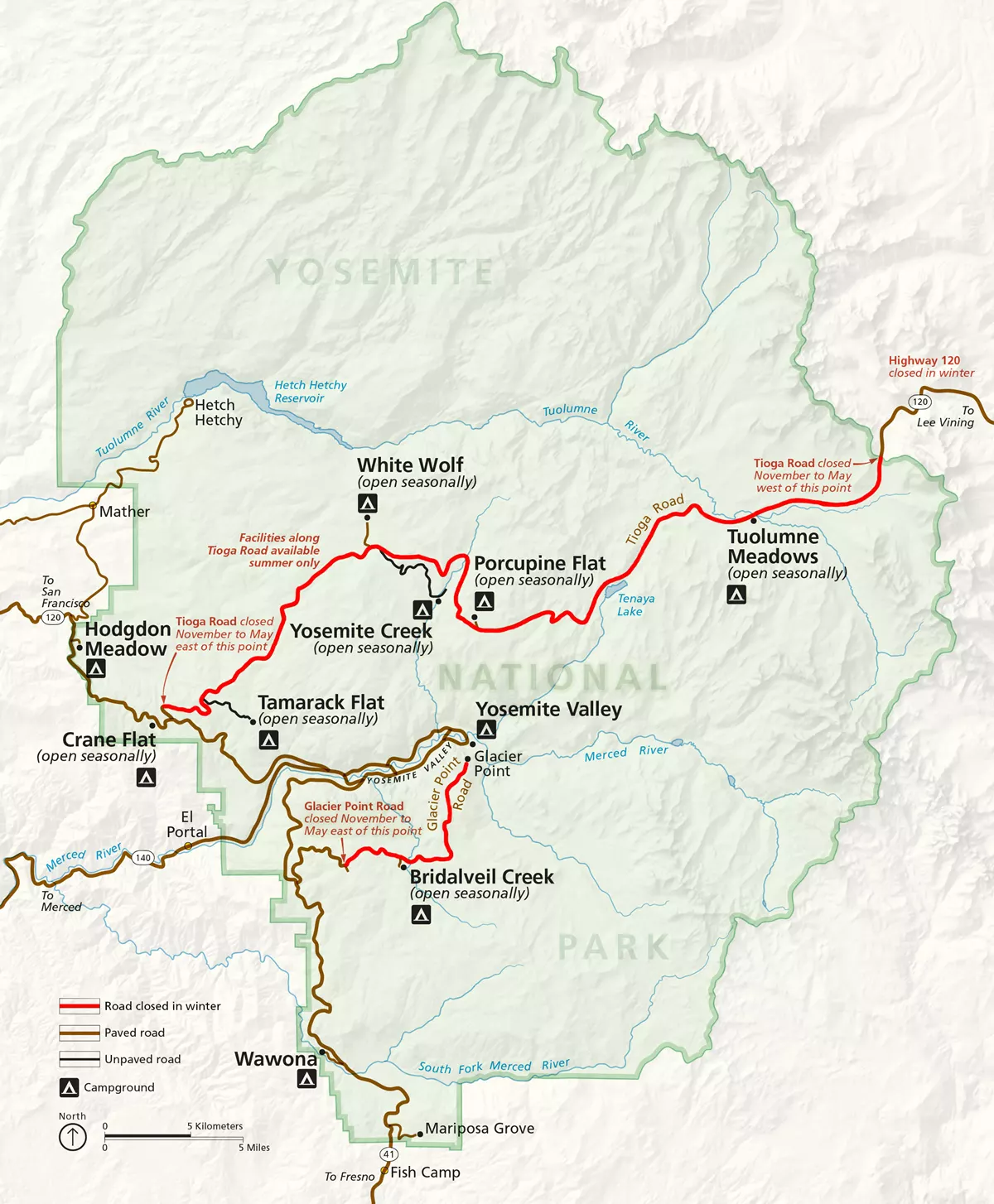 Yosemite Weather
When it comes to weather, keep in mind that Yosemite is a big place — the park covers 759,620 acres (or 1,187 square miles) of land, and conditions and temperatures can vary widely by elevation, location and time of day.
YOSEMITE VALLEY — also referred to as "the Valley" or "the Valley floor" — is a relatively small portion of the park, but it's iconic sights are mighty. In about 6 square miles it contains world-famous waterfalls and granite features including Half Dome and El Capitan. At 4,000 feet in elevation, it's generally the most accessible and highly visited part of the park. Things to keep in mind when visiting the Valley:

Vehicle traffic and parking can be challenging. Arrive early, especially on weekends and holidays, and plan to leave your car in one spot for the whole day. Find more tips here!
Alternative options, like biking or public transportation, are strongly encouraged for getting around the Valley. The Conservancy offers a popular and free bike share program from May/June through September/October, or you can rent bicycles from Yosemite Hospitality.
You'll find plenty of supplies and services in the Valley, from concessions, camping supplies and groceries, to the Yosemite Museum, Conservancy-run bookstore (visit us in the Valley Visitor Center or order online!), Happy Isles Art and Nature Center, and everything in between.

YOSEMITE WILDERNESS — 94.45% of the park is designated Wilderness, meaning that it receives the federal government's highest level of protection as outlined in the Wilderness Act of 1964. This includes higher elevation and remote locations, and is also often referred to as the Yosemite "high country." Things to keep in mind when visiting the Wilderness:

A Yosemite wilderness permit is required year-round for backpacking, overnight climbing, or any other overnight stay in the Yosemite Wilderness. A wilderness permit is not required for day hikes (unless you're hiking to Half Dome) or for staying in lodging facilities and frontcountry campgrounds.
Wilderness permit reservations have moved from Yosemite.org to Recreation.gov. While the process of making reservations has changed, many parts of the system are the same or similar, including trailhead quotas, availability of walk-up permits, and reservation windows. Yosemite Conservancy Wilderness reservation staff are still dedicated to reviewing and processing your permit reservation requests, and you can contact us with questions.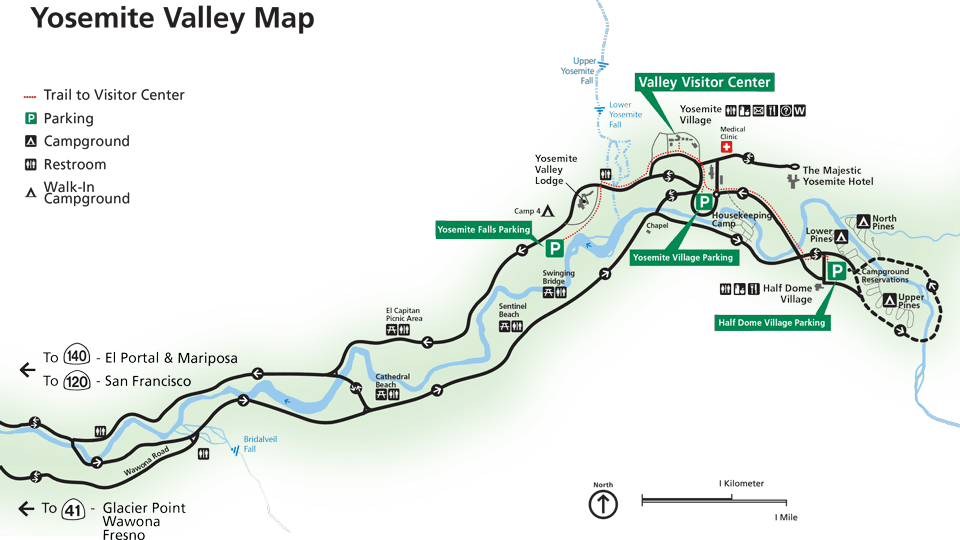 Your miscellaneous questions, answered.
Is Yosemite accessible for people with sight, hearing, and mobility impairments?
Can I bring my dog?
Where can I find up-to-date information on Yosemite air quality and fire news?
Can I download a map to help me plan my trip?
Did you find this post helpful? What's missing that would make it even more useful? Let us know by sharing this content on social media, or you can send the link directly to a friend!