Hundreds of passionate park fans
+ thousands of donated hours of work
+  endless energy and enthusiasm
= a huge benefit for Yosemite.
That equation might not make the grade for a math textbook, but it captures how much we appreciate our volunteers and all they do for the park!
Did you visit Yosemite this year? If so, there's a good chance you crossed paths with our volunteers, or benefited from a project they made possible. Maybe you spoke with a volunteer at a blue "Park Information" tent. Or followed the new trail near the base of El Capitan. Or got to brush up on safety tips with a Preventive Search and Rescue volunteer before heading to Vernal Fall.
During the 2019 season, our 419 volunteers contributed more than 18,000 hours to the park. Whether giving back with coworkers through our corporate volunteer program, digging into restoration during a work week, spending a month in the park as a visitor information assistant, or sharing skills as a volunteer art instructor, each one of our volunteers made a measurable difference — and we can't thank them enough.
How do our volunteers make a difference in the park? Read on for a few highlights from the 2019 season…
Welcoming visitors to Yosemite
Our visitor information assistants, who each volunteer for a month, welcome people in Yosemite Valley, Wawona and Tuolumne Meadows; answer questions (Where's the trailhead? How do I get to the wilderness center?); and help visitors make the most of their time in the park. In 2019, our 119 monthlong volunteers spent their days at shuttle stops, parking lots and visitor centers, and at popular destinations such as Mariposa Grove, Olmsted Point and Parsons Memorial Lodge. From May through September, they tallied up more than 532,000 conversations with visitors.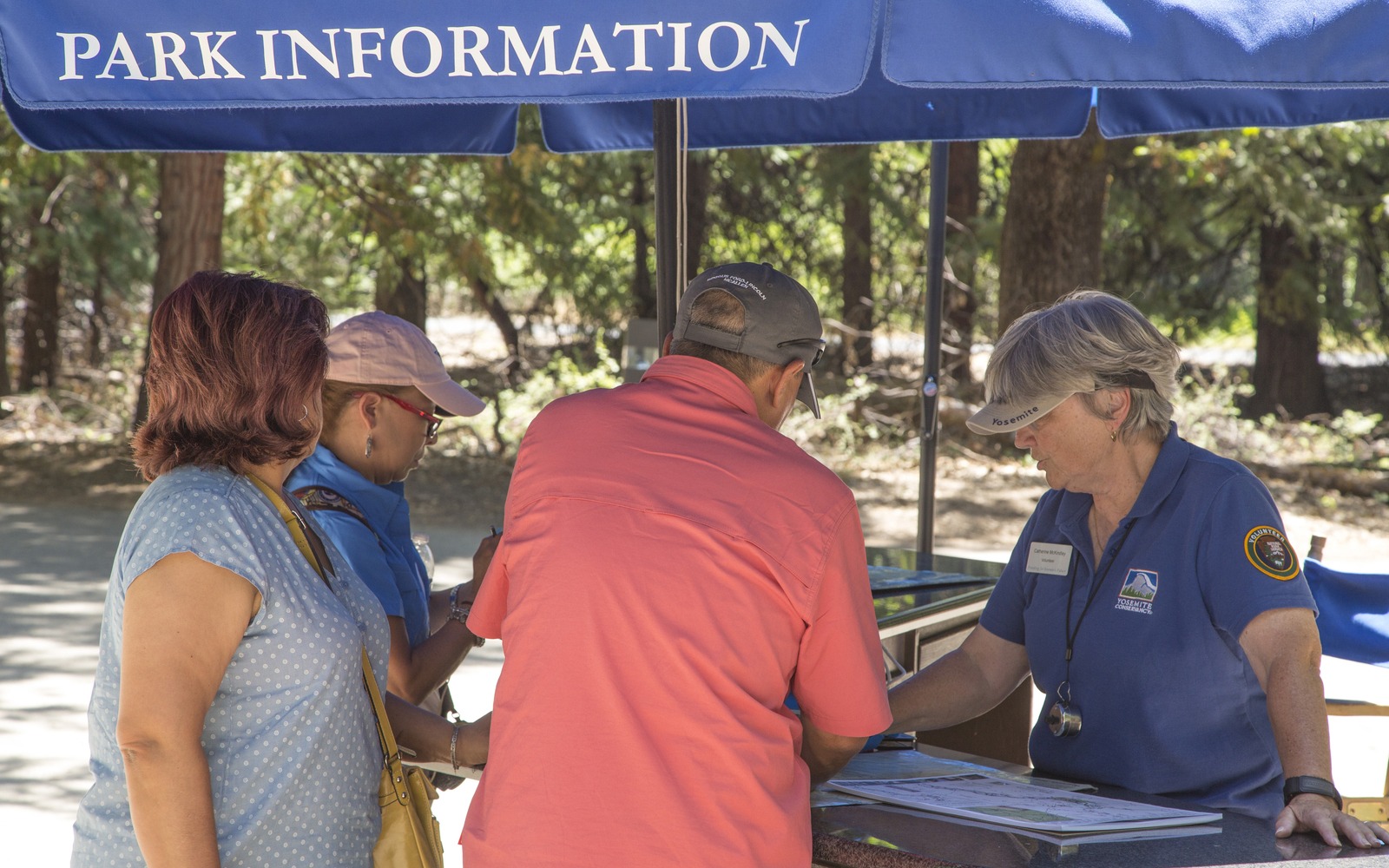 Along with welcoming and orienting people, our monthlong volunteer program expanded to support Preventive Search and Rescue (PSAR) activities. PSAR-trained visitor information assistants stationed along the Mist Trail spoke with more than 76,000 hikers between May and September. Their time on the trail aligned with fewer accidents than in prior years on that popular riverside route to Vernal Fall, despite high water levels. In addition to keeping people safe and winning praise from visitors, the PSAR effort earned an official honor: Yosemite's Volunteer Program of the Year award. Our congratulations and deep gratitude to all involved!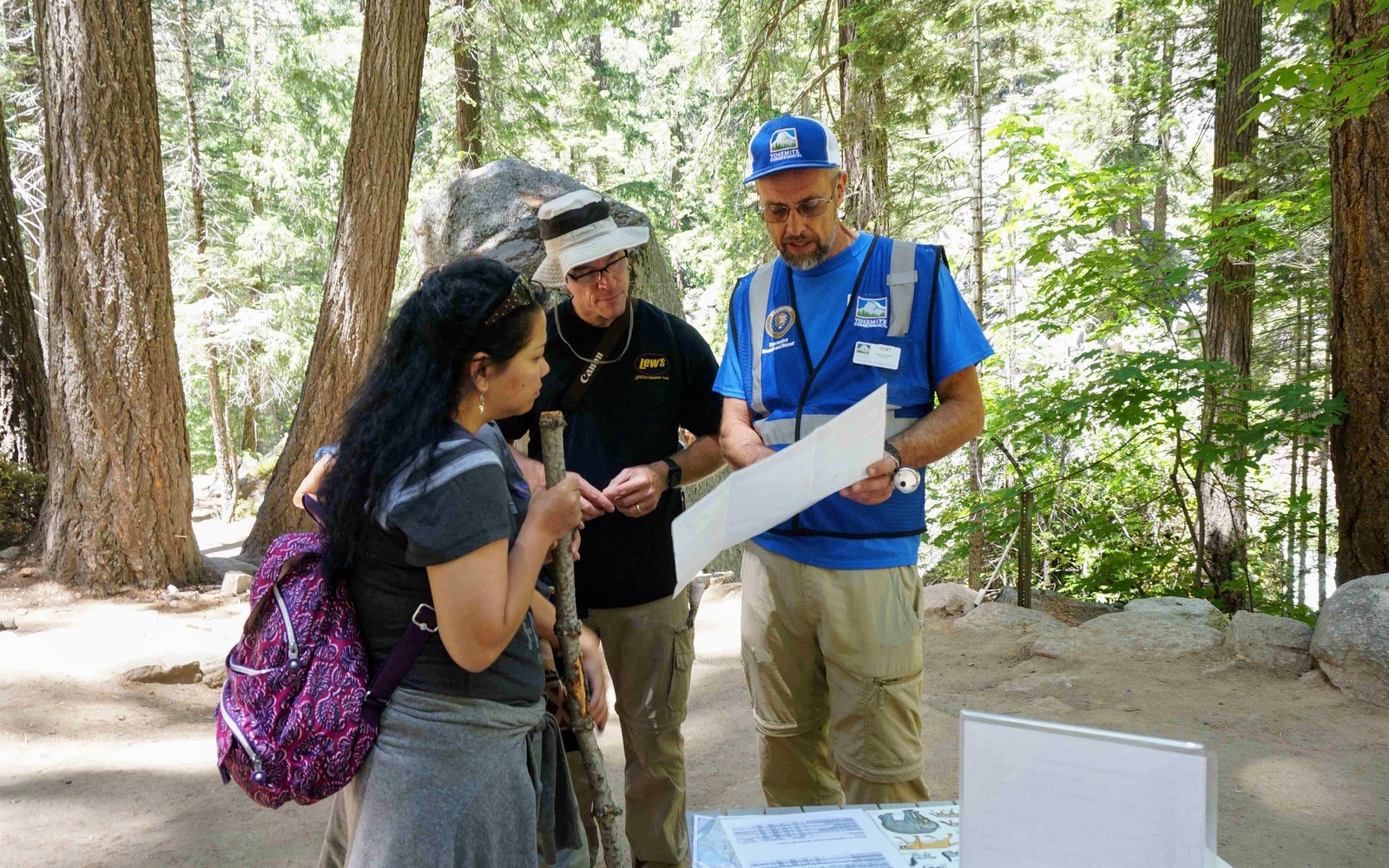 Restoring ecosystems and trails
Our work week program grew, too, thanks to the boundless dedication (and elbow grease) of people who love the park. In 2019, we welcomed 187 volunteers for 14 multiday sessions of ecological restoration. The crews worked in Mariposa Grove, Ackerson Meadow, Yosemite Valley and the high country, often contributing to Conservancy-funded projects. No matter the week's tasks — removing invasive plants, loosening trampled soil, planting seedlings — their work helped ensure the vitality and resilience of Yosemite's ecosystems.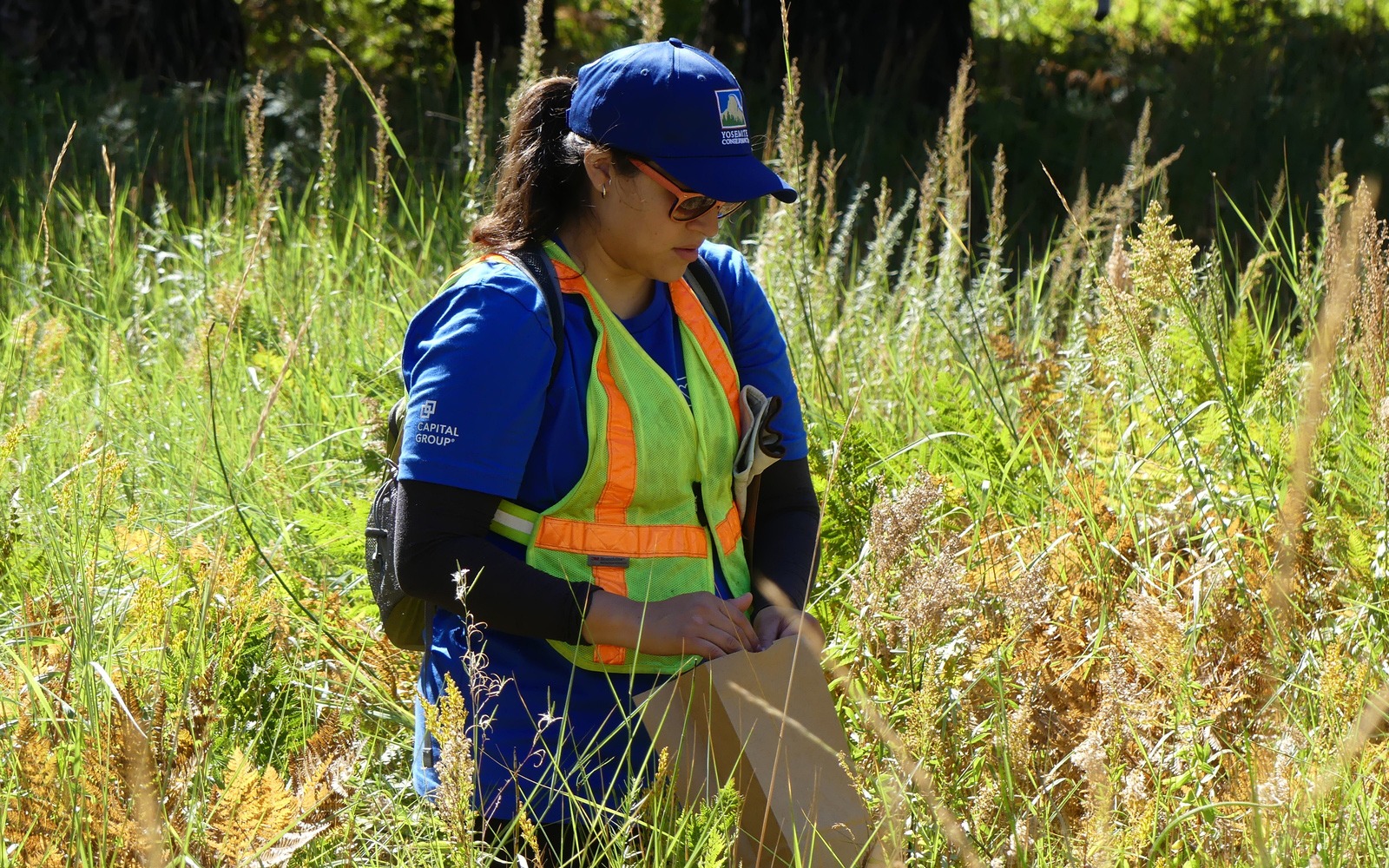 Our 2019 volunteers also lent a hand — well, many hands — to support trail restoration projects throughout the park. Over the course of the season, volunteer crews worked on 17 miles of trails. They pitched in on variety of to-dos, from clipping brush and clearing logs, to building stone steps and drainage features. (Special shout-out to Conservancy team member Allissa for leading this collaborative effort with the park's trail crews!)
Improving access to climbing areas
And speaking of trails … some of our volunteer groups helped improve approach trails for two popular climbing areas: Washington Column and El Capitan. Along the way, they got an immersive introduction to technical trail work. Volunteers helped park crews use hammers, pry bars and hoisting tools to fine-tune rock work and maneuver boulders. At the base of El Capitan, they removed an old trail, finished a new route to the wall and put up signs to steer people toward the correct path. (The new trail has welcomed plenty of climbers, as well as visitors seeking a close look at the world-famous feature.)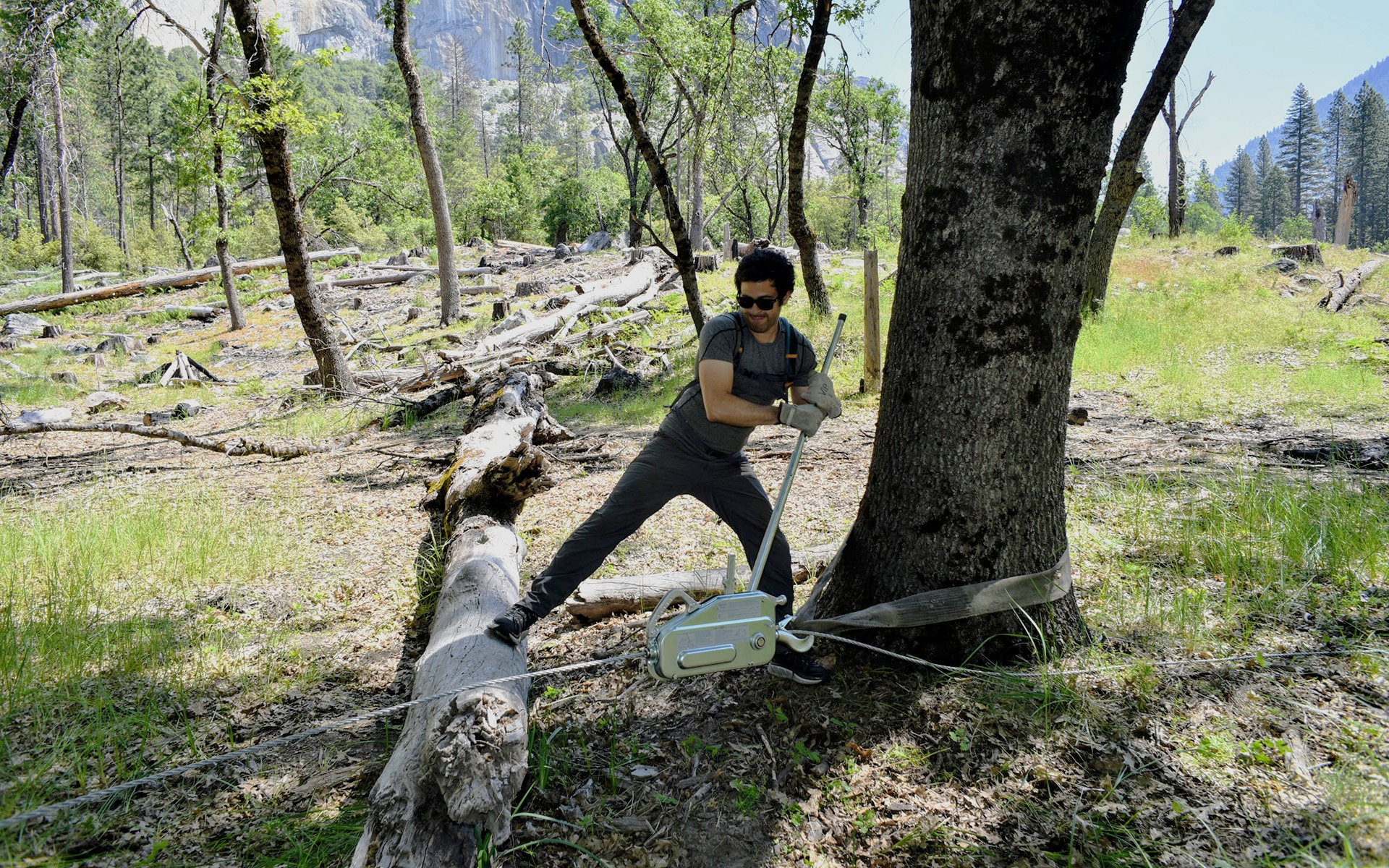 Teaching art in the park
Some of our volunteers accomplish their work with shovels and rakes. Others use trail maps and safety tips. And for the 29 artists who donated their time to teach at Happy Isles Art and Nature Center this year, the tools of choice included pencils, paintbrushes and pastels! Our 2019 volunteer art instructors led activities for kids, guided novice painters toward frame-worthy watercolors, helped people capture their observations in personal nature journals, and much more. Thanks to them, our 292 art classes gave 2,500 participants the chance to add some creativity to their Yosemite experience.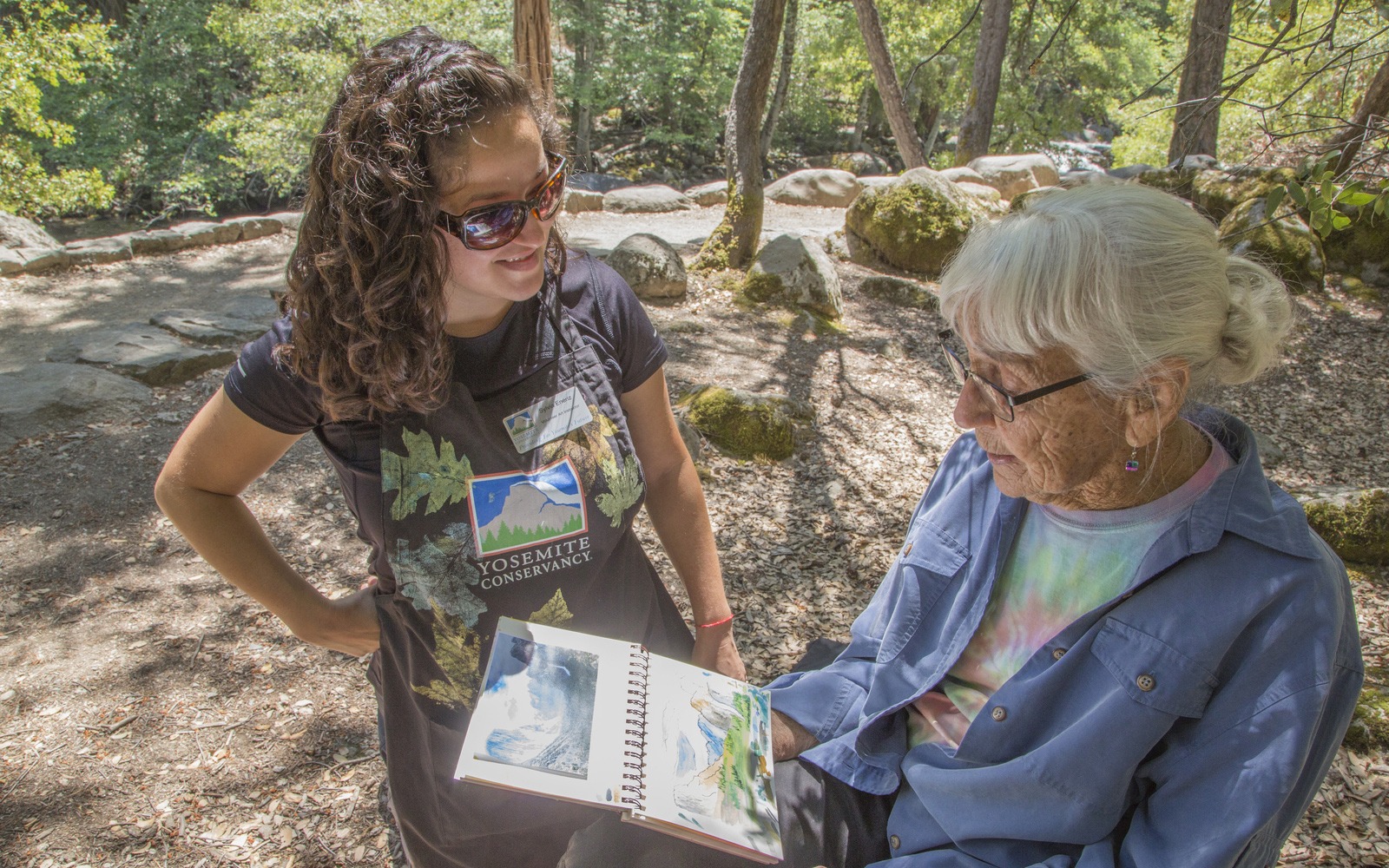 Our 2019 volunteers worked tirelessly in meadows, among sequoias and under bright blue tents to keep trails sustainable, habitats healthy, and people safe and inspired. No matter what metric you use — hours donated, conversations counted, miles restored — the impact of our volunteers' efforts is clear: better-protected resources and positive visitor experiences.
Thank you to everyone who donated time to Yosemite in 2019, whether through our programs or through National Park Service channels. And congratulations to our volunteer team on a successful season!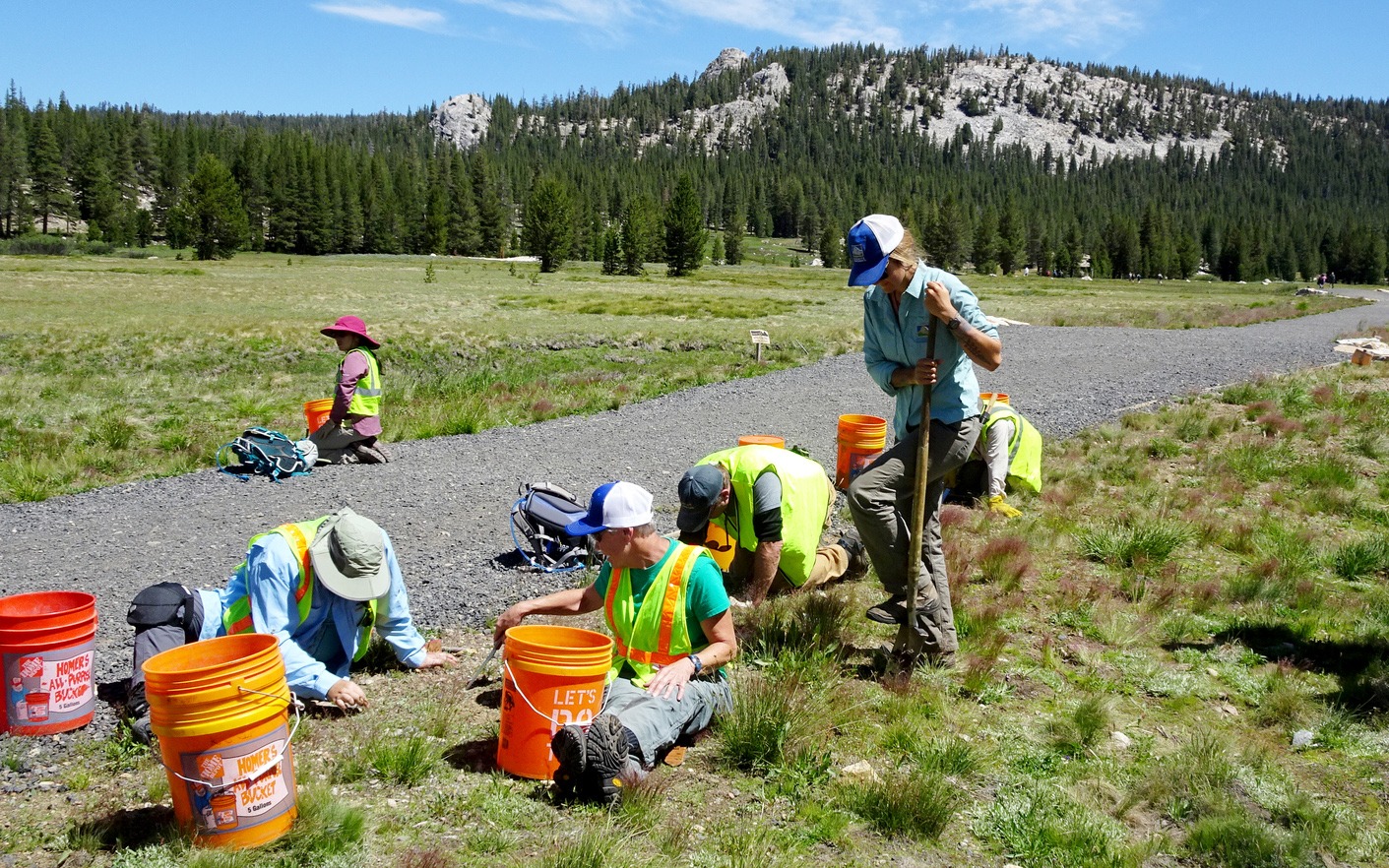 Inspired to donate your time to help Yosemite? Applications for next year's volunteer programs will be posted on our website in early 2020.