What would you do if you had a week to spend in Yosemite? How about 12 weeks? For the 15 college students who arrived in the park back in May to spend three months as Yosemite Leadership Program (YLP) summer interns, opportunities for learning about, exploring, and contributing to Yosemite abound.
During their 12 weeks in Yosemite, YLP interns go on backpacking expeditions (the 2016 group kicked off the season with a trek to Ostrander Lake), take an environmental leadership class, and, true to the program name, complete intensive internships alongside NPS and park partner staff. They work with scientists and resource managers, lead cultural demonstrations and educational programs, support Preventive Search and Rescue efforts and the Wilderness team, and much more.
We caught up with one of this year's YLP interns, Lihai Lin, to hear about his experience in the program so far. Lihai, 19, was born in Taiwan and grew up in the Philippines, where he used to compete with a hip-hop dance group and developed a passion for creative expression in all forms, from drawing and painting to culinary arts. He moved to the U.S. on the first day of his freshman year at the University of California, Merced — home to the academic-year version of YLP and the Wilderness Education Center, both supported by Conservancy donors (as is the summer internship program).
Now a rising junior double-majoring in psychology and business, Lihai is taking the summer to pursue his artistic interests as an intern at the Yosemite Art Center, where he is learning from the Conservancy's Art Center Coordinator, Aline, and leading art classes for children.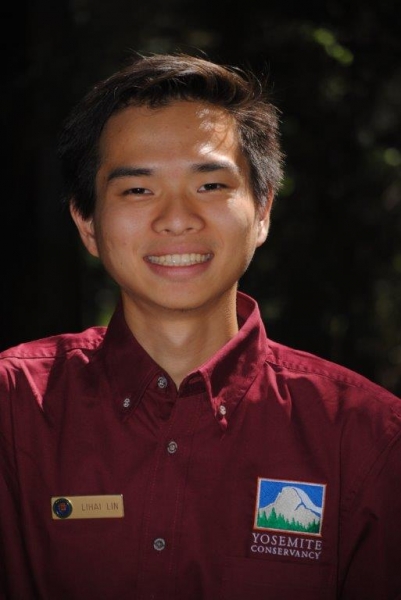 How did you get involved in the Yosemite Leadership Program?
As a tour guide on campus at UC Merced, I get to talk about the Yosemite Leadership Program to prospective students. This made me intrigued with the program — I talk about it all the time, but had not experienced it for myself. With the encouragement of a coworker who had gone through the YLP program, I applied and was accepted.
Had you spent much time in the park before YLP?
I had only been to Yosemite once before YLP, with some friends. Through this program, I have learned countless things about what makes the park so unique, and wish that I had come here sooner!
Describe your internship at the Art Center so far. What does your average day look like?
My internship here is amazing. I get to think up different art programs for children. If I have free time, my supervisor, Aline, introduces me to different art styles. I get to apply what I learn from her in the children's classes that I create and teach.
What do you hope to share with the kids in your art classes this summer? What are the kids teaching you?
I hope to share the passion I have for art, and how much fun it can be to learn different techniques and styles. I also want to share with them the different things that make Yosemite so wonderful and amazing. I tend to overthink my art, but the kids are teaching me not to be afraid and to just have fun.
What are some of your goals for your YLP experience?
My personal goal is to be able to paint something I could hang in my own room. I also hope to build better customer relation skills (Aline is amazing with this!) and to develop a much deeper appreciation for art.
Why do you think it is important for young people to have a chance to connect with Yosemite and other parks?
There is so much history that could be learned in each park. Plus, being able to witness nature's own creation in person is just breathtaking. The feeling of looking at something online can never compare to the jaw-dropping view of gazing at something so magnificent.
Inspired by Lihai's passion for art and Yosemite? Bring your kids for a children's art program or a drop-in crafts session, or join one of our artist-led workshops during the week (Monday-Saturday, 9:45 am to 2 pm). Check out the calendar to find a class that fits your style and schedule!