This story on the legacy of Chiura Obata was featured in our Spring/Summer 2023 Magazine, and was written by Kimiko Martinez.
It was 1927 in Yosemite.
Ansel Adams was in the limelight for a stunning, almost-surreal photograph of Half Dome. Nearly half a million visitors were rushing into the park, thanks to the recent completion of Highway 140. And a middle-aged Japanese artist was quietly navigating the Yosemite wilderness, appreciating, documenting, and drawing the epic beauty around him.
Chiura Obata spent six weeks during his first trip to the park away from the crowds in Yosemite Valley, mostly in the High Sierra. He described the experience as "the greatest harvest for my whole life and future in painting." He completed 100 drawings in pencil, watercolor, and sumi ink, more than 30 of which he later translated into color woodcuts. His works now reside in the Smithsonian American Art Museum in Washington, D.C.; the Whitney Museum of American Art in New York; and the de Young Museum in San Francisco, among others.
"Obata's legacy reminds us that time spent in 'Dai-Shizen' or 'Great Nature' has the power to help heal and sustain us physically and emotionally and grow in love and appreciation for ourselves, our neighbors, and this planet," says April Megumi Kunieda, an interpretive ranger with the National Park Service and organizer of Yosemite's donor-funded Obata Art Weekend. "I think he rivals John Muir in his writing; in the way he talks about Great Nature — how essential it is to our health and well-being, how central it is in making good art … and when you look closer and build a deeper, more substantial relationship with Great Nature, it not only benefits you, but also the places you're in. It's a reciprocal relationship."
Obata's traditionally Japanese artistic style sets him apart from other artists who've captured the beauty of Yosemite. And while he did make prints of El Capitan and Half Dome, the bulk of his work captures different aspects of the park and atypical moments of beauty and the power of nature.
"He painted landslides and the dead of winter with white all over," says ShiPu Wang, the Coats Endowed Chair in the Arts and professor of art history at the University of California, Merced. "He understood what nature was all about."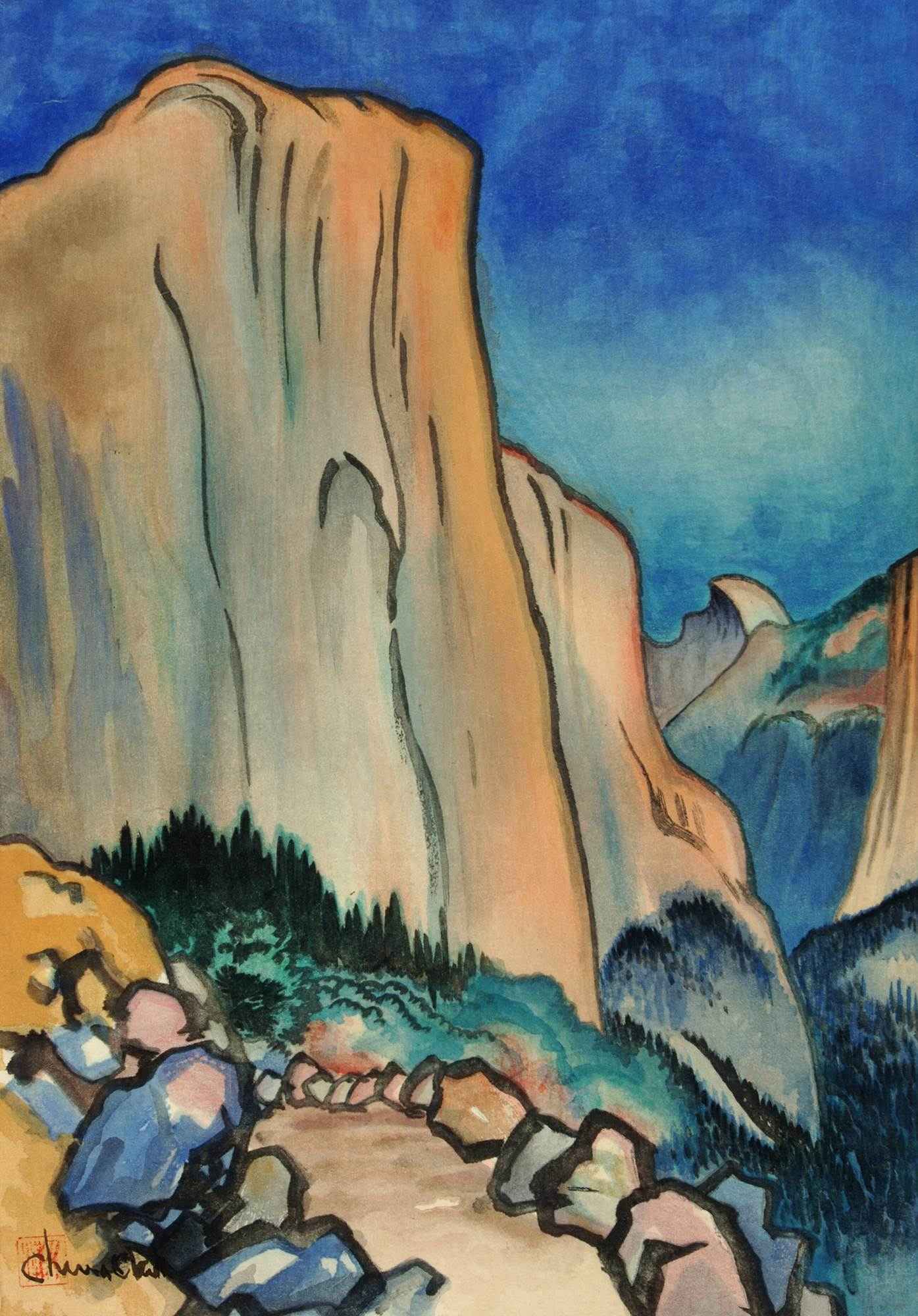 Obata's reverence for nature shaped his art, and it also shaped his experience as an immigrant. Years before he was sent to an incarceration camp for Japanese Americans during World War II, navigating "Great Nature" in the United States helped to shape his identity as a naturalized American.
"It's important to highlight Obata's love for Great Nature, but also his love for American landmarks," Wang says. "It's a way for an immigrant to appreciate the grandeur of a host country they eventually call home. It's also a way for artists to stake a claim — a statement that 'I live here as well. I'm appreciating the beauty of this place and sharing it through my art.'"
That feeling of belonging — and appreciation — is one Kunieda wants to foster with the Obata Art Weekend. Now in its third year, the event has grown to include guest speakers, artist workshops, demonstrations, and other programs. Beyond educating visitors and attendees, Kunieda hopes the event provides opportunities for inclusion.
"Obata is the only artist of color that is 'famously' associated with Yosemite," she says, noting he is one of the few non-white Yosemite-affiliated artists that comes close to being as widely known as Ansel Adams or Gunnar Widforss or Thomas Hill. "Being a full-time artist is inherently marked by privilege. And it says a lot about access to nature, but also access and representation in the art world."
It's why Kunieda is so excited about the park's partnership with University of California, Merced, which brings a cohort of art students to the event. Many are first-generation college students and from historically underserved groups. The goal is to emulate Obata's time communing with — and being inspired by — Great Nature, while also providing opportunities for access to spaces and people that are sometimes out of reach for young artists of color.
"Someone like Obata can exemplify how a public space, a shared environment, can be so beneficial," Wang says. "How many stories and experiences can come from it."
With the imminent 100th anniversary of Obata's first trip to the park, Kunieda hopes the event will become a permanent fixture in Yosemite's summer attractions. The Obata Art Weekend, she says, provides an opportunity for visitors to connect with nature in a more meaningful way.
"It's mindfulness. It's training yourself to stop and look closer," she says. "I know so many hikers or climbers who are objective-based, goal-oriented. They're thinking, 'I'm going to hike this far, get to this thing as fast as I can,' and not thinking about how amazing it was that they walked through a field of fireweed or that they're there at just the right time for waterfall ranunculus.
"An artist has to stop and consider all of it. If you're going to represent it well — in a way that means something to you — you walk away having made a relationship with it. Even if you've done nothing with that piece of art, you created a relationship with that tree, that waterfall, that vista. And that's special."
Kimi Kodani Hill, Obata's granddaughter and editor of Topaz Moon: Chiura Obata's Art of the Internment, says her grandfather wanted everybody to find their own personal relationship to art and nature.
"He felt that he could embrace this beauty and the beauty also embraced him — no matter what was going on in the rest of the country," she says. "Nature was always there for him."
The Obata Art Weekend is funded, in part, by the Pitzer Family Foundation and Yosemite Conservancy donors. Click here to read about the 2023 Obata Art Weekend's schedule of events. Click here to learn more about how Yosemite Conservancy celebrates Obata's legacy.