During its early years as a national park, Yosemite was primarily a mild-weather destination. Then, in 1926, the four-season Hwy. 14o opened the Valley to year-round access. Before long, the park was home to an array of winter activities, with sled runs, an ice rink and a ski school.
Today, Yosemite is still far quieter during the snowy season than in the warmer months. But for those willing to brave brisk temperatures (and comply with tire chain rules), winter can be a magical time in the park. Not sure where to start? We compiled a few tips from our team for making the most of a winter visit.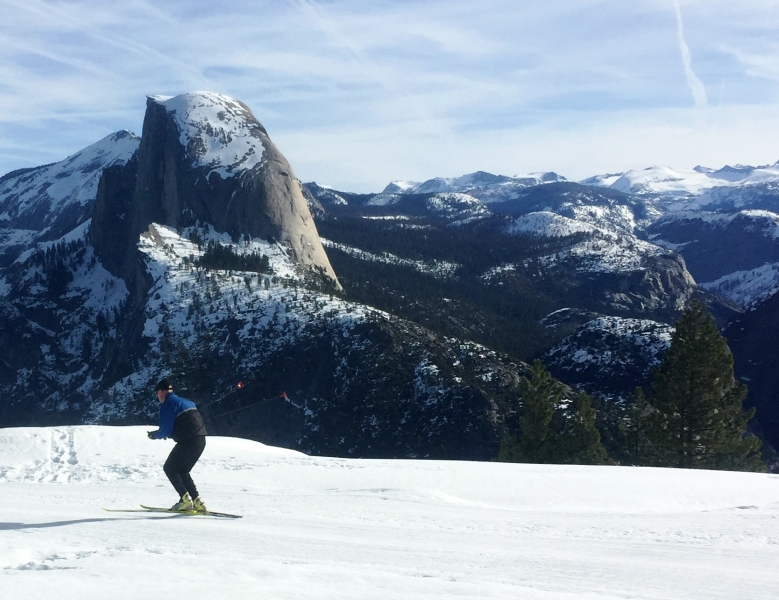 Ski. Snow opens up new terrain in Yosemite — especially if you can find a pair of skis.
Explore around the Badger Pass Ski Area, which serves as the starting point for 90 miles of Nordic skiing trails, or put on some skate skis (shorter and lighter than their classic cross-country cousins) and cruise along Glacier Point Road. Don't forget to bring water and snacks, keep an eye out for winter birds, and take a breather to enjoy the view.
For a slightly smaller-scale (and kid-friendly) adventure, head to the eastern end of the Valley. The Happy Isles loop offers a picturesque setting for gentle sledding, or for a good-natured snowball fight.
Snowshoe. Sneak in some low-impact exercise as you explore snow-blanketed forests, meadows and ridgelines. Check our Outdoor Adventures calendar for seasonal treks to places like Dewey Point, where you'll find eye-popping views of the Valley. Or head north to try out the trails around Crane Flat. Our favorites in that area include:
Clark Range View: At 4 miles round-trip on flat terrain, this is a great route for beginners. Go on a clear day to take advantage of the knock-your-socks-off view (of the Clark Range) at the turnaround point.

Clark Flat Lookout: Be prepared for a steady climb on this 3-mile out-and-back trek, and reward your effort with panoramic views from the fire lookout, a two-story structure built in 1931. Sign the guest book at the tower, and pack out any snack scraps if you decide to refuel before the descent.

Crane Flat Meadows: This is a good option for snowy days, especially if you don't want to venture too far from your vehicle. When you're in a meadow, stay near the tree line — it's safer for you and for the wetland ecosystem.

The Groves: You might have hiked through the Merced and Tuolumne giant sequoia groves in the summer … but treading among the ancient trees in the quiet of winter is an entirely different, and marvelous, experience.

Gin Flat: The longest and most strenuous option on our list, this trail climbs along a ridge for about 3 miles, before connecting with Tioga Road near Tamarack Flat Campground; from there, you can hike back along the road. Start early to allow plenty of time for the 6+ miles.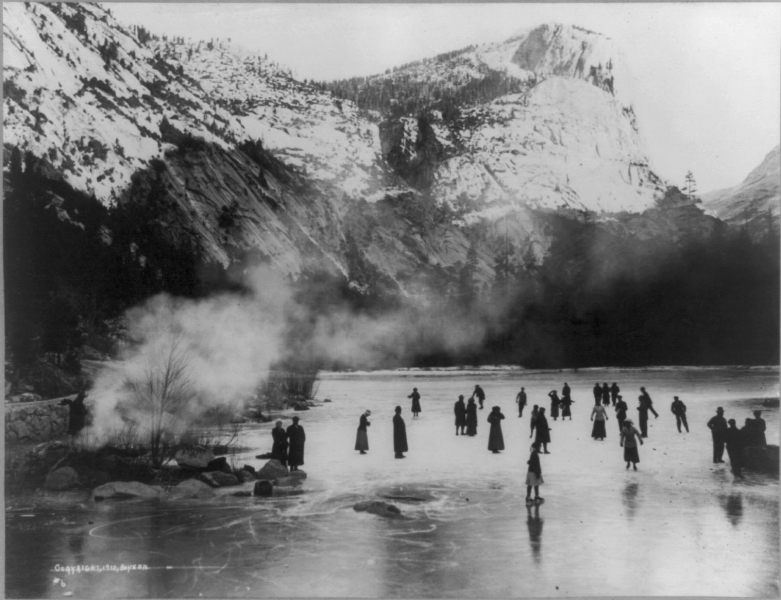 Skate. Yosemite's first skating rink was built in 1929, as the park was making its (unsuccessful) bid to host the 1932 Olympic Winter Games. Today, the outdoor rink at Curry Village is a popular winter destination, and even provides a home for a thriving hockey league.
One of our wilderness team members, a lifelong hockey player, says it was "a totally unexpected treat" to discover that he could keep up with the sport in his new Sierra home. The crew scrimmages three times a week — give the skaters a cheer if you see them out on the ice.
Enjoy the scenery. Yosemite is never hard on the eyes, but its winter palette is particularly breathtaking. Snow adds definition to evergreen branches, illuminates crevices and bumps on seemingly smooth granite faces, and transforms familiar features.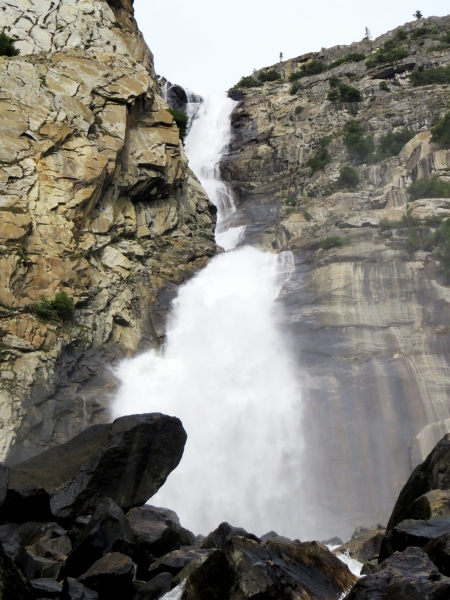 Hike. You don't always need ice or snow to enjoy winter activities in Yosemite. If weather allows, take advantage of the slower season to explore a less-visited part of the park: Hetch Hetchy. Thanks to a relatively low elevation (under 4,000 feet), many Hetch Hetchy trails remain open and navigable even in winter. Two ideas for cold-weather hikes in the area:
Cross the O'Shaughnessy Dam, head through the tunnel (look out for puddles) and follow the rim of the reservoir to Wapama Falls, which plunge more than 1,000 feet from the valley's rim into the water below. The hike to the falls is 2.5 miles (one-way); to extend your journey, continue along the reservoir another 4 miles to Rancheria Falls.

From the trailhead (located between the Hetch Hetchy Entrance and the dam), make a steep descent into oak and pine forests, and continue on to Poopenaut Valley and the banks of the Tuolumne. With 1,229 feet of elevation change in just 1.25 miles, this is a steep, taxing trek. Take a break at the river to enjoy the scenery and some snacks before tackling the return trip.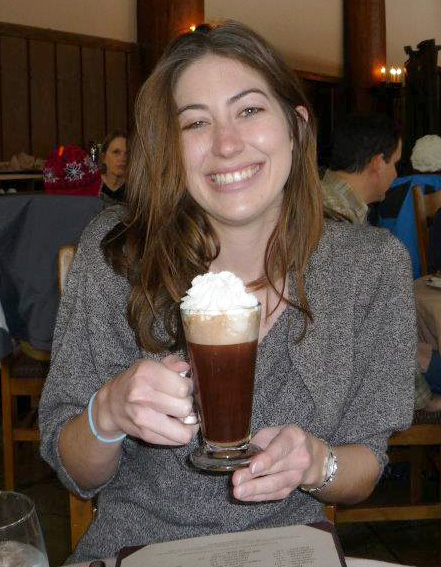 Warm up. We'll end with a perennial crowd-pleaser: Hot chocolate, topped with a dollop of whipped cream for added decadence.
A few of our team members recommended this sweet treat to end a winter day in the park, including one who recalls her first sip:
"I was helping out with our annual Spring Gathering event in March. It was 75 degrees when we arrived in the Valley, but on the last day, I woke up and there was snow everywhere! It was a winter wonderland.
"A coworker suggested going to the Ahwahnee for hot chocolate before heading out. There aren't many things better than sitting with a warm cup of cocoa and looking out at snowy Yosemite."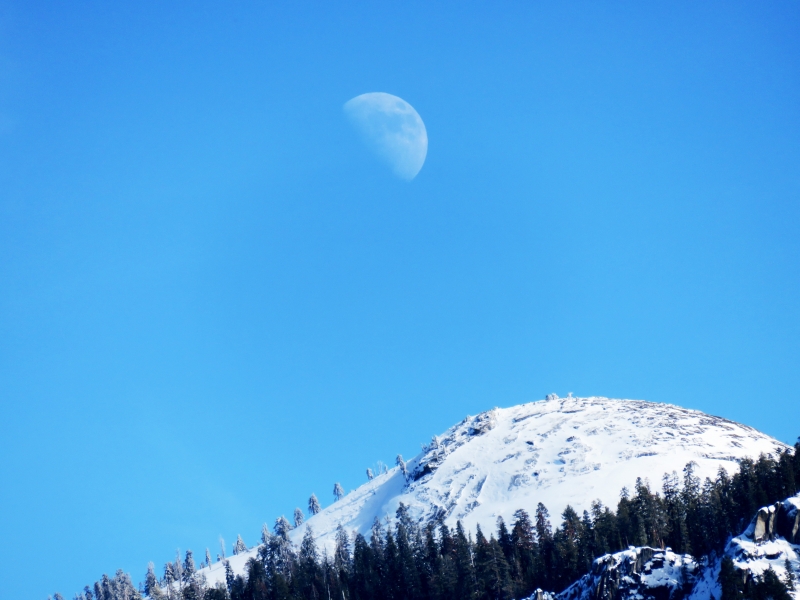 That wraps up our favorites (for now), but we'd love to hear from you: What are your top ways to experience Yosemite in winter? Share your tips with us on social media — we're @yosemiteconservancy on Facebook and Instagram, and @YoseConservancy on Twitter. See you in the park!