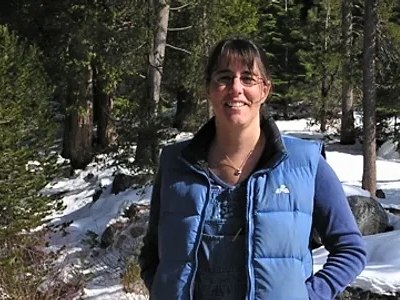 Next up in our "Six Questions" series: Rachel Mazur, Yosemite's branch chief of wildlife, visitor use and social science. Rachel was born in California, but spent her formative years in Syracuse, New York (go Orange!). She began working for the National Park Service in 1989, when she spent a summer at Zion; after that, there was no turning back. After working at several national parks and a national forest, and co-owning a small solar company, she finally landed at Yosemite in 2014.
In addition to her extensive public-lands resume and academic credentials (she holds multiple advanced degrees, including a Master of Public Administration and a doctorate in wildlife ecology), Rachel is an accomplished author. So far, her bibliography includes numerous scientific and popular articles; "If You Were a Bear," an award-winning picture book; "Speaking of Bears," a non-fiction book about managing and protecting black bears in Yosemite and other parks; and "The Nature Club," a series of nature-based books for middle-graders.
1. When did you first know you wanted to be an ecologist?
I started working in National Parks in 1989 as a naturalist. For several years, I loved it. I worked in Zion, Denali, Kings Canyon and then Sequoia. While I was at Sequoia, though, I decided I wasn't satisfied observing wildlife and reading other people's research; I wanted to do my own research. At that point, I went back to school to study wildlife ecology. Since then, I've worked as a wildlife ecologist at several other parks including North Cascades, Redwood and Saratoga. I also worked at a national forest called the Humboldt-Toiyabe. I came to Yosemite in 2014.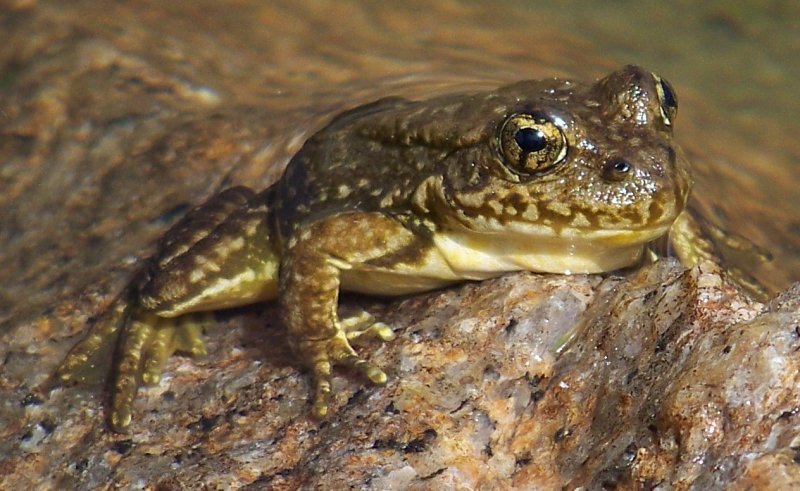 2. We're sure you've crossed paths with animals in Yosemite countless times. Is there one encounter that stands out?
A few years ago, I was on a backpacking trip with my family. On the third day, my husband and daughter decided to relax and play at an alpine lake while my son and I took a cross-country trek out to visit a remote lake basin that I'd wanted to see due its prolific frog population.
It took us several hours to get there, but my son was determined to see those frogs. When we did, we found ourselves in the most stunning landscape, surrounded by hundreds of Sierra Nevada yellow-legged frogs. It was truly incredible. It was also so funny to see his reaction. He looked at a few frogs and then said, "Okay, mommy. I'm ready to go back now." We had so much fun.
3. What's something that you do as part of your job that might surprise people? 
While my main job is running the wildlife program, I also oversee the biggest management-monitoring program in the National Park Service: Yosemite's Visitor Use and Impact Monitoring Program. [That program does what the name implies: monitors how visitor use impacts park resources. Through the program, which is anchored in the Wild and Scenic Rivers Act, Rachel oversees efforts to monitor and report on biological, historical and cultural resources in the Merced and Tuolumne river corridors.]
4. This is a two-part question, but at least the parts are related! What's something fascinating you've learned about Yosemite wildlife? And what's something you've learned from Yosemite wildlife?
Just over ten years ago, when we still had lot of bears that were conditioned to human food, a colleague named Tori Seher and I studied social learning in bear cubs. We learned that while some sows (adult females) took their cubs with them into the campgrounds while they foraged on human food and garbage, other sows left their cubs up in trees and foraged alone. Only those cubs that were brought into the campground picked up the problem behaviors.
In the meantime, I did a study on hazing and found that hazing didn't stop food-conditioned bears from foraging on human food and garbage, but did change the way they foraged. Putting these studies together, we learned that even if we couldn't get food-conditioned sows to stop foraging on human food and garbage, we could get them to leave their cubs outside of campgrounds, thereby keeping the sows from passing on the problem behaviors. Doing that, we were able to keep more bears wild — and alive!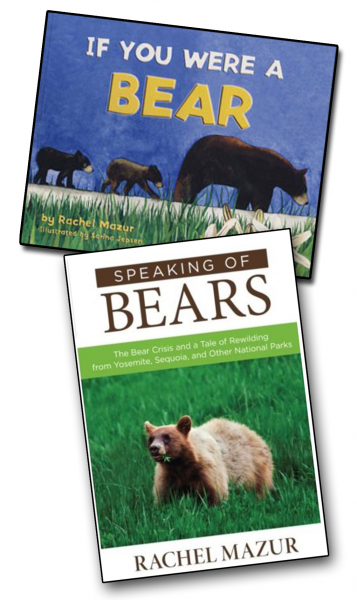 I will never forget the day I found my first bear den. I was snowshoeing with an intern from Tanzania who had never seen snow and had never seen a bear. When we came upon a fir tree with a classic den and a sow and her two yearlings inside, it was magical. What I learned that day from that bear was that I needed to have two cubs so I could hug them all winter, which is exactly what I now do with my twin human cubs.
5. What advice would you share with people who are interested in working with wildlife in Yosemite or other parks?
Take chances and don't be afraid to move around. There is a lot of value in knowing a place well, but there is also a lot of value in having experienced a range of ecosystems, a range of regional cultures and a range of wildlife.
6. You wrote a children's book called "If You Were a Bear." If you were a bear, and could talk, what would you tell people?
I would tell them the stories behind the wildlife management team's restoration work. In fact, I'm hoping that will be my next book. I'd also ask them to please drive slowly and store their food and garbage because it is such a simple way we can all be part of the solution and help keep bears safe and wild.
Want to learn more about how ecologists like Rachel study and protect wildlife in the park? Check out our stories about grant-supported efforts focused on bears, owls, songbirds and foxes, and check out our current wildlife grants. 
Above: A black bear grazes in a meadow in Yosemite. Photo: Yosemite Conservancy/Keith Walklet