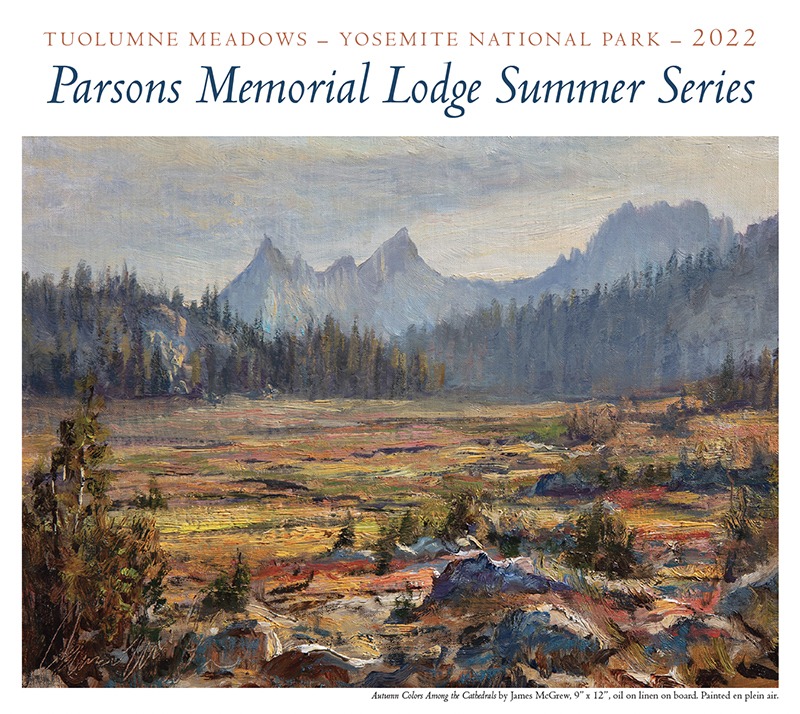 The Parsons Memorial Lodge Summer Series is back this year! This popular seasonal series of free presentations and poetry will take place at Parsons Memorial Lodge, a 115-year-old stone building in Tuolumne Meadows.
Check out the event calendar below (or download the flyer as a PDF), and catch recordings of each presentation on the Yosemite National Park Facebook page — tune in at or after the dates and times listed below.
The annual summer series of free weekend presentations, which began in 1992 and has been supported by Conservancy donors since 2011, typically takes place at the historic Parsons Memorial Lodge, which is one of the oldest rustic stone structures in a national park. The presentations, performances and workshops feature perspectives and expertise from a variety of fields, and all honor the lodge's founding purpose as a vibrant gathering place to share powerful ideas.
Past presenters have included renowned writers, musicians, scientists, park rangers, poets and historians, among many other innovative thinkers. Whether hearing about research on Yosemite ecology and geology, learning about the Sierra Nevada's human history, or listening to nature-based poetry and essays, guests gain a deeper appreciation for the park and our planet.
---
Saturday, July 23  2:00-3:30pm
Gifts of Granite, Wisdom from Rivers: Natural History and Poetry of the Sierra Nevada
Authors Steven Nightingale and Richard Nevle discuss their new collection of essays and poems, The Paradise Notebooks. With special guest Deborah Levoy.
Sunday, July 24  2:00-3:30pm
Out in the Grass: A Collection of Melodies Found in a Meadow
An afternoon of music with locally cultivated singer-songwriter group the White Bark Pine
Saturday, July 30  2:00-3:30pm
Seeking Yosemite on the Farm: A Journey to Grow Beauty and Cultivate Belonging on the Land.
A talk by Crystie Kisler, co-founder of Finnriver, farmer, educator, and community food system activist
Sunday, July 31  2:00-3:30pm
Becoming a Freedom Farmer: The Connection Between Conservation, Food Sovereignty, and Land Stewardship
A talk by Dr. Jasmine Ratliff, Co-Executive Director of National Black Food & Justice Alliance
Saturday, August 6  2:00-3:30pm
Regenerating Soil, Regenerating Soul: The Role of Wonder, Awe and Biophilia in Planetary Recovery
A talk by Hannah Gosnell, Professor of Geography, College of Earth, Ocean and Atmospheric Sciences, Oregon State University
Saturday, August 13  2:00-3:30pm
Alpine Inspiration: A Wellness Retreat in the Meadows
Mindfulness practice with Heather Sullivan, Executive Director and co-founder of Balanced Rock
Sunday, August 14  2:00-3:30pm
Improvisation As A Lifestyle: Don't just spend time preparing for the outcome… spend time preparing for whatever may come!
An interactive music performance by creativity farmer, multi-instrumentalist, and fashion insultant Joe Craven
Saturday & Sunday, August 20 & 21
26th Annual Tuolumne Meadows Poetry Festival
Morning workshops and afternoon readings with music  featuring poets Ellen Bass, Mai Der Vang, Megan Levad,  and musician Shira Kammen
Saturday workshop with Mai Der Vang: 10:00-11:30am  Sunday workshop with Megan Levad: 10:00-11:30am  Readings: 2:00-3:30pm
A reservation is required to enter Yosemite National Park from May 20 through September 30, 2022,
6:00am to 4:00pm. Visit www.recreation.gov for reservation availability.
Main image: A summer scene in Tuolumne Meadows. Photo © Fritzi Drosten.