How did you welcome 2019? Here at the Conservancy, we ring in each new year with an exciting (to us, at least) tradition: announcing a new set of grants to Yosemite National Park!
This year, with your support, we're funding projects throughout the park, from the Valley floor to the Sierra's high, rugged peaks. Here's a quick topographic tour of what's coming up this year…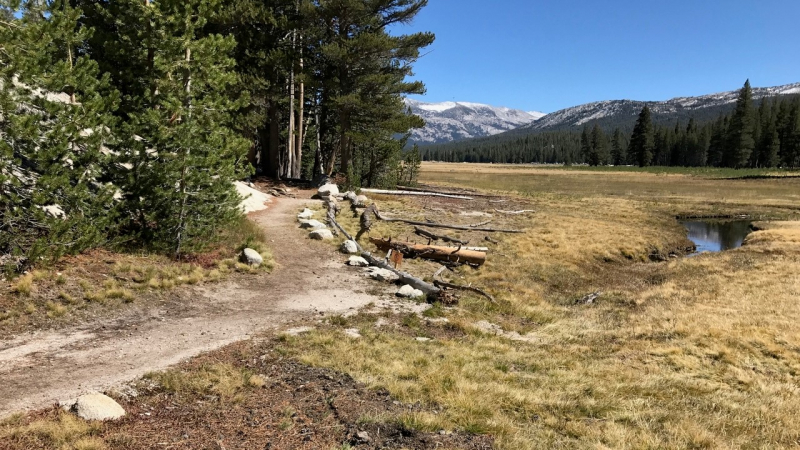 MEADOWS: Look for crews at work in eastern Yosemite Valley, where they'll be removing abandoned infrastructure and planting native vegetation to revitalize habitat near the Lower River Amphitheater. In Tuolumne Meadows, take note of the gullies near Pothole Dome – the result of years of erosion, and the focus of a new effort to transform a dried-out area back into a healthy wetland.
At Ackerson Meadow, scientists will be surveying plant and animal life in preparation for future restoration work. And in other park meadows, including Crane Flat, Gin Flat and Hodgdon Meadows, ornithology experts and interns will be working on a 30th consecutive year of songbird research, as part of the longest-running MAPS (Monitoring Avian Productivity and Survivorship) bird-banding program in the NPS.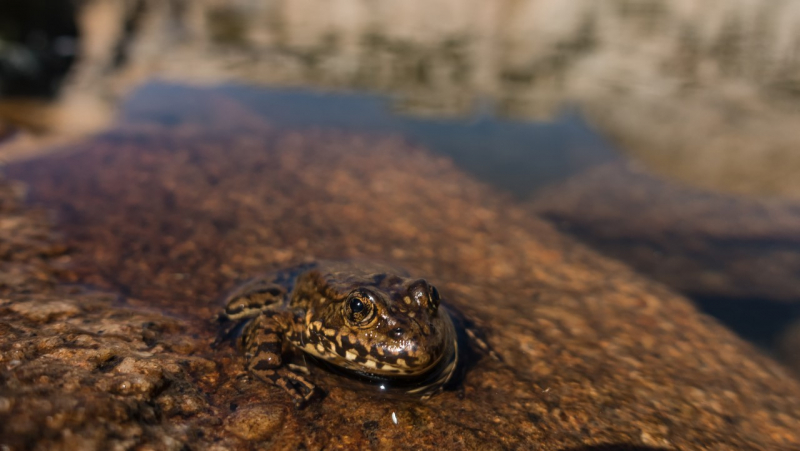 LAKES AND RIVERS: Yosemite's aquatic habitats support a variety of flora and fauna. This year, through a grant-supported project, scientists will be learning more about three native amphibians that rely on the park's lakes, ponds and rivers: California red-legged frogs, Sierra Nevada yellow-legged frogs and Yosemite toads.
In addition to providing homes for aquatic species, water flowing through Yosemite fuels life throughout the park – and far beyond its borders. As they work to restore impacted areas of the Yosemite Wilderness, "Keep It Wild" crews of park staff and volunteers will remove backcountry campsites set up too close to water sources. (If you're backpacking in the park, remember to be a hydrology hero: Camp and clean up at least 100 feet from lakes, rivers and streams!)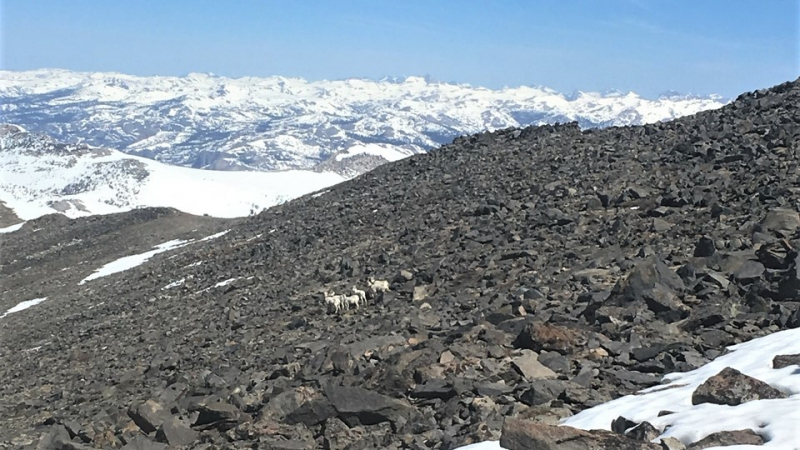 MOUNTAINS: For many Yosemite animals, the mountains are a protected, rugged haven where they can forage, hunt and roam. Some peak-dwellers, like marmots, are a relatively common sight; others are far more elusive.
In a stroke of serendipity, you might catch a glimpse of an endangered Sierra Nevada bighorn sheep bounding across a rocky slope in the Cathedral Range, see the crimson flash of a Sierra Nevada red fox dashing among pines, or find a four-toed, five-lobed (two at the front of the heel pad, three at the back) paw print left behind by a mountain lion. But you'll probably have better luck spotting the researchers who are studying those three species this year! With support from donors, biologists are working to establish a self-sustaining bighorn herd in the heart of the park, looking for signs of the rare high-elevation fox and surveying Yosemite's Puma concolor population.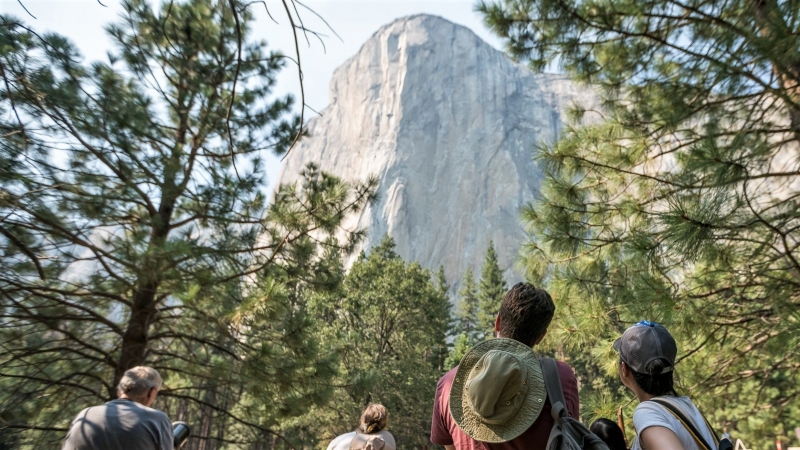 WALLS: Yosemite's granite walls are a world-renowned climbing destination (and a gleaming backdrop for countless paintings and photographs). If you're curious about climbing, but not ready to tackle 3,000-foot El Capitan, the popular Ask a Climber program (May-June and September-October, in El Capitan Meadow) lets you keep your feet firmly on the ground as you find out what it's like to scale a big wall.
As you peer through the Ask a Climber telescopes, see what you can spot on the cliffs. You might spy grant-supported Climber Stewards conducting patrols and removing discarded ropes, or peregrine falcons – the focus of a 2019 wildlife management project – perched on high ledges. If you're looking up at the walls at dusk, you might see bats on the move, hunting for insects. Thanks to another 2019 wildlife grant, scientists hope to learn about the potential risk white-nose syndrome poses to the park's cliff-roosting bats, and to work with climbers to help mitigate that threat.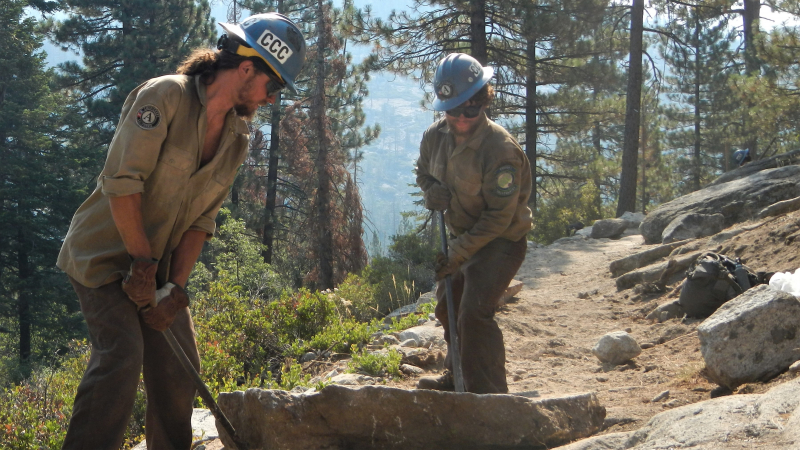 TRAILS: Hundreds of miles of trails crisscross the park, stretching out from roadside trailheads into the distant wilderness. Wherever you're hiking this year, keep an eye out for grant-supported trail crews at work! In the Valley, the park's world-class crews will be working on popular paths such as the Valley Loop Trail, Mist Trail and Yosemite Falls Trail. Farther afield, a pair of California Conservation Corps crews made up of 18- to 25-year-olds will take on restoration projects in the Merced and Tuolumne river drainages, improving backcountry trails around areas such as Ostrander Lake and Rodgers Canyon.
While you're out and about, you might bump into Preventive Search and Rescue volunteers, who help spread important safety messages at trailheads and on popular routes, or come across groups of junior rangers, Parks in Focus middle schoolers, teenage Adventure Risk Challenge and WildLink participants, or undergraduate Yosemite Leadership Program interns as they explore the natural world through donor-supported Youth in Yosemite programs.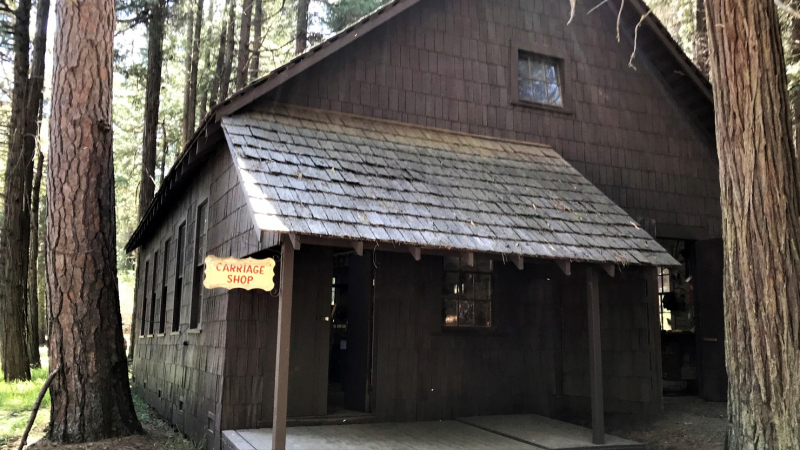 STRUCTURES: If your Yosemite travels include a visit to the Valley or Wawona, take some time to see how 2019 grants are preserving historic elements of the park's built environment. Start in the park's southwest corner, where crews will be restoring the 19th-century Chinese Laundry at the Pioneer Yosemite History Center, and will add exhibits shedding light on the role Chinese laborers played in the park's early years. Follow Wawona Road north to Yosemite Valley, where you'll be able to learn about American-Indian history and traditions at the Indian Village (behind the visitor center) and in the Yosemite Museum; a little farther west, you'll see the Wahhoga traditional roundhouse taking shape.
High above the Valley, near the strenuous Tenaya Zigzags, park crews will be reinforcing a slightly more modern structure: the Snow Creek Cabin, which was built in the late 1920s as part of an early system of backcountry ski huts. And while you probably won't wander into the Yosemite Archives, you'll be able to see the outcome of a project taking place in that vast storage facility online: preserving thousands of historical images. The photos will be made public in late 2019; in the meantime, you can browse the first batch of more than 6,000 photos, which were digitized through a 2018 grant, on NPGallery (bit.ly/np-gallery-yose).
Explore our website to learn more about our 2019 grants, and how you can help support projects in the park this year!
Above: A peregrine falcon soars high above Yosemite. These remarkable raptors, which have returned from the brink of extinction, are the subject of one of the Conservancy's 2019 wildlife grants. Photo: James McGrew