A monthly recap of what we saw, heard and did in Yosemite. Here's what happened in March…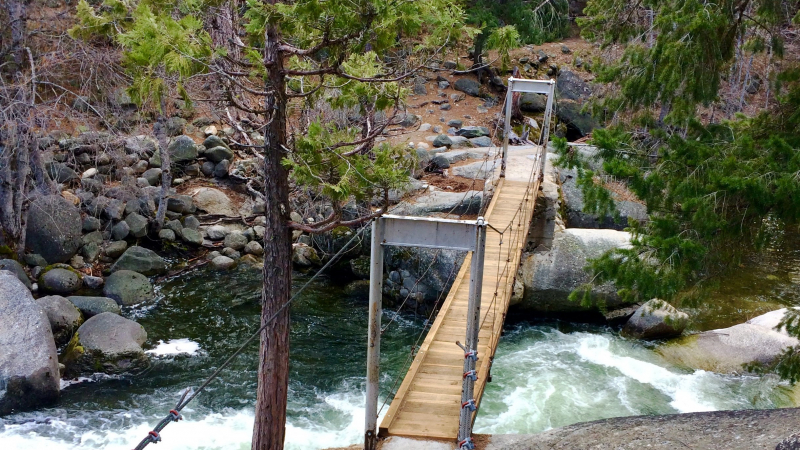 Swinging into spring
After a particularly wet winter, water is surging in streambeds and over granite walls, under bridges (including the Wawona Swinging Bridge, above), and through the Merced River Canyon, where the season's first wildflowers are stretching out of the soil. By the time the vernal equinox arrived on March 20, snow had melted from the floor of Yosemite Valley, revealing muddy meadows that will soon don their seasonal greens. A few thousand feet up, however, the landscape still sports its winter coat (more on that below).
Before welcoming spring, we celebrated the waning quiet, frosty season by asking park fans to share their shots for our "Yosemite Moments: Winter" photo contest, which wrapped up in early March. Check out our blog post about the contest to see some of the submissions!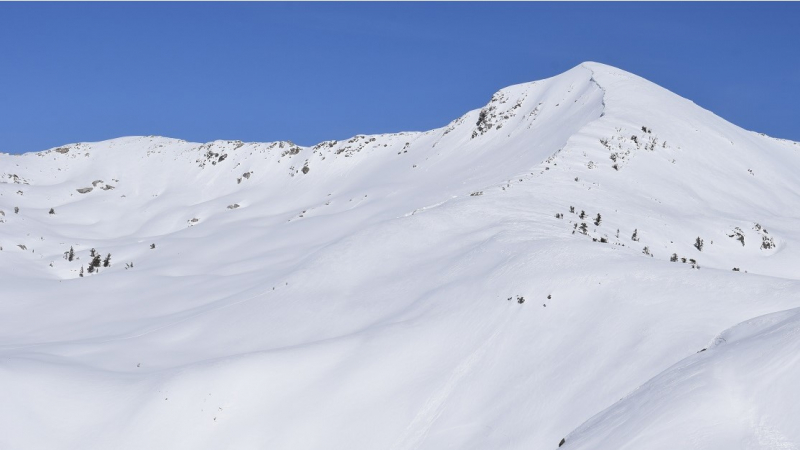 Skiing for science (again) 
Halfway through the month, Ryan, our projects manager, headed out for a week of winter camera surveys with the Sierra Nevada red fox research crew. Back in 2017, he joined the fox team for a snowy scientific excursion in northern Yosemite (click here to read the recap of that trip); this time, they skied south, to the Clark Range.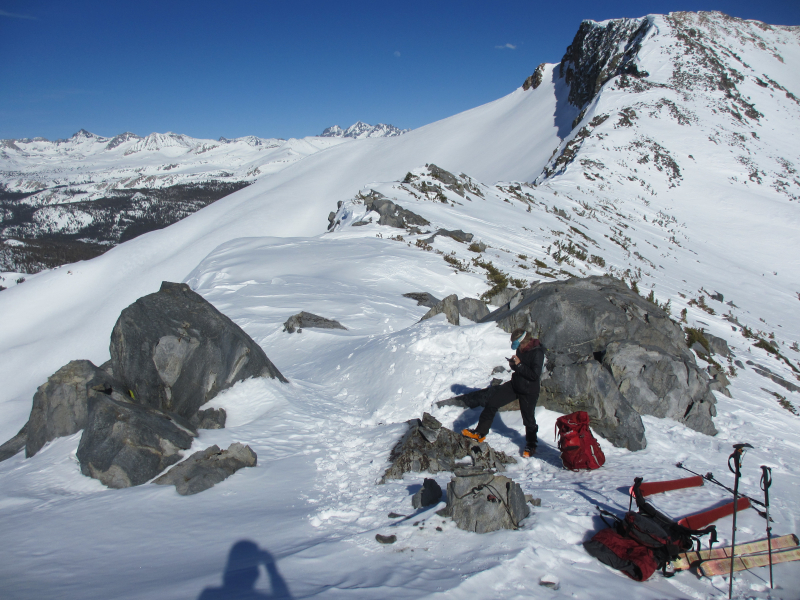 Their mission: to check on dozens of remote cameras deployed in the Yosemite Wilderness as part of a donor-supported effort to study these rare mammals.
In addition to reviewing remote camera images for glimpses of long, bushy, white-tipped tails, scientists are using genetic material (from scat surveys and hair snares) to learn as much as they can about this elusive species. How many Sierra Nevada red foxes live in and around the park? What is the extent of their range? Which parts of Yosemite are they using? Results will help shape an interagency strategy to ensure the fox population's long-term survival.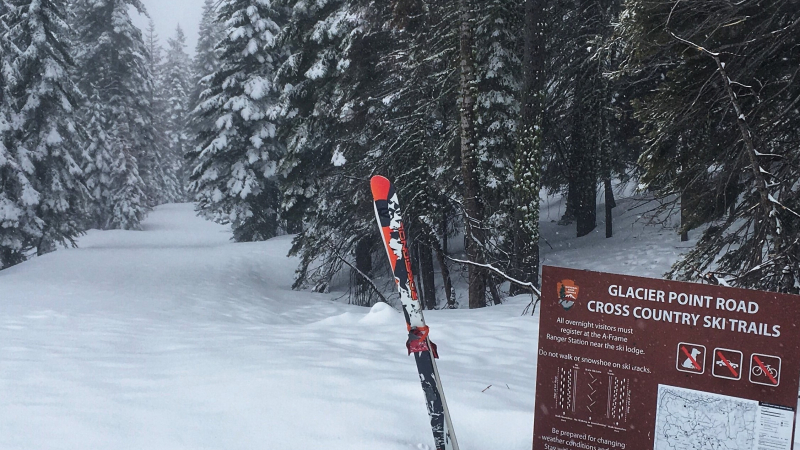 "It's going to be a long ski season this year."
The Tuolumne Meadows winter rangers shared that prediction in their April 3 update — an apt observation, given that more 5 feet of fresh snow fell in the high country in March, adding to the season's already notably high snow stats. As of the most recent surveys, water content in the snowpack was well above average in the Tuolumne (176%) and Merced (153%) drainages.
The rangers' observation is holding true for lower elevations, too; as of early April, about 8 feet of snow are piled up at the 7,000-foot elevation mark (for context, that's about 500 feet below the top of El Capitan, and 1,800 feet below Half Dome's summit). Our naturalist guides embraced the snowy conditions during our March Outdoor Adventures, which included snowshoe hikes in Mariposa Grove and to Dewey Point … and took advantage of springier weather at low elevations to lead a wildflower hike in the Merced River Canyon. Our snowshoe trips are done for the season, but we've got plenty of day hikes, backpacking trips, birding walks and more coming up on our calendar. Take a peek at upcoming outings— and if you've already participated in one of our adventures, don't forget to share your shots with us on Flickr!
Thanks to the deep snowpack, the park announced a two-week extension to the winter recreation season on and around Glacier Point Road. The road and surrounding trails will remain open for nordic fun until April 14. If you're heading out for a ski or snowshoe, watch out for plows, which started working on the road on April 1. (And we know you're wondering about Tioga Road — that high country route, like Glacier Point Road, is buried under feet of snow; the park announced in March that neither road is expected to open before Memorial Day weekend.)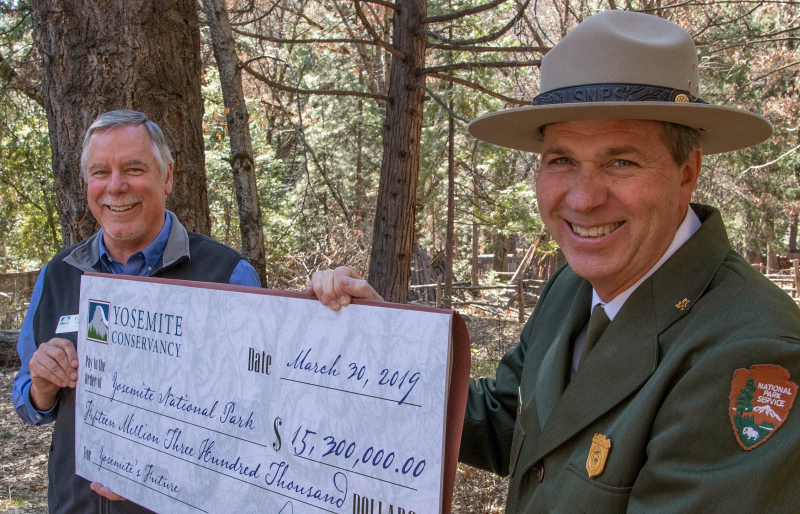 Gathering, with gratitude
We closed out the month with Spring Gathering, our annual event for Conservancy donors. The weekend celebration in Yosemite Valley included naturalist walks and ranger talks, photography and nature drawing, botany and birding, history and hiking … and a heap of appreciation for the community that enables us to support Yosemite year after year! Our thanks to all who attended the event, and to everyone who makes a difference in Yosemite by supporting our grants, programs and services in the park. If you attended this year's festivities, we'd love to see your photos — share them with us on Flickr, or via email.
Keep an eye on our website for news about other upcoming events, and don't forget to make your annual gift of $25 or more to secure your invitation to our 2020 Spring Gathering.
We'll close out this edition of the recap with a snapshot from our March 27 #ParkChat on Twitter (thanks again to Wild Tribute and 59NationalParks for inviting us to cohost). For our final chat question, we asked people share their elevator pitches for protecting Yosemite and other public lands. We got a lot of great responses, including a plug for a classic Ken Burns miniseries:

Imagine that you have 30 seconds to tell someone why you care about Yosemite and other parks – and why they should, too. What would you say?
Coming up on our calendars: Our 2019 art and theater programs started in early April! Explore our website to see what's coming up at Happy Isles and the Yosemite Theater. On the adventure front, we're looking forward to a Mother's Day waterfall walk, May moonbow photography, a weekend focused on experiencing Yosemite without a car, a multiday watercolor workshop with painter Steve Curl, and a special reunion trip for Outdoor Adventure alumni. Meanwhile, many grant-funded research, restoration and education projects kick into high gear in spring and summer — stay tuned for updates from the many projects your gifts are supporting this year.
See you in the park!
Above: A wispy Horsetail Fall catches the light on El Capitan. Photo: Carolyn Botell, March 2019