We've talked about Yosemite as a waterfall park, where creeks spill over cliffs and sparkle in the sun; as a geology park, where big walls tower overhead and glacial polish glistens; and as a wildlife park, where rare animals find refuge.
Yosemite is also an archeological park, with human stories etched deep into its fabric, whispers of people who have lived in or passed through the area over millennia. Protecting cultural resources is part of the National Park Service's mission. Archeologists help pursue that mission by looking for artifacts that offer a glimpse into human history. In Yosemite, that history extends back many thousands of years.
In 2017, with support from our donors, two interns from American Indian tribes had the chance to participate in archeological expeditions in the park: Raquel Romero, of the Gila River Indian Community, an avid hiker working on her graduate degree in archeology at Northern Arizona University; and Courtney Long, of the American Indian Council of Mariposa County/Southern Sierra Miwuk Nation, an aspiring teacher currently studying at Cuesta Community College in San Luis Obispo, California.
Raquel and Courtney worked with researchers in the backcountry to unearth a variety of artifacts, including obsidian flakes, arrowheads and stone scrapers. The teams identified projectile points (sharp objects that would have been attached to arrows, spears and similar devices), determined whether or not artifacts were "biface" (flaked on both sides), and used stratigraphic skills to read the landscape. At one site, for example, patterns suggested stints of human occupation layered among periods of high water, plant growth and fire.
As they carefully dug and sifted, Raquel, Courtney and their teams were delving back approximately 3,200 years. Think about that for a second. Estimates for the world's human population of three millennia ago vary widely, up to 170 million — that's equivalent to about half the current U.S. population, or a sliver of the 7.6 billion people currently inhabiting the planet.
What's it like to delicately brush back layers of earth and look back in time? We asked the interns!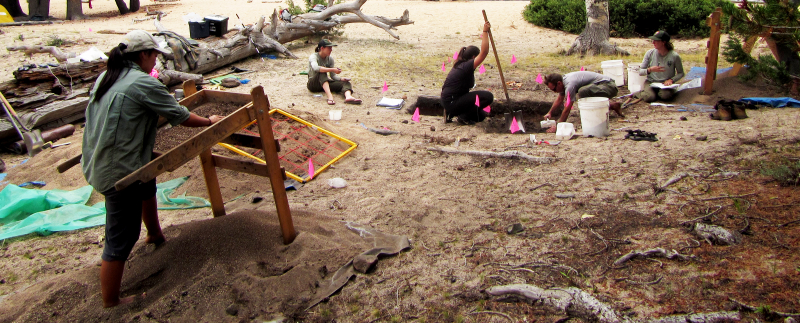 Q: How and why did you get into archeology?
CL: Being Native American and from the Miwok Tribe in Yosemite, I have always had a special interest in learning more about my tribe and culture. Hearing about the learning opportunity this internship would bring helped spark my interest in archeology.
RR:  I have always been interested in history. When I started college I originally wanted to study American Indian history, but when I began taking classes it seemed to cover such a short time period. I knew there had to be more to learn. On a classmate's suggestion, I took an anthropology course, and I've been hooked ever since. I enjoy learning about archeology because the record doesn't begin with colonialism; it begins thousands of years prior.
Archeology has also been a way for me to connect with my Native heritage, because I was raised in an urban area and did not practice a traditional life growing up. The curriculum at my college specialized in southwestern archeology, so I learned a lot about the ancestral people of the area, including the ancestors of my tribe. Learning details such as how the Hohokam farmed, what they ate, and differing pottery styles helped me create a Native identity of my own.
Q: Why is it important for tribal members to be part of archeological projects?
CL: I believe it's important for more tribal members to take part in archeological projects in Yosemite because this is our culture and our ancestors' artifacts that are left behind. Discovering these artifacts allows us to get a better sense of our culture and the way our people lived. I believe as Native Americans from the local area that it is our responsibility to pass down our culture to future generations.
RR: I think it's important for tribal members to be part of archeological projects because the field is predominantly non-Native. As a Native archeologist, I am at times the only one speaking up for holistic views of archeological science. Tribal members possess a different viewpoint when it comes to the landscape, environment, and procedures for handling cultural remains. Without tribal input, archeologists may fail to see cultural remains as more than just artifacts.
Q: Describe your internship experience. What's it like to work on a dig in Yosemite?
CL: It was honestly kind of a challenge at first for me because I was nervous about going out in the middle of nowhere for up to 11 days at a time with a group of people I had just met. Thankfully, I had an amazing and supportive team that made the whole experience so much fun that sometimes I forgot I was even working.
I was surprised to find out how much I enjoy archeology, getting dirty from digging and discovering cultural material. I had to train my eyes to pay attention to the details on things that measured less than two inches long. It was definitely a memorable experience and I will never forget the rush of excitement after finding my first arrowhead.
RR: My internship experience was a lot of fun. I was surprised that the wilderness archeologists on our crew were mostly women! It was empowering for me to see a number of young women pursuing a career that is not only dirty, but is also outside of the realm of what is traditionally seen as gender-appropriate. I was impressed by the knowledge of the archeological crew, and enjoyed being around their enthusiasm for archeology and the outdoors. I greatly appreciated their willingness to work with us interns, and to be patient if we were unsure. Working in Yosemite was a memorable experience, and I hope to return in the future.
Q: What do you want other people to know about archeology?
CL: I think it's important for people to be more aware of their surroundings while visiting Yosemite and try their best to not disturb archeological sites.
RR: I would like other people to know that archaeology is important in preserving where we've been as human beings. If these remains are not protected, once they are lost they are gone forever. I believe archeology is an important career in preserving our heritage. And it's definitely a science!
Q: Do you see yourself continuing to pursue archeology in the future? What's your dream role?
CL: I love working with children, so becoming a teacher is still my goal. However, I did enjoy learning about archeology and was inspired to learn more by taking an anthropology class next semester. Who knows — maybe after that class I will change my mind and pursue a new path, but if not, I can't wait to use this learning experience to teach children more about Native Americans.
RR: Yes, I see myself continuing a career in archeology. In the future I would like to a play an active role in archeological outreach for tribal youth. After I finish my graduate program I have plans to return to my tribe and contribute to their historic preservation department. In some shape or form, I dream to contribute to indigenous archeology.
---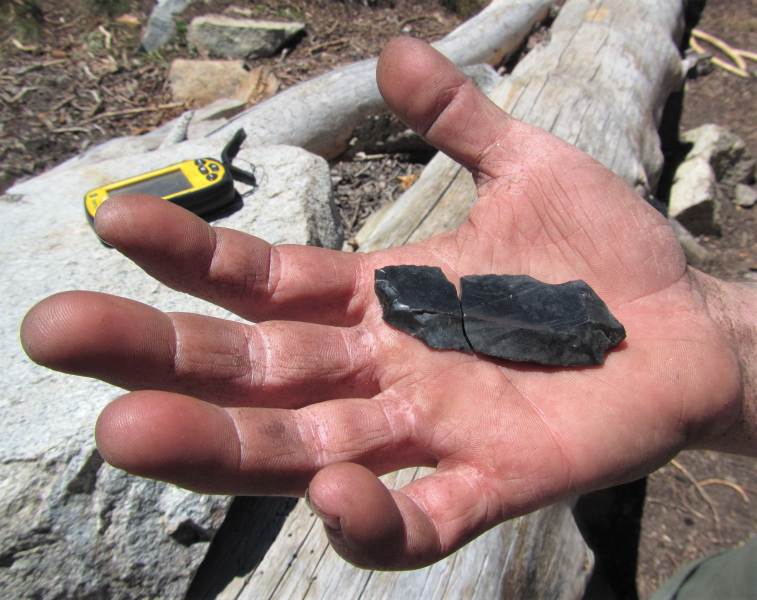 You don't have to be a professional archeologist (or intern!) to help protect Yosemite's cultural resources. Keep the basic Leave No Trace ethics in mind, especially "leave what you find." If you see something that might be a historical artifact, don't remove it — physical context helps researchers better understand an object's story.
On that note, not all cultural resources are ancient history. If you've ever been to Facelift, the annual park clean-up event, you've probably gotten the archeology talk: In Yosemite, artifacts can be anything from 3,000-year-old arrowheads to 20th-century climbing gear.
If you come across something that might be of historical value in the park, tell a ranger. And when you get back from your hike, stop by the Yosemite Museum to see an array of artifacts from the park's past!
**A note on terminology: We use archeology, but the term is often written as archaeology. Same discipline, slightly different vowels!