Have you ever seen a ranger riding a horse in the Valley, or let a string of mules pass you on a trail? Yosemite's "four-legged rangers" have long played a central role in the park. In partnership with their human counterparts, they patrol trails, bring supplies to the backcountry, perform ceremonial duties, and more. We connected with ranger Justin Fey, who manages Yosemite's mounted patrol program, to learn more about the park's equestrian team.
How did you get started working with Yosemite's stock program?
I started my National Park Service career as a seasonal law enforcement ranger in Glacier National Park. I already had experience working with horses and mules in frontcountry and backcountry settings, and throughout my two seasons in Montana I was always trying to get more involved in stock use. A few people took notice of my enthusiasm for horse patrol and referred me to look into opportunities with Yosemite National Park's mounted patrol program. I applied for an appointment in Yosemite in 2011, and was hired as a seasonal mounted patrol ranger.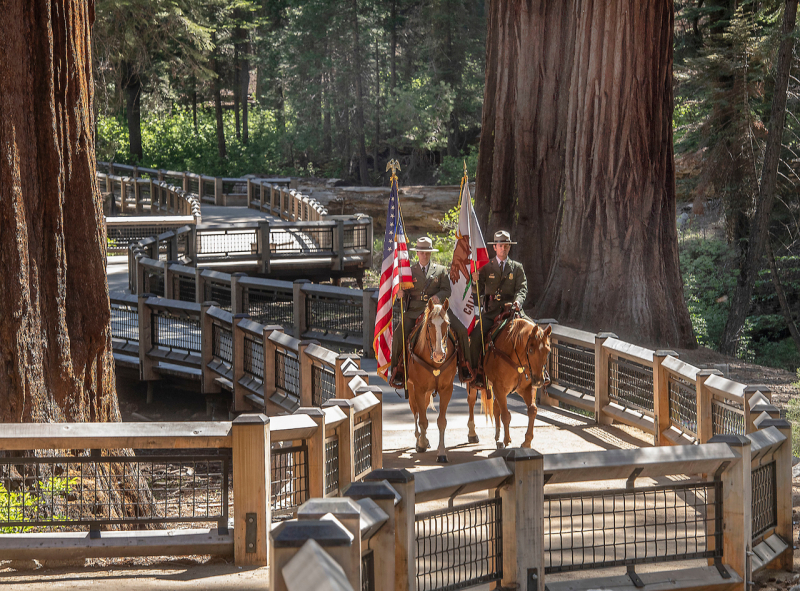 Why are horses and mules so important to the park?
Horses and mules have long been important to me, personally, because they represent a partnership, and a way to access wild and scenic places and adventures. As I have progressed further in my career with Yosemite's mounted patrol program, I have also gained a deeper understanding of what horses represent to park visitors and stewards. A mounted ranger remains one of the most iconic NPS images. Horses serve as park stewards of the past, present and future. Horses can also help make rangers more approachable, which can lead to memorable interactions and education for visitors of all ages.
What do you do on a typical day in your role as mounted patrol program manager?
A typical day as a mounted patrol manger can vary greatly depending on the mission or the time of year. As far as missions go, our horses are involved in law enforcement, educational programs, search and rescue operations, and ceremonial events.
In the spring and fall, when temperatures are cooler, we do a lot of training for rangers and horses. Over the winter, our 100 animals return to pasture, where they can run and graze as a herd with little interruption from us. While they are away, I work on finding and purchasing new horses, so we can continue to adopt out patrol horses who have served with us for many years.
During the summer, we spend a lot of time in developed parts of the park, such as the Valley, especially on busy holidays and weekends, helping with traffic control and law enforcement. We also patrol wilderness areas, and lead mule strings to bring supplies to trail crews.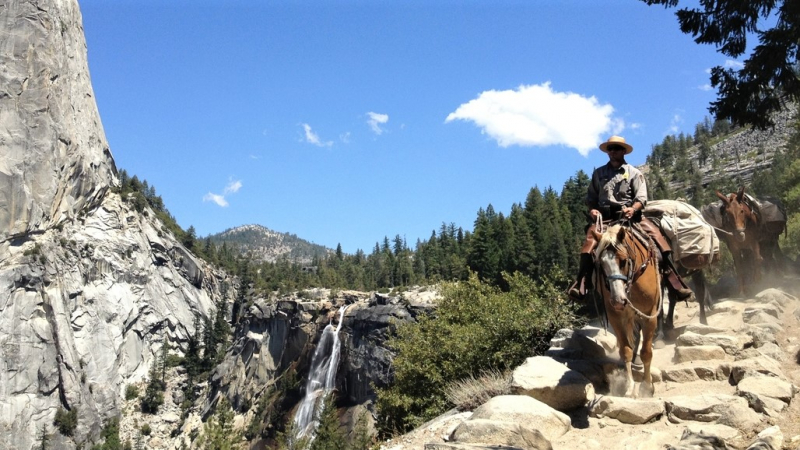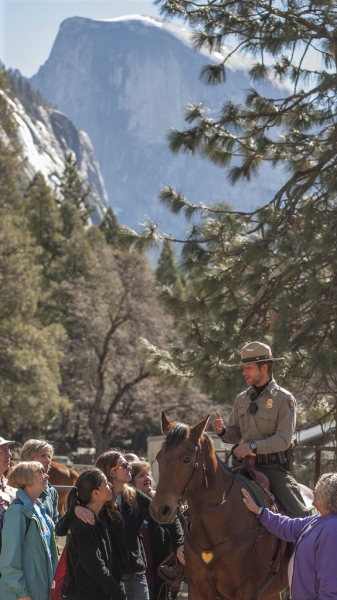 How can visitors meet Yosemite's "four-legged rangers"?
Visitors can meet our four-legged rangers in both backcountry and frontcountry settings. Due to the size of the park, it can be hard to predict when and where people might meet a working mounted patrol ranger or pack string.
During Yosemite Conservancy's annual Spring Gathering event, donors often have an opportunity to join rangers at the Yosemite Valley Corral to meet the horses and mules that their support has helped the park purchase. In some cases, with plenty of notice, I set up times to meet with people who are interested in meeting the animals and learning more about the mounted patrol program.
This year, the park adopted two mustangs. What have you learned so far from working with Drifter and Sandman?
Drifter and Sandman are unique to our herd in the sense they rely on forming a strong bond with their trainer and rider. This type of bond takes time and trust to develop, and is a special and encouraging experience to be a part of.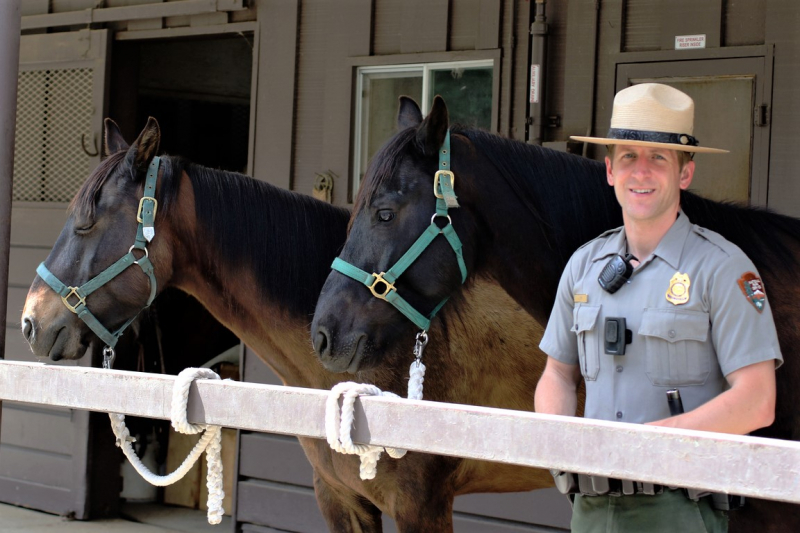 We are patient with the mustangs, and know that they may need a slower, more methodical approach as we work on training them and exposing them to different people and places in the park.
When we partner with Drifter and Sandman for a patrol, park visitors are ecstatic to learn of their background as wild mustangs that have been trained by inmates.We look forwarding to continuing our partnership with the Wild Horse Program and the Bureau of Land Management to bring more mustangs to Yosemite and to provide education on mustang adoption.
Do you have any favorite memories from working with the stock program?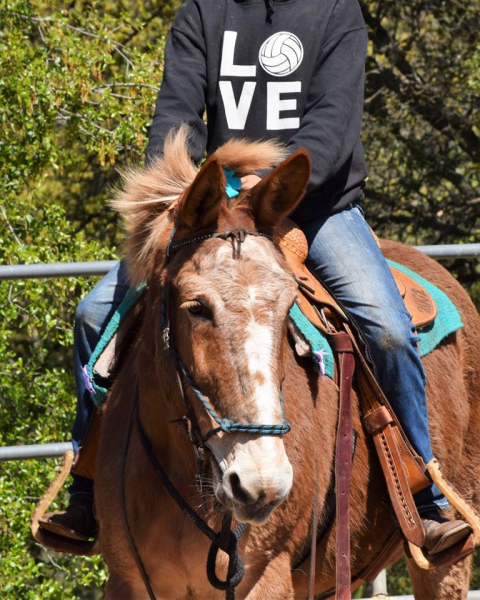 Thanks to support from Yosemite Conservancy donors, we have been able to purchase many new horses and mules in recent years. In time, those animals will become the backbone of our program.
Bringing in new animals allows us to adopt out horses and mules who have worked with us for years. Recently, we adopted out two patrol horses to a Yosemite-area community member who trains young children to ride. I have been able to see firsthand how those horses are helping children build confidence. Kids hold the retired horses in high esteem because they know the animals used to help with important work in the park, such as rescuing people who needed help.
On a personal note, our horses have helped me and my family build many wonderful memories. My wife is also involved in our mounted patrol program, and when time permits we ride or train together. My daughter, who will be learning to ride soon, greets the horses every day on her way to and from school. I cherish the fact that I get to spend so much time working with horses who play such an important role in my professional life and in my personal life.
Thanks to ranger Justin Fey for sharing some insights into Yosemite's long-running mounted patrol program, and to our supporters for helping the park's equestrian traditions thrive!