In 2003, without ever having seen a picture of Yosemite, Kristin Anderson left her home in Maine and headed to the park for a climbing trip. After arriving at night, she woke up to her first glimpse of the granite walls, and to a life-changing first day in the Valley.
As Kristin wandered around, awed by the scenery,  a sign in Yosemite Village caught her eye: "Employee Services." The rest is history! The following year (2004) marked her first season working in Yosemite; since then, she has filled diverse roles in the park, including wilderness ranger and environmental compliance specialist.
While living and working in Yosemite, Kristin has cultivated her love for outdoor activities, such as climbing, backpacking and skiing, while also nurturing her artistic skills and creating silver jewelry inspired by the beauty of the Sierra. In 2017, Kristin joined the Conservancy team as our art programs coordinator.
Over the past few months, Kristin has been hard at work setting up our new studio space at the Happy Isles Art and Nature Center, where our donors' support helped revamp the natural history exhibits in 2015. With our art season up and running as of April 1, we checked in with Kristin to get her insights on art in the park.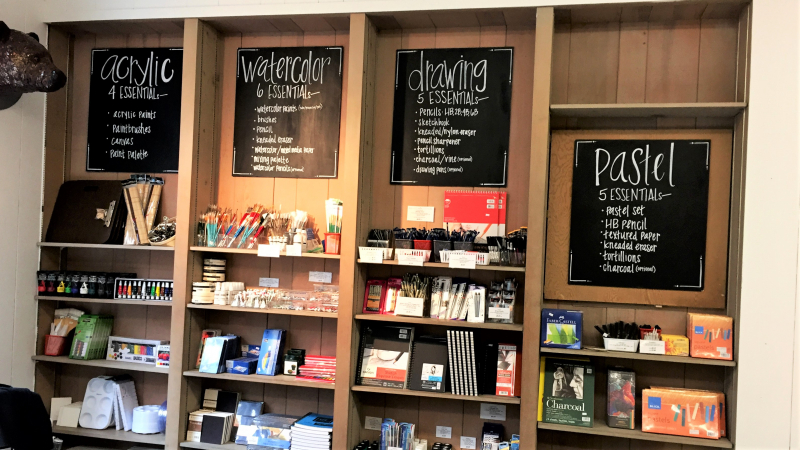 We asked about ….
Her favorite art mediums: Jewelry (primarily sterling silver). She also dabbles in ink drawing and watercolor, and wishes she were better at the latter.
Her hopes for the art program: Partnership and new ideas! Kristin is excited to be working with the National Park Service to offer programming that links nature, art and science, while helping Happy Isles grow into an even more fun, enriching destination for learning and creativity.
This year's Happy Isles schedule includes plenty of art workshops and drop-in studio sessions, as well as a variety of junior ranger activities. We're also adding programs that combine the Conservancy's guided adventures and art classes, resulting in an immersive experience for people interested in spending several days making art in the Valley.
Her take on Happy Isles: Feels like an artist retreat beside the Merced River. The center is close to a bustling Yosemite Valley shuttle stop, so it's easy to access, but is tucked in a quiet corner away from the road. From the studio, participants can head to any number of tranquil, scenic spots to sketch, paint, and observe the natural world.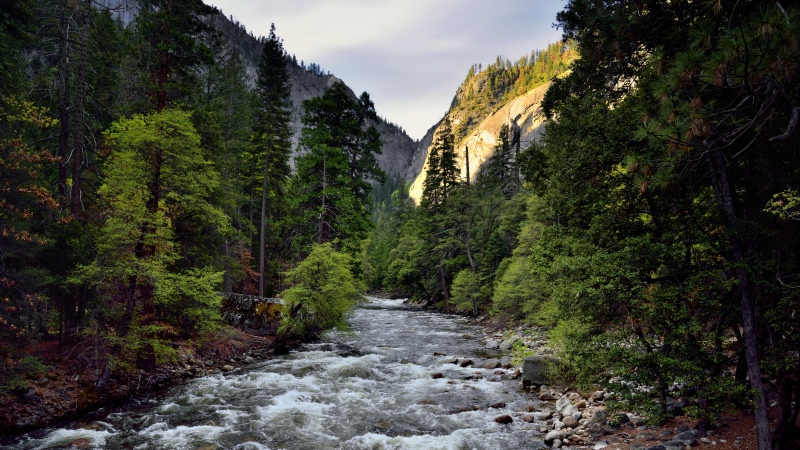 Kristin also noted that shifting our art programs to Happy Isles is "bringing new life to a historic building." Here's the quick backstory on the rustic structure: In 1927, the Happy Isles Fish Hatchery was established to rear trout for stocking the park's lakes and streams. The state-run facility was popular among visitors, and the park offered educational programming on site. After nearly 30 years, California ceded the hatchery to the NPS, which turned the stone and wood building into a nature center. Today, the center is one of the contributing structures included in the Yosemite Valley historic district.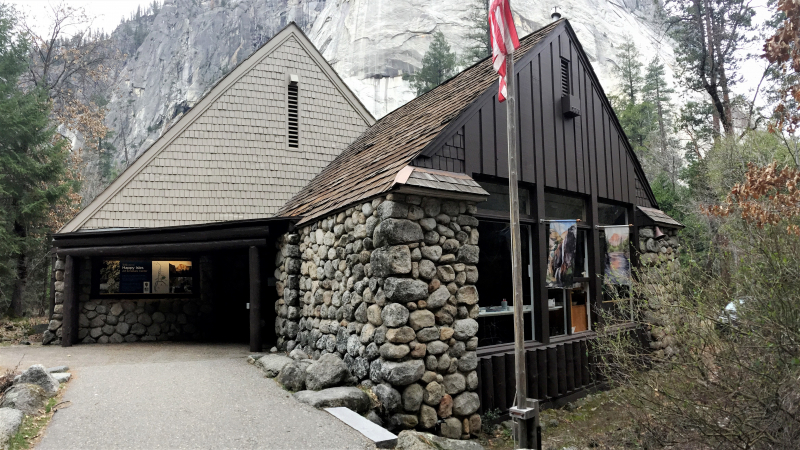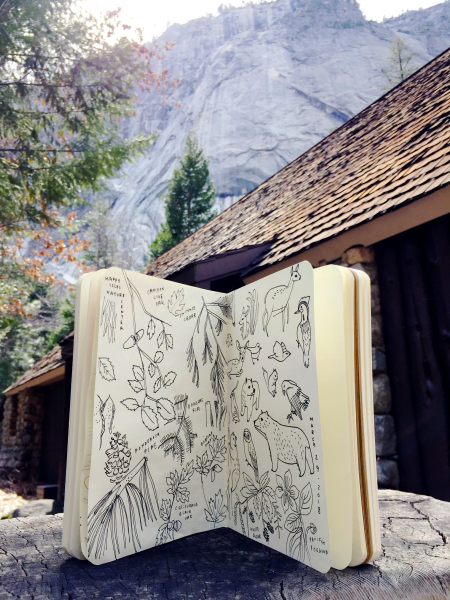 Ready to get creative at Happy Isles? Here's what you need to know:
What's coming up: Our expert-led four-hour art workshops (recommended for ages 12 and up) run through October, and offer opportunities to work with watercolor, pastel, charcoal and more. Bringing the family for summer vacation? Classes for kids kick off in mid-June and wrap up at the end of August. No time for a full workshop? Drop by the studio between 11am and 3pm to get creative with quick Yosemite-themed crafts and activities. Looking for something not on our schedule? Contact us to plan a custom art experience (this is great option for family vacations, school field trips and corporate retreats).
Where to sign up: For artist-led workshops, we recommend signing up in advance online, but do take on-the-spot registrations if space allows. For our Open Studio sessions and kids' classes, just show up!
What to bring: Your enthusiasm, and snacks to keep your stomach happy as you feast your eyes on scenery and feed your soul with artistic expression. You're welcome to bring your own supplies, such as brushes or easels; otherwise, all necessary materials are available for purchase at the center (where proceeds support the park).
How to get to Happy Isles: Take the free Yosemite Valley shuttle to stop #16 and follow the short trail to the center (see map below). You can also get there by bike or on foot! If you're up for a post-art hike, explore the nearby trails, bridges and boardwalks leading to the fen, along the riverbank and to the eponymous isles, or cross the Merced and head up the John Muir/Mist Trail toward Vernal Fall.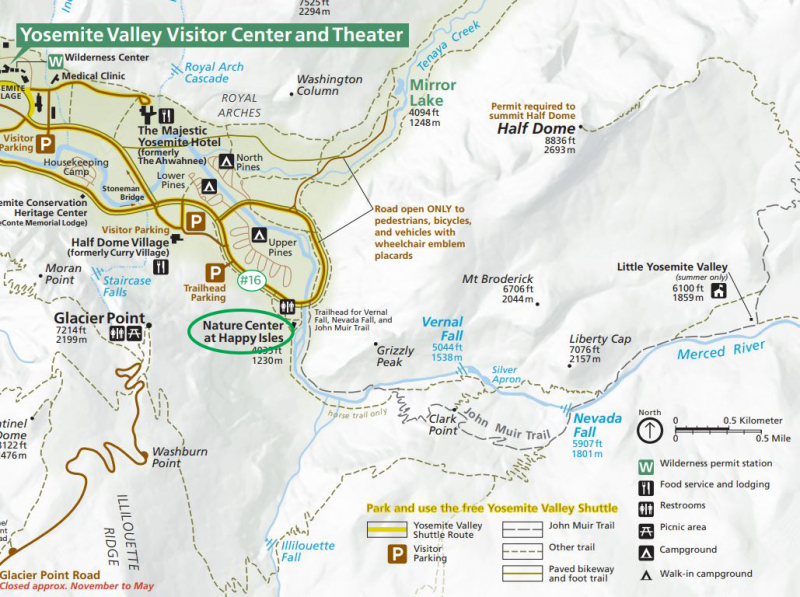 We hope you have a chance to join our art program staff and volunteers for a workshop, drop-in session or art-based adventure — and if you do, be sure to share your photos from the experience with us on Facebook, Instagram and/or Flickr!
Main image: A young visitor works on an activity at the Happy Isles Art and Nature Center in late March. Photo: Yosemite Conservancy/Ryan Kelly