This page was last updated on February 23, 2022.
Yosemite Conservancy is monitoring developments related to the COVID-19 (coronavirus) pandemic. We'll update this page with information about changes to our programs and operations. In making these decisions, we are following recommendations from federal, state and local officials.
Yosemite National Park is open. Some services and facilities are still limited, many campgrounds remain closed, and shuttles are operating on a limited basis. Please visit the Yosemite National Park website (nps.gov/yose) for the latest and most detailed information on current conditions and the park's response to COVID-19.
Reservations are not currently required to visit the park, but beginning Friday, May 20, 2022, Yosemite National Park will implement a peak hours reservation system. Park visitors will need a reservation to enter the park between 6 a.m. and 4 p.m. seven days a week. Visitors entering the park outside of these peak hours are not required to have a reservation. You can remain in the park during peak hours if you arrive during non-peak hours. The peak hours reservation system will be in effect through September 30, 2022, and reservations will be required for all users, including annual and lifetime pass holders. Each reservation is valid for three days.
Learn more about the 2022 peak hours reservation system here.
In general, for information on…
---
Conservancy Events, Programs & Services

Are Conservancy donor events happening?
To ensure the safety of our guests and staff, all 2021 in-person donor events were canceled, and Spring Gathering 2022 will take place virtually. We look forward to welcoming our supporters for an in-person gathering when it is safe to do so, hopefully in May 2022. In the meantime, we're delighted to connect with our donors online through virtual events, social media, email and more. Learn more about our donor events here.
What is the status of Conservancy programs and services?
We have adjusted our in-person programs, services and operations to ensure the safety of our staff, our partners and the public. All of our in-person programs in Yosemite include precautions to ensure the health and safety of instructors and participants (see our COVID-19 Program Procedures).
Outdoor Adventures and Custom Adventures: We're offering naturalist-led Outdoor Adventures and Custom Adventures (including virtual programs) throughout the year, with COVID-19 safety measures in place.
Art Programs: Happy Isles Art and Nature Center is closed, but will reopen in spring 2022. We're offering weekday art classes in Yosemite Valley from March through October 2022, as well as Custom Art Classes, overnight art retreats, and virtual art programs.
Yosemite Conservancy Volunteer Programs: We're excited to welcome volunteers back to the park for the 2022 season, and are now accepting applications for Work Week Crew members, Visitor Information Assistants, and more! Learn more about our volunteer programs.
Yosemite Theater: Yosemite Theater shows are canceled for the 2022 season, and the theater building remains closed.
Yosemite Conservancy Bookstores: Our webstore is open: shop.yosemite.org. Our bookstore at the Valley Visitor Center is operating as a walk-up window where visitors can safely browse items and make a purchase in an outdoor, contact-free setting. Our other physical bookstores in Yosemite are currently closed.
Wilderness Permits: There are no walk-up permits available in the park; all permits for late spring, summer and early fall trips (May-October) must be reserved online and then picked up at one of the park's wilderness centers the day before or day of your trip. Visit our wilderness permits page to learn more.
Overnight Climbing Permits: Starting May 12, 2021, wilderness permits will be required for overnight climbs in Yosemite, as part of a two-year pilot program.

All overnight climbing permits must be reserved online in advance

and then picked up in person in the park (at the Valley Wilderness Center or in El Capitan Meadow). Visit our overnights climbing permits page to learn more and reserve a permit.
How has the pandemic affected projects supported by Conservancy donors?
The Conservancy has committed to funding more than 60 grants for important projects in Yosemite in 2022. Learn more about our current grants! Throughout the pandemic, we've worked with the park to ensure that essential work our donors fund in Yosemite continues, when safe, including trail and habitat restoration, wildlife management, and scientific research.
---
Visiting Yosemite National Park
Please visit the Yosemite website (nps.gov/yose) for the most detailed and up-to-date COVID-19 information from the park.
How do I visit Yosemite?
Yosemite National Park is open. Starting May 20, peak hours reservations are temporarily required for park entry between 6 a.m. and 4 p.m. seven days a week. The reservation system will be in place through September 30, 2022. Some facilities and services are limited. See the Yosemite website for information about park entrances, camping and things to do in the park.
How does the peak hours reservation system work?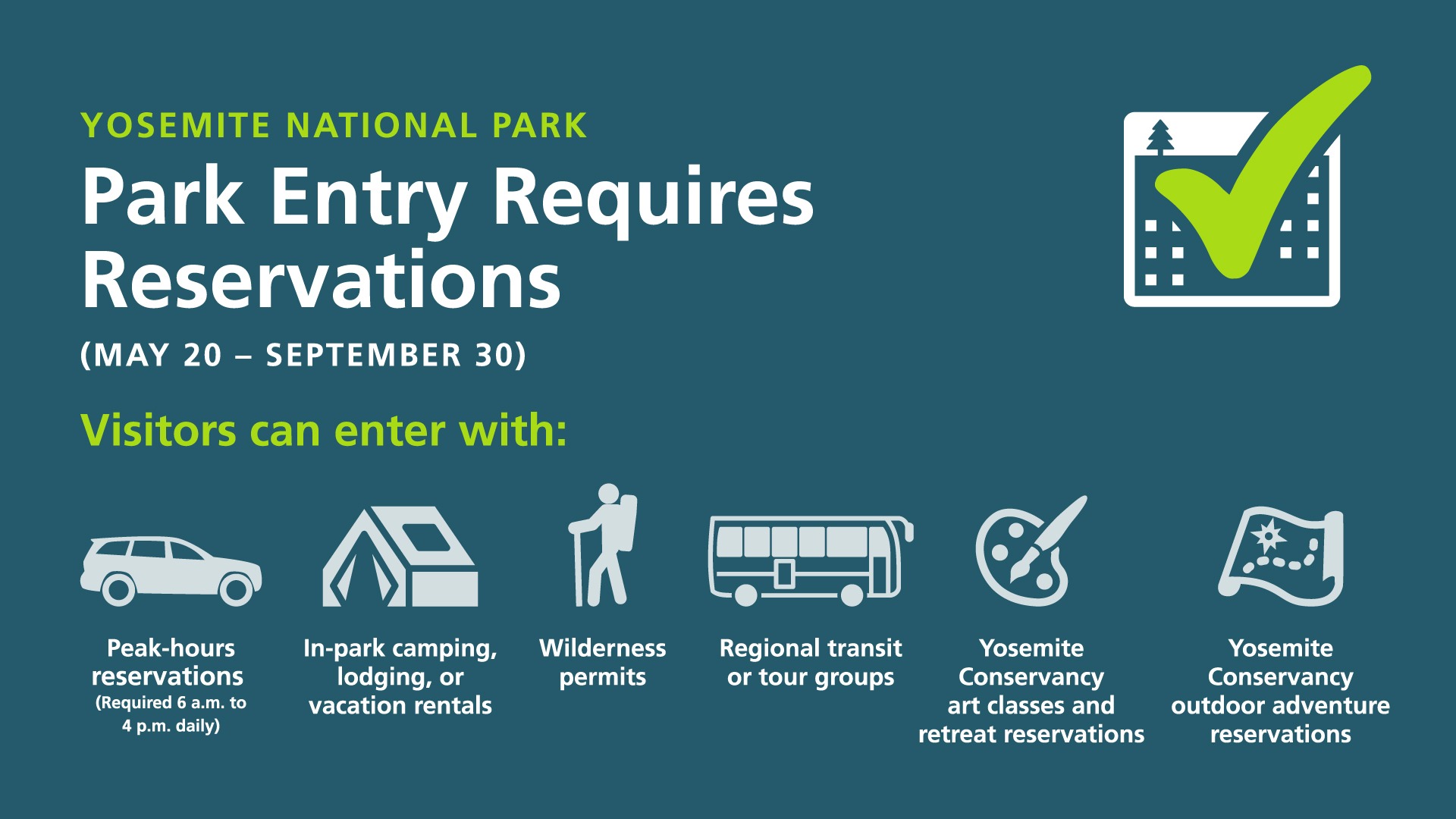 The temporary reservation system (May 20 through September 30) requires every vehicle entering the park between 6 am and 4 pm to have one of the following:
A peak hours reservation (valid for one vehicle for three consecutive days for unlimited re-entries).

A camping or lodging reservation in the park.

Eligible campgrounds: Upper Pines, Lower Pines, North Pines, Camp 4, Wawona, Hodgdon Meadow, Tamarack Flat, White Wolf, Yosemite Creek.

Eligible lodging: Curry Village, Housekeeping Camp, Yosemite Valley Lodge, The Ahwahnee, White Wolf Lodge, Tuolumne Meadows Lodge, Wawona Hotel.

Eligible locations for private lodging or vacation rentals: Wawona, Yosemite West and Foresta.

A Yosemite wilderness permit or overnight climbing permit.

A Yosemite Half Dome permit.

A seat on a YARTS bus or authorized tour bus.

A special use or permit or commercial use authorization.
Conservancy program registrations:
If you're signed up for a Yosemite Conservancy program in the park (

such as an art class, Outdoor Adventure or Custom Adventure), your registration serves as a peak hours reservation for park entry for the duration of the program.

If you plan to visit the park on days other than when your Conservancy program is scheduled, you'll need to book a separate peak hours (or overnight) reservation.

(Note that the Conservancy's

naturalist walks

do not include park entry reservations.)
Using your reservation:
Upon showing proof of your reservation and a matching photo ID at the entrance station, you will receive a vehicle permit to enter the park.

For peak hours reservations, this permit is valid for three consecutive days for unlimited re-entries.

For overnight reservations, the permit is valid for the duration of your reservation or three days, whichever is longer.
Peak hours reservations must be booked in advance via recreation.gov. Note that if you have an annual or lifetime park pass, you still need a reservation in order to enter the park during peak hours. See the Yosemite National Park website for details on the reservation system, including how to book and use a peak hours reservation.
What else do I need to know before my visit to Yosemite?

To protect visitors and staff, the park has made some adjustments to facilities and activities. Some of the major changes are highlighted below. For the most comprehensive and up-to-date information, see the Yosemite National Park website.
Park Roads and Entrances

:

Tioga Road (Highway 120 through the park) and Glacier Point Road (beyond Badger Pass) are closed for the season due to snow. Tioga Road usually opens in late May or June. Tire chains may be required on Yosemite roads during winter. Carry tire chains in your car and be prepared to use them (even if your car has four-wheel drive) — they may become mandatory at any time.

Expect some changes on Yosemite Valley roads due to an ongoing circulation pilot; use caution and follow the signs.
For updated 24-hour road and weather conditions for Yosemite National Park, please call 209-372-0200 (press 1, then 1).


Park Facilities and Trails

Some indoor spaces are temporarily closed, including visitor centers, Happy Isles Art and Nature Center, and the Yosemite Museum. Groceries, gifts and food are available at multiple locations in the park.
Mariposa Grove is open. Parking is available at the Mariposa Grove Welcome Plaza (by the South Entrance). Mariposa Grove Road is closed for the winter. (Even when it's open, Mariposa Grove Road is only available to vehicles with accessibility placards. Visitors without placards can hike or cycle to the grove from the Welcome Plaza.)
The Bridalveil Fall area is temporarily closed for restoration work.
For updated information on facilities and trail conditions, see the Yosemite National Park website.

Staying Safe: Follow park guidance, closures and modifications. The park is encouraging people to recreate responsibly. Per current CDC guidance and high

 community transmission levels,

 f

ace masks are recommended indoors, in crowded outdoor spaces, and on all forms of public transportation regardless of vaccination status.

Lodging and Camping
---
Bringing Yosemite to You
Explore and learn about the park from afar! For even more ways to stay connected to the park, check out our latest naturalist videos, follow us on social media and sign up to stay in touch with us via email.
Thank you for your patience and support. We'll update this page as the situation and our plans evolve.