The first time you see Tenaya Lake, you'll understand why it's called the "jewel" of Yosemite's high country. Nestled in a gleaming granite basin at 8,150 feet, the lake glimmers like an enormous sapphire. Sunlight glints on the surface. Birds dart among the branches of lodgepole pines lining the shore. People dig their toes in sand and wade in the shallows.
You might get your initial glimpse of the iconic high country gem from the polished slopes near Olmsted Point, or from Yosemite's geographic center, Mount Hoffmann, where John Muir once admired the view of the lake and its surroundings:
The largest of the many glacier lakes in sight, and the one with the finest shore scenery, is Tenaya, about a mile long, with an imposing mountain dipping its feet into it on the south side, Cathedral Peak a few miles above its head, many smooth swelling rock-waves and domes on the north, and in the distance southward a multitude of snowy peaks, the fountain-heads of rivers. (My First Summer in the Sierra, 1869)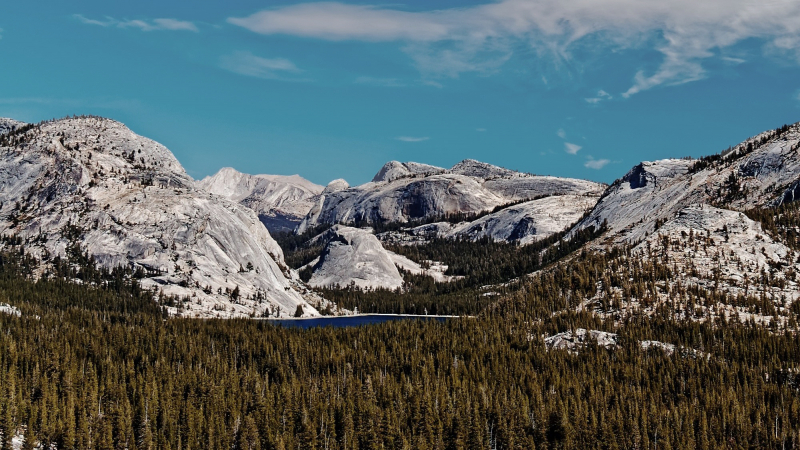 Or, you might first see Tenaya Lake from Tioga Road, which skirts the northern bank and offers breathtaking views of the shining water from east and west. If you stop, a few minutes can easily stretch into a few hours, and you'll understand why the "jewel" reputation extends beyond show-stopping scenery. People treasure the lake as a place to sit in serene silence, watching clouds drift overhead or climbers inch up nearby domes; enjoy a family beach day; hike along quiet forested trails; venture into the cold, clear water to swim, paddleboard and kayak; and, in certain years, when conditions are just right, lace up skates and fly across ice.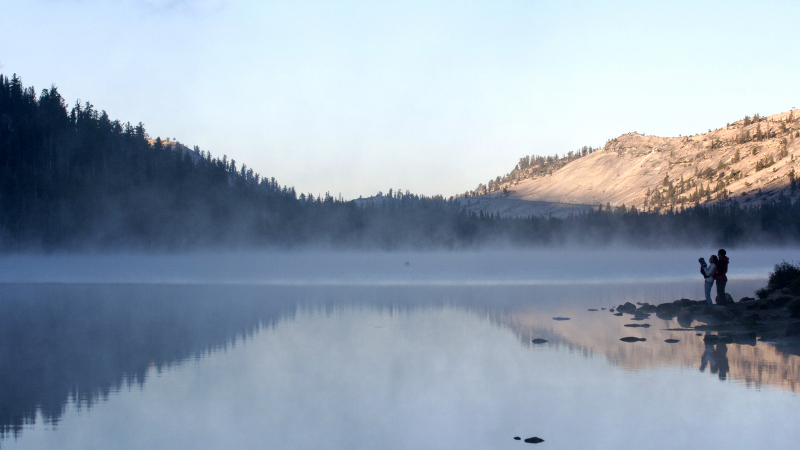 What you probably won't see, unless you know what you're looking for, is the layers of work that have gone into restoring and protecting this cherished place. Like much of Yosemite, Tenaya Lake was first protected as public land in 1890, with the creation of the country's third national park. Over time, as millions of people flocked to and fell in love with the lake, the "jewel" started to lose some of its luster. Shoreline habitat and trails were badly degraded. Pavement disrupted water flow. Visitors arriving at the lake found few resources to help them learn about and navigate the area.
Yosemite's high country star needed a little TLC (Tenaya Lake Care!) — and that's what it got, through a series of donor-supported projects to protect the lake, restore surrounding habitat and create an even more memorable experience for visitors.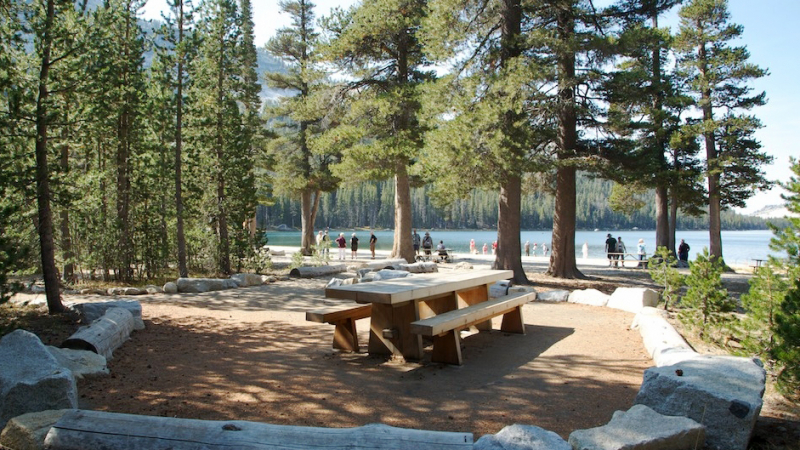 The first round of restoration work focused on the lake's east end, which was showing signs of damage from heavy recreational use. Before the project, little greenery remained along the edges of the lake, and tree roots that should have been safely underground were exposed. Crews planted willows, sedges and other native wetland vegetation along the beach to reboot the area's botanical bounty and help gird against erosion.
In additional to completing ecological restoration work along the sandy eastern shore, crews installed educational signs at the nearby parking area, offering visitors a helpful introduction to the lake. The accessible trail to the beach, which originally bisected a wetland, now follows a drier course that doesn't threaten surrounding flora, and includes a wooden bridge and boardwalks built with helical anchors to minimize soil displacement. A welcoming picnic area near the edge of the beach includes the perfect side dish for al fresco dining: stunning Sierra views.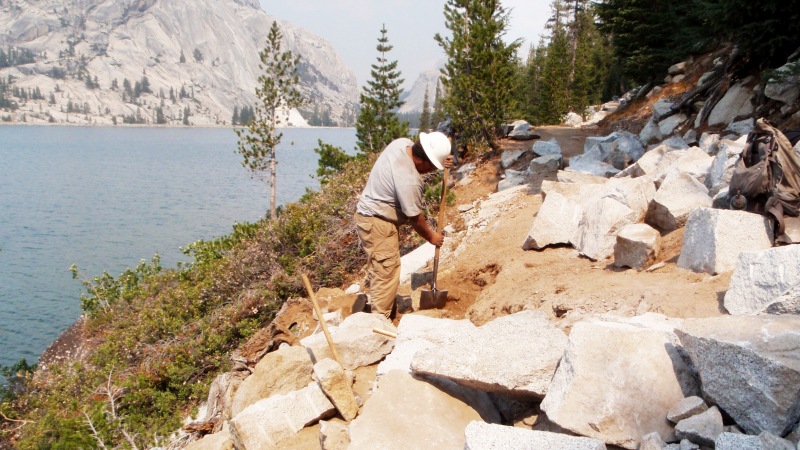 Eager to explore beyond the East Beach? Follow the 3,000-foot trail along Tenaya Lake's south shore, which was probably first traveled by American Indians as they moved east and west across the Sierra. Civilian Conservation Corps crews worked on the trail in the 1930s and '40s, but it received little attention in the ensuing decades. Avalanches, heavy spring runoff, and frequent foot traffic marred the trail tread, damaged drainage elements and weakened rock walls.
In 2013, with support from our donors, crews dug in to make major upgrades along the shoreline route. They reconstructed culverts and other features to improve water flow, rehabilitated the trail surface, built stone steps, and restored a 50-foot-long retaining wall. Throughout the process, they worked without mortar, carefully selecting, shaping and placing rocks using dry-stone techniques, a hallmark of Yosemite trail work.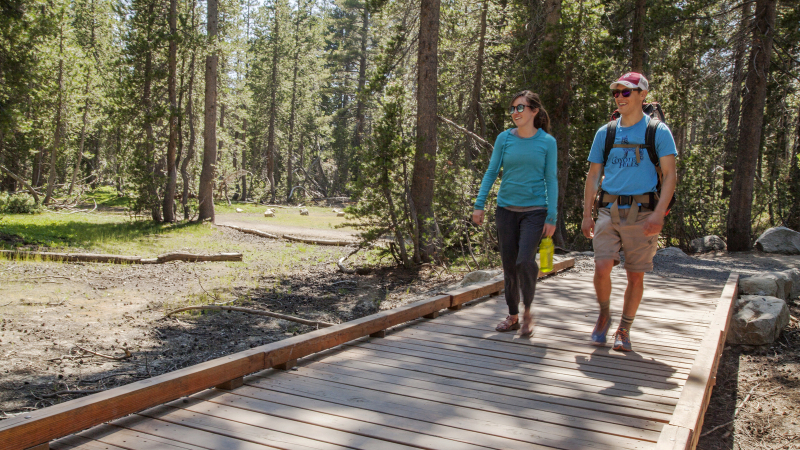 The west end of Tenaya Lake serves as the starting point for hikers heading to Sunrise Lakes, Clouds Rest and other popular high country destinations. For years, a lack of directional signs resulted in people forging their own paths, tamping down soil and trampling plants as they made their way to the lakeshore or started journeys to farther-flung locales.
Restoration crews to the rescue! Starting in 2014, park staff and volunteers removed and revegetated the informal "social" trails etched into the earth, realigned the Tenaya Lake-Sunrise Lakes trail junction, and added signs to point hikers in the right direction. The crews also removed a paved causeway that was impeding water flow, restored riparian habitat, and, as on the east bank, constructed an accessible trail and boardwalk leading to the beach.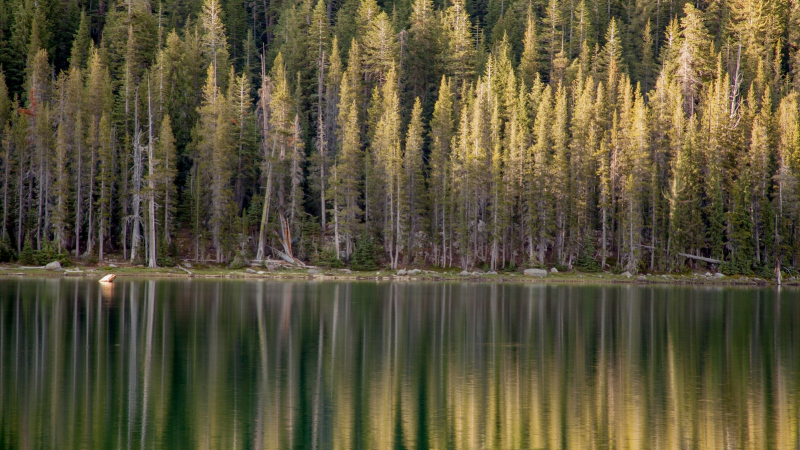 Now, the restoration effort at Tenaya Lake is shifting to the north shore. In 2018, our donors supported early design work for that final littoral stretch, laying the groundwork for efforts to revitalize habitat and create a pedestrian route linking the lake's east and west ends. Even after crews wrap up that last leg and pack up their tools, however, there will still be plenty to do … by you!
Everyone who visits Tenaya Lake can play a part in ensuring its long-term health. Hiking to the beach, or along the southern shore? Stay on the trail to protect plants and tree roots. Packing a picnic for that scenic East Beach table? Pack out any litter or leftovers. Telling your pals about how much you love Tenaya Lake? Tell them how important and easy it is to minimize your impact there — and anywhere you go in the park.
Thanks to generous donors and hardworking crews, Yosemite's "jewel" is regaining its renowned radiance. By joining our community of park supporters, and by keeping "TLC" in mind each time you visit, you can help ensure that Tenaya Lake will shine for generations to come.
Above: A paddleboarder enjoys the calm waters on Tenaya Lake. Photo: Cassie May