This story is adapted from pieces originally published in Yosemite Conservancy magazine.
"The greatest wonder is that we can see these trees and not wonder more."
– Ralph Waldo Emerson, after his 1871 visit to Mariposa Grove with John Muir
Wonder. Long after Ralph Waldo Emerson used that word to describe his experience in Yosemite's Mariposa Grove of Giant Sequoias, it remains an apt term for these grand trees, which grow naturally only on the western slopes of California's Sierra Nevada.
Over centuries, the nearly 500 mature trees in Mariposa Grove have inched upward and outward, weathering droughts and storms. No matter how many times you've seen these sentinels of the Sierra, it's hard not to wonder at their size and tenacity. And it's no wonder that John Muir called sequoias Nature's forest masterpiece: They're among the largest living things on Earth, and can stretch nearly 300 feet up from the ground, with trunk circumferences surpassing 100 feet.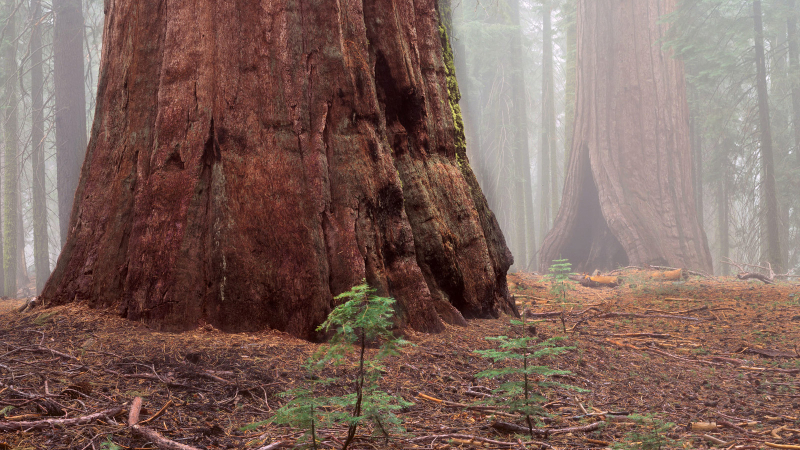 Yosemite's giants have long inspired awe and wonder. More than a century and a half ago, they prompted a public-lands milestone: the 1864 Yosemite Grant Act, which set aside Mariposa Grove as one of the nation's first protected landscapes.
In the decades following President Abraham Lincoln's landmark legislation, however, a focus on boosting tourism in the grove resulted in infrastructure that fragmented habitat and put the sequoias' future in question.
Giant sequoias rely on a delicate balance of fire, water, sunlight and space. Fire helps release sequoia seeds from cones, creates space for seedlings, and opens the canopy so light can reach the forest floor. Water from the slowly melting Sierra snowpack seeps into and through the soil to quench the thirsty titans, which can soak up hundreds of gallons per day. Shallow roots fan out through loose earth, just a few feet below the surface.
Pavement, heavily trodden trails and fire suppression disrupted those critical natural processes, endangering the majestic sequoias. Drains diverted water away from the trees. The hum of vehicles eclipsed the songs of nuthatches and brown creepers that work their way up and down trunks searching for insects. Millions of footsteps compacted the ground around the sequoias' roots.
On June 30, 2014, the 150th anniversary of the Yosemite Grant Act, the Conservancy joined the National Park Service to break ground on a major collaborative effort to restore Mariposa Grove. Our donors and the NPS each provided $20 million for the $40 million project, which focused on rehabilitating natural habitat, enhancing the experience of visiting the grove, and ensuring the resilience of the sequoia ecosystem.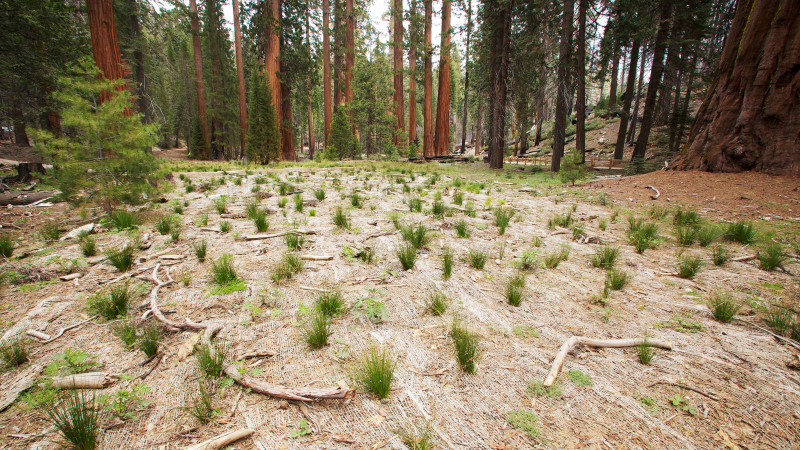 With lifespans that can approach two or three millennia, the long-lived trees in Mariposa Grove require long-lasting solutions. The project, the largest such effort ever undertaken in Yosemite, used a variety of restoration tactics to ensure the grove's long-term health. Crews removed nearly 1.5 acres of pavement (reducing asphalt in the grove by half), installed 600 feet of boardwalks and bridges over sensitive areas, and built 4 miles of sustainable trails. They used controlled burns to incorporate fire, a vital element of the grove ecosystem, and "knives" of air to locate and protect underground roots. They repaired culverts and improved drainage to help water flow freely, installed fencing and signs to discourage people from trampling roots, and restored 4 acres of sequoia habitat, including by revegetating once-paved areas.
On June 15, 2018, Mariposa Grove reopened to the public after being closed for three years to facilitate the restoration work. Today, you'll find a tranquil, inspiring place transformed back into a setting alive with natural wonder at every turn.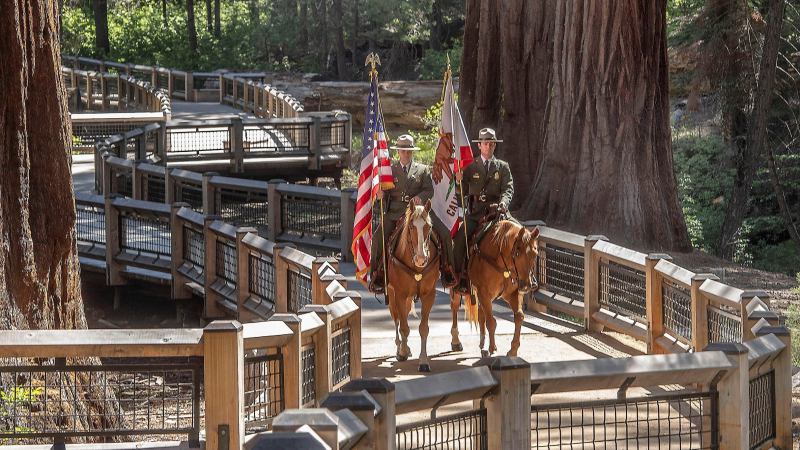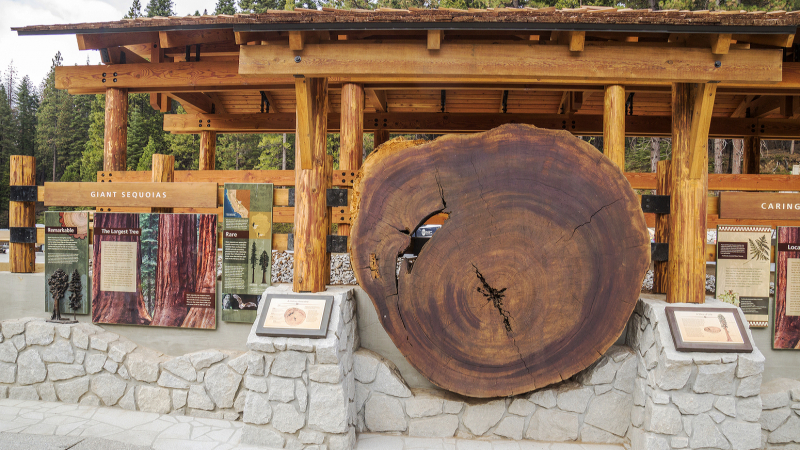 Your visit to the restored grove starts at the new Welcome Plaza near Yosemite's South Entrance, now home to a parking area, educational exhibits, and the Yosemite Conservancy Depot, where you'll find a selection of books, maps and other park-related items. Look for the thick, round slice of wood cut from the trunk of a fallen giant sequoia, and trace the rings back to the tree's first year: 1149. From the plaza, take a short, free shuttle ride to the grove, and notice the green splash of plants growing in what was once a paved lot.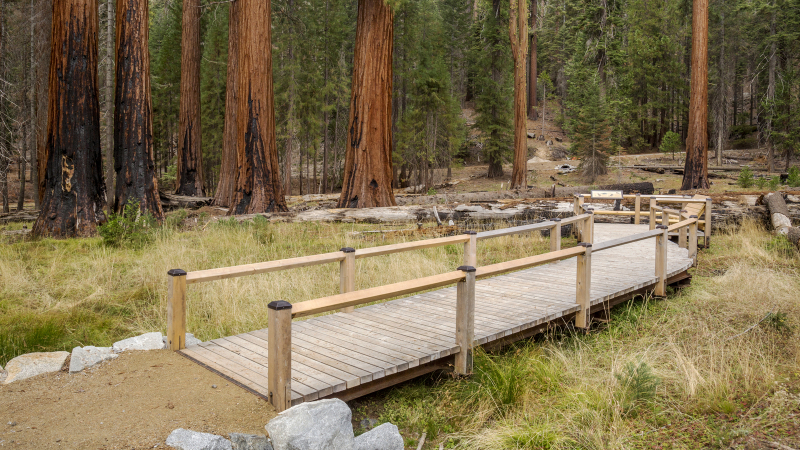 As you follow naturally surfaced trails and cross wooden boardwalks over water and wetlands, take in the sights, sounds and smells of an ancient forest bursting with life. Listen for the murmur of revitalized streams. Pause to read signs that explore science, stewardship and history. Wonder at the gnarled, 209-foot-tall Grizzly Giant (which, at an estimated 1,800 years old, is middle-aged in sequoia terms) and follow the accessible trail to its famous neighbor, the California Tunnel Tree.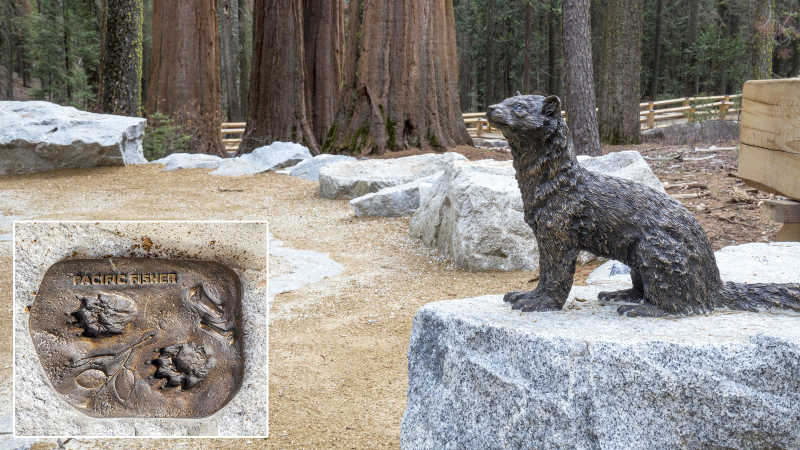 While giant sequoias dominate views (and descriptions) of Mariposa Grove, this rich habitat supports an array of other living things, too. The grove accounts for only a tiny fraction Yosemite's total area, but is remarkably biodiverse, and provides a home for dozens of plant and animal species.
Look for bright red snow plants and yellow coneflowers. Listen for birds singing and squirrels chattering, and keep an eye out for deer alongside the trails, or resting at the scarred base of the Grizzly Giant. See if you can spot snags (standing dead trees), which are important for owls, bats, fishers and other animals, and notice the leaves and bark carpeting the ground, feeding microorganisms that transform plant litter into nutrients.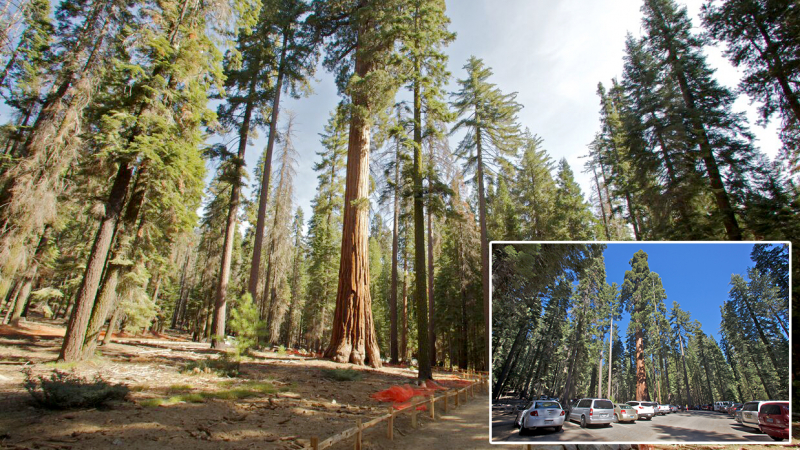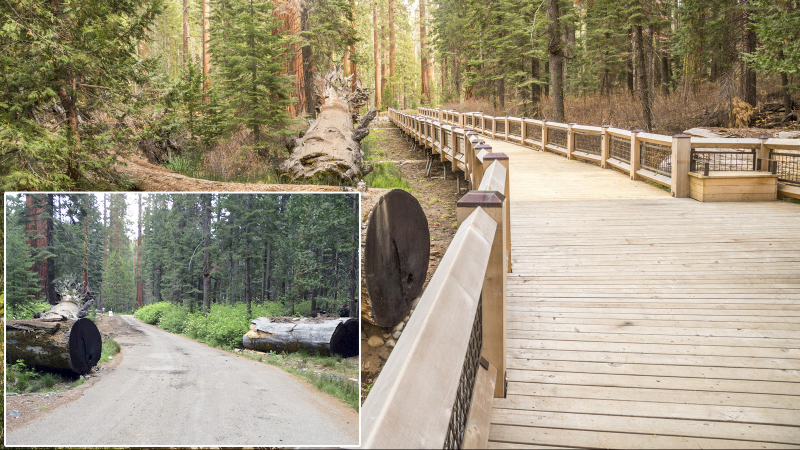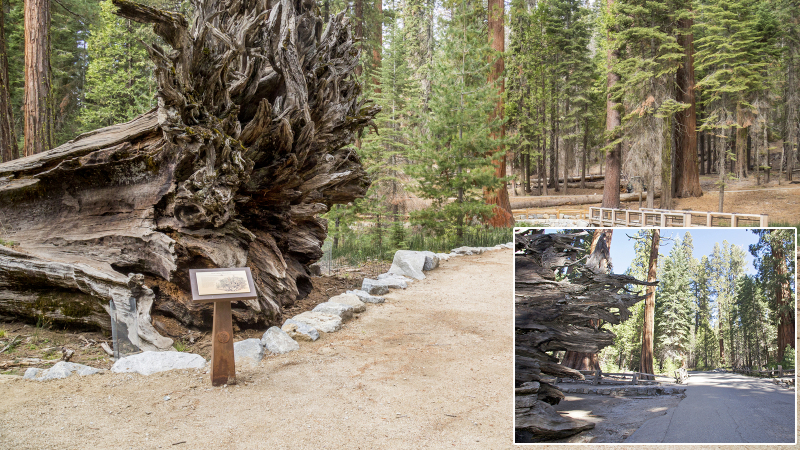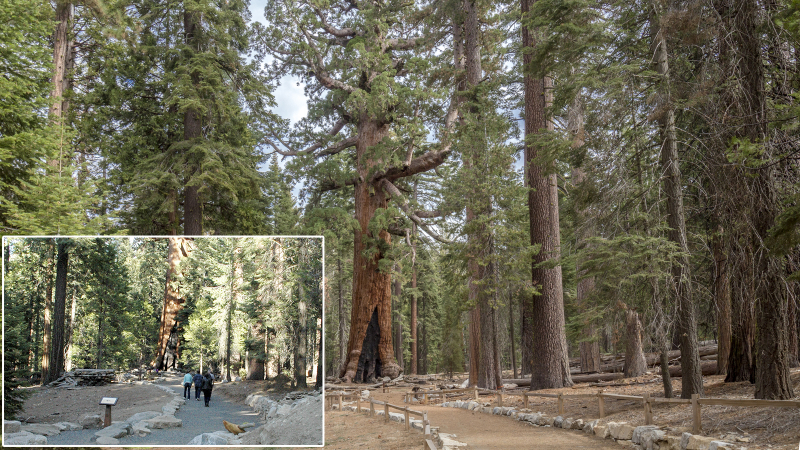 Whenever you spend time in Mariposa Grove, whether next week, or next year, or a decade from now, think about its past. Imagine how many others have gazed up in wonder, from American Indians who lived in balance with the trees for millennia, to youth-program participants who helped with recent habitat and trail restoration.
Then, consider its future. As plants repopulate once-paved areas, as people move among the trees on pathways that protect roots, and as fire helps tiny sequoia seeds germinate, the grove will continue to shift, regaining balance in a vibrant, ancient section of the Sierra landscape.
All of us – adults, children, first-time visitors, long-time park-lovers – have a part to play in that future. We can stay on trails and boardwalks to avoid inadvertently damaging sequoia roots and wetland plants, and leave cones and wildflowers where we find them, so they can serve their role in the rebounding ecosystem. We can learn about, and from, the trees and the people who walked among them long before Yosemite became a national park.
We hope your experience in Mariposa Grove reinvigorates your sense of wonder, deepens your appreciation and respect for these remarkable trees, and leaves you with a greater understanding of the ways you can make a difference – for giant sequoias, for Yosemite, and for ecosystems in your backyard and around the world.
Thank you to the tens of thousands of generous donors who supported this project, and to everyone who has played a role in restoring and protecting Mariposa Grove!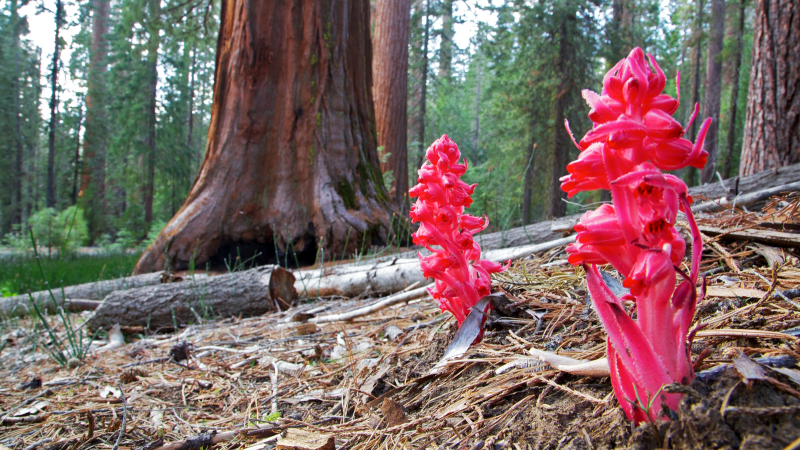 Know Before You Go:
• Adventures: Our naturalists offer group and custom hikes in Mariposa Grove. For details, see our Outdoor Adventures page, and check the current Yosemite Guide.
• Shuttle: Free seasonal shuttle buses from the Welcome Plaza (at Yosemite's South Entrance) to Mariposa Grove depart about every 10 minutes. Shuttle buses operate 8am-8pm during peak season (mid-May to mid-October), and 8am-5pm in spring (starting March 15) and fall (ending Nov. 30).
• Parking: The Welcome Plaza parking area has 285 spaces (eight accessible), plus 16 spaces for oversized vehicles (two accessible). Parking for vehicles displaying valid disability placards is also available in a small lot at the entrance to the grove (the Arrival Area) and near the Grizzly Giant.
• Refreshments: Drinking water is available at the Welcome Plaza (year-round) and Arrival Area (summer only). No food is available at the plaza or within the grove. Bring snacks (with minimal packaging) and a refillable water bottle!
• Restrooms: Restroom facilities are open year-round at the Welcome Plaza and Arrival Area, and near the Mariposa Grove Cabin and Grizzly Giant.
For more information about visiting Mariposa Grove, including trail descriptions, tips for winter visits, and details about pets, bikes and horses, visit the Yosemite National Park website. 
Above: Giant sequoias stretching toward the sky in Mariposa Grove. Photo: Yosemite Conservancy/Keith Walklet