There's nothing quite like a Yosemite summer – and no two are ever the same! We've compiled all the insider updates to demystify peak hours reservations, changes to traffic patterns and shuttle services in Yosemite Valley, fire and air quality monitoring, and more. Consider this blog all the nuts and bolts you'll need to make the most of your upcoming trip to the park.  
tl/dr 
Peak-hours reservations: Know before you go

 

Current Conditions: Visit nps.gov/yose for park updates

 

Construction Updates: Please be patient, good things are coming!

 

Traffic Updates: Pay attention while driving; enjoy the shuttles!

 
Before you leave home: Peak hours reservations
Reserve today; Preserve tomorrow!
If you are driving a vehicle into or through Yosemite National Park between 6 am and 4 pm (peak hours) from May 20 – September 30, 2022, you must have a peak hours reservation (valid for three consecutive days for unlimited re-entries). The vehicle entrance fee, which is valid for three days, still applies. Reservations are required daily between 6 am and 4 pm (peak hours) from May 20 through September 30, 2022 and can be made at recreation.gov.
If you were planning on passing through Yosemite National Park between May 20 and September 30 and you do not have a peak hours reservation:
First, see if any are available for your trip on recreation.gov.
If not, you'll either need to consider an alternative route or plan to drive before 6 am or after 4 pm. A Tioga Pass alternative is CA Highway 108 or Sonora Pass, which is directly north of Yosemite. You will not be permitted to drive into the park between 6 am and 4 pm without a peak hours reservation, even if you're just passing through.
You do not need a peak hours reservation if you already have: 

Current Conditions are Constantly Changing
The Yosemite National Park website is your go-to for information about current conditions including road closures, changing traffic patterns, air quality, and more. Park staff do their best to keep this information as up to date as possible.  
The Yosemite Weather Forecast page

gives links for area-specific forecasts. Yosemite National Park covers a lot of ground – and a lot of elevation. It's important to know what to expect at your destination for the day. Not sure where to start? Most visitors begin in Yosemite Valley. 

 
Know that weather conditions can change quickly, especially at higher elevations – we recommend packing an extra layer for wind, cold, or rain.

 
During fire season, it is especially important to pay attention to signage and updates – and to stay flexible with your trip planning. 

 
Construction Updates
Construction continues to make much needed improvements to Yosemite's infrastructure. On behalf of park staff and contractors, thank you for your patience and understanding. Here are the latest construction updates you'll need to keep in mind for a summer 2022 visit: 
Yosemite Valley  
The trail to Bridalveil Fall is closed

due to the

ongoing restoration project

, made possible in part by Conservancy donors. Construction is scheduled to be completed in late 2022.

 

Be on the lookout for pedestrian and bike trail detours around

the Welcome Center

project

in Yosemite Village. The Welcome Center is made possible in part by Conservancy donors and is scheduled to be completed in March 2023.
Glacier Point
Glacier Point Road will remain closed for rehabilitation in 2022. 

 




The Glacier Point vista remains accessible to the public via the strenuous

Four Mile

, Pohono, and Panorama trails.

 

Looking for car-accessible vistas?

Try Tunnel View on Highway 41, Valley View on Northside Drive, and Olmsted Point on Highway 120.

 
High Sierras 
Expect

traffic delays and parking area closures along Tioga Road,

when it opens for the season,

 between Olmsted Point and about two miles east of Tuolumne Meadows.

 

Traffic Updates:
Return of the Traffic Pilot…and the Yosemite Valley Shuttle System!
Formally known as the "Yosemite Valley Circulation Pilot," a continuation of the 2021 study of potential changes to traffic patterns to relieve congestion, has returned to Yosemite Valley. This Yosemite National Park webage describes the project in fuller detail and the image below depicts the four major changes to be aware of when driving in Yosemite Valley this summer.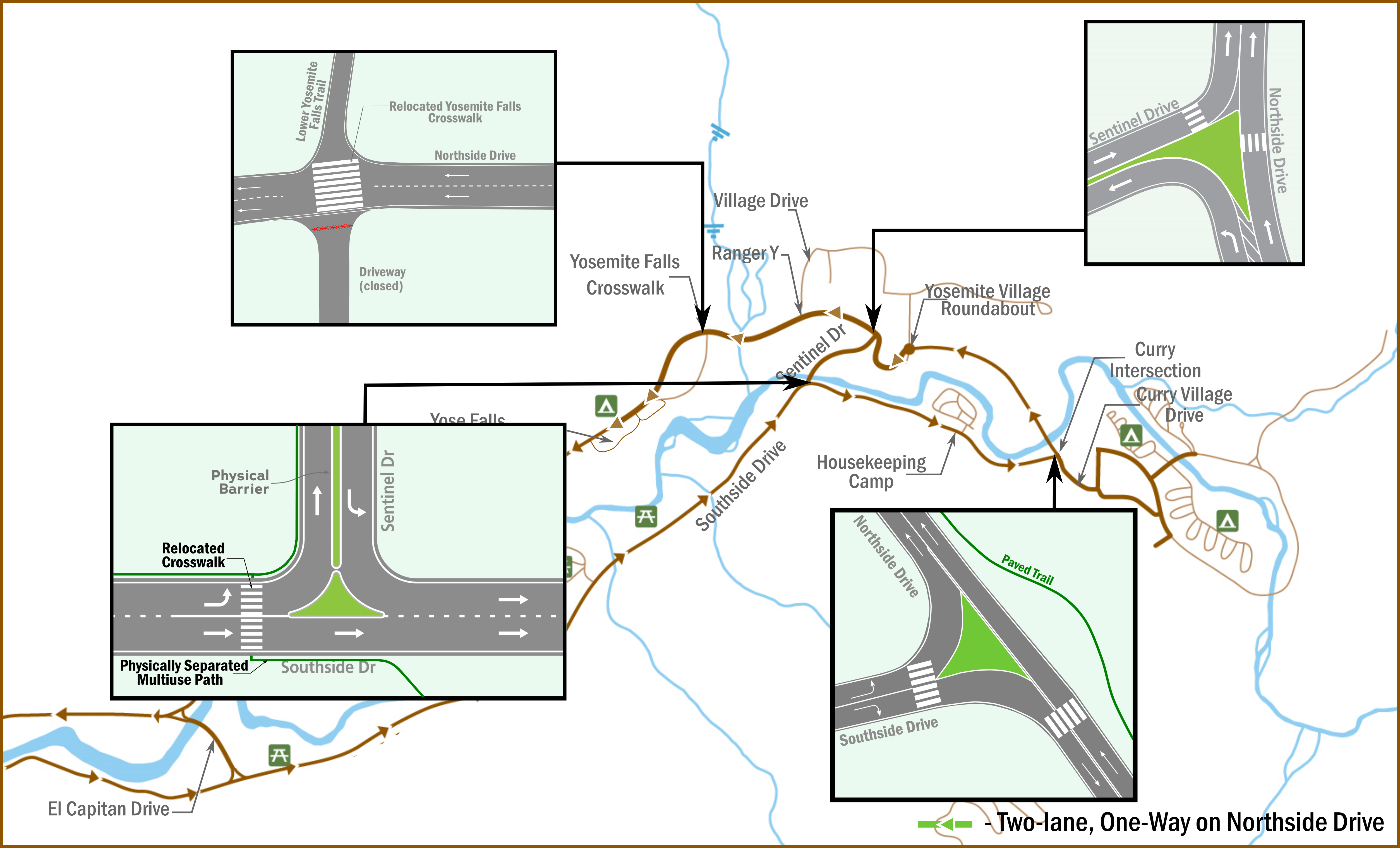 The Yosemite Valley Shuttle System has returned! The map below lists stops along the Valleywide and East Valley shuttle routes. The fine print reads that the shuttles run every day from 7 am to 10 pm at regular intervals of 12 to 22 minutes for the Valleywide or green loop and 8 to 12 minutes for the East Valley or pink loop.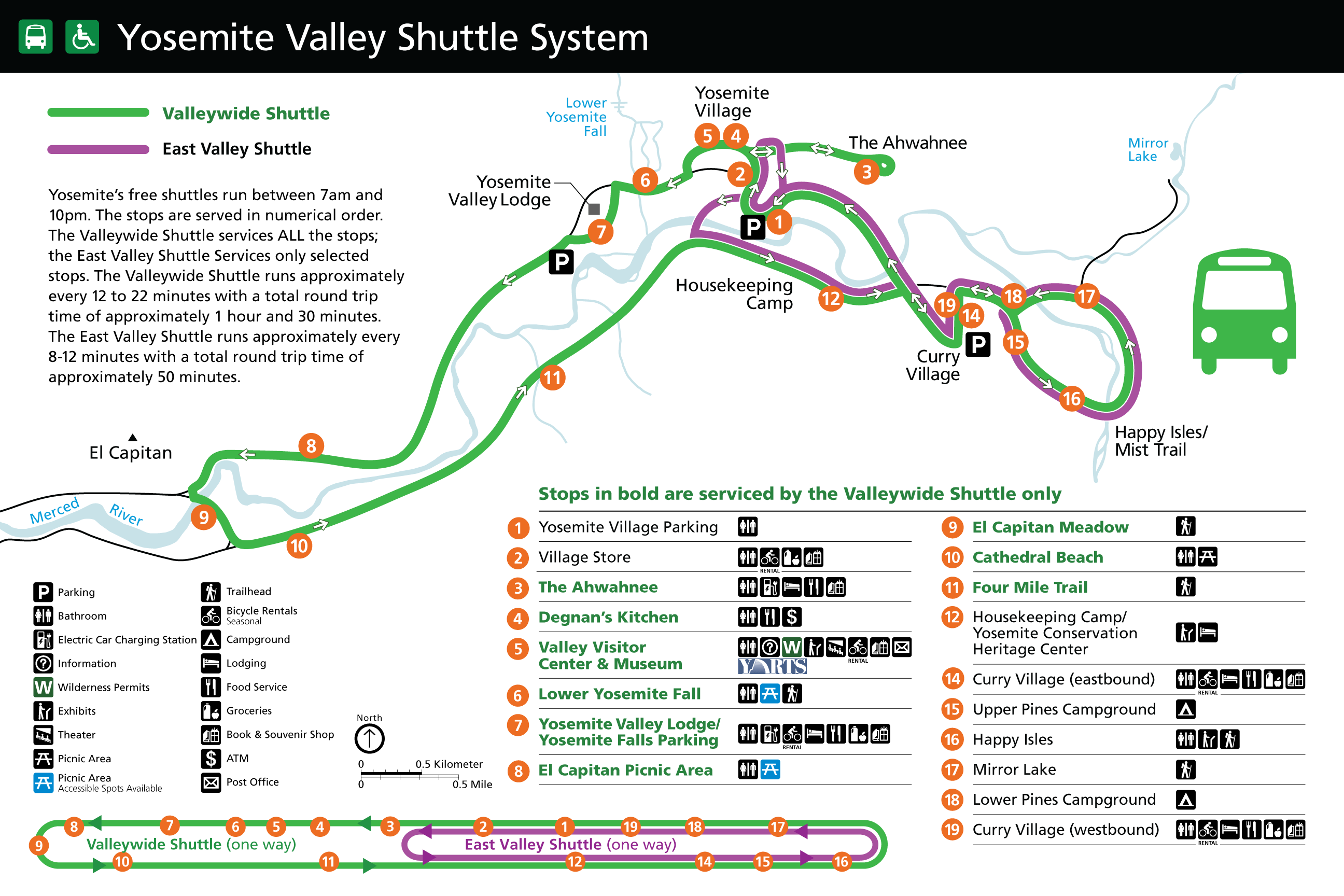 But where do I park my car? Use the chart below to identify which of the three main Yosemite Valley parking lots is best for you. There are smaller lots as well, but those fill up fast and are best not to depend on. Remember once you park your car, it is strongly encouraged to utilize public transportation, biking, or walking for getting around the Valley. 
Parking Lot

and how to find it…

Short walk, bike or shuttle ride to…
Best for.. 

Curry Village

 

Go straight at the intersection after the chapel and follow signs for Curry Village.
There are both paved and unpaved sections and day-use RV parking. 

 *Likely to fill first* 

Mist Trail

/Vernal and Nevada Falls trailhead

 

Happy Isles Art and Nature Center 

Mirror Lake Trailhead 

Curry Village:

lodging, restaurants, grocery, and bike rental

 

Shuttle stops 14 & 19 

Day-use RV parking

Yosemite Village

 

Go straight at the intersection after the chapel.
Drive through Curry Village and follow signs for Yosemite Village.
Take the second exit at the roundabout and then look for parking lot entrances on the right.


*You can tell you're in this lot when you see signs that say section A, B, C, D, etc.*

Ansel Adams Gallery

 

Yosemite Valley Visitor Center and Bookstore  

Yosemite Museum & Indian Village 

 Yosemite Valley
Wilderness Center 

Cook's Meadow Loop

Yosemite Village Store

and bike rental

 

Shuttle stop 1 

Degnan's Deli 

Yosemite Falls Parking

 

Take the left turn at the intersection after the chapel.
Drive past the small lot on the left, continue driving past Yosemite Valley Lodge, and then look for a parking lot on the left across from the Camp 4 campground.


*Additional day-use RV parking can be found here.*

Valley Loop Trail

 

Yosemite Falls Trail 

Lower Yosemite Fall Trail 

Swinging Bridge

Yosemite Valley Lodge

: lodging, restaurants, grocery, and bike rental

 

 Camp 4 Campground 

 Shuttle stop 7 

And now the good stuff…
Yosemite National Park, one of the crown jewels of the National Park System, offers beauty in every corner of the park.  
Yosemite Valley, also referred to as "the Valley" or "the Valley floor" is where most visitors to Yosemite National Park come for the day. This is where you'll be able to behold the dramatic granite cliffs and the iconic peaks, Half Dome and El Capitan.  
Points of Interest: Tunnel View, Valley View, El Capitan 

 

Favorite Easy Hikes: Cook's Meadow, Lower Yosemite Fall, and Happy Isles
The Mariposa Grove in the southern part of the park is Yosemite's largest grove of giant sequoia trees. The trail system offers opportunities to spend a few hours or a full day among the peaceful monarchs.  
Points of Interest: Grizzly Giant and the California Tree

 

Easy hikes nearby: Yosemite History Center, Grizzly Giant

 

There are two other giant sequoia groves in Yosemite National Park, near Crane Flat Junction, the Merced and Tuolumne groves. These smaller groves require moderate hikes to view their

"

monarchs

,"

or fully grown giant sequoias.

 
Tuolumne Meadows and the High Sierras – "Follow me to 'Twollow'-Me," sing park rangers when describing how to pronounce the majestic meadow at the heart of Yosemite's high country. Tuolumne Meadows, located at 8,600 feet in elevation, encircled by granite peaks and domes, is a great place to spend an easy summer day. 
Points of interest: Olmsted Point, Tenaya Lake, and Tuolumne Meadows  

 

Easy Hikes: Tenaya Lake, Tuolumne Meadows, and Soda Springs 

 
Your miscellaneous questions, answered. 
Is Yosemite accessible for people with sight, hearing, and mobility impairments? 
Can I bring my dog? 
Where can I find up-to-date information on Yosemite air quality and fire news? 
Can I download a map to help me plan my trip? 
Yep!

View and download the official park maps here

– this is great if you are looking for a basic map with roads, restaurants, campgrounds, etc.

 

If you are looking into 

high-quality topographical maps

 for more backcountry and Wilderness explorations – check our selection of maps in our 

store

.

 
 Did you find this post helpful? What's missing that would make it even more useful? Let us know by sharing this content on social media, or you can send the link directly to a friend! 
Photos in order from top to bottom:
Yosemite Valley path with visitors by Mimi Chase
Yosemite high country reflected in Tenaya Lake by YC/Jon Paul Salonen
Tunnel View by Jake Myhre
Maps courtesy of NPS