Instead of our usual monthly recap, we're taking a moment this January to look back at the past 12 months, and all that our supporters made possible! With your help, we funded more than three dozen projects in Yosemite in 2018, helped thousands of people deepen their connection with the park through enriching programs, welcomed 305 volunteers to help with habitat restoration and provide vital visitor services, and much more.
It's tough to measure the full impact of your support, to tally up the number of visitors who benefit from restored trails, or quantify the ripple effects from rehabilitating an ecosystem; to calculate the lasting impact of safety messages spread by the Preventive Search and Rescue team; to enumerate how people inspired by Conservancy art programs start to see and appreciate their surroundings in a new way, or how grant-funded youth programs plant seeds of stewardship that can bloom into a deep-rooted passion for public lands.
That said, here are some of the stats that stood out – all fueled by your investment in Yosemite's future!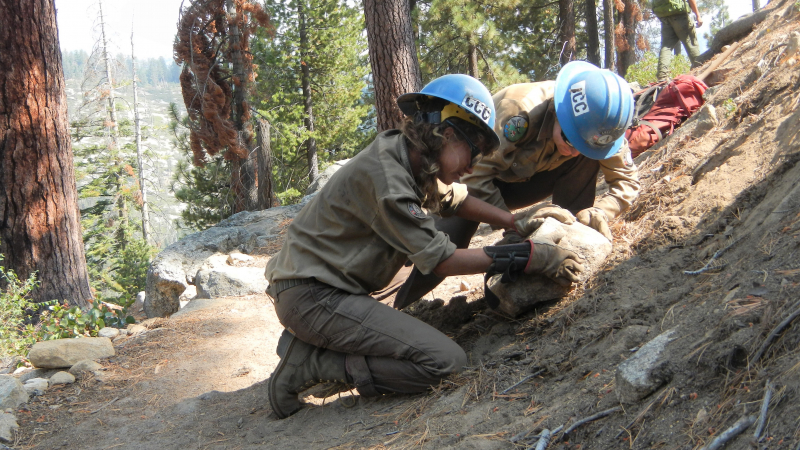 118+ miles of trails were improved throughout the park. In the Valley, Hetch Hetchy and backcountry, California Conservation Corpsmembers guided by National Park Service experts removed rock slide debris, repaired wooden bridges, and built rock walls and steps, all while learning about ecology, history and wilderness ethics. In the southwestern part of the park, another CCC crew helped finish a new hiking trail into Mariposa Grove, in part by transforming a historic, overgrown stage coach road into a pedestrian path; nearby, park crews upgraded the short trail connecting the Pioneer Yosemite History Center and the Wawona Visitor Center at Hill's Studio.
"Time spent in the CCC backcountry program has changed me and my life for the better. I would never have had the strength to face my fears and grow strong without it. From hiking 45 miles in two and a half days to climbing to the top of Half Dome, these are the memories and experiences I will remember for the rest of my life. I hope this program is around forever so other people can experience the beauty and empowerment of this life-altering experience. " — Jessica Speich, 2018 CCC Merced
12,000 visitors deepened their connection to Yosemite through Conservancy-run art, theater and adventure programs. Over the course of the year, participants sketched and painted seasonal scenery; traveled back in time to learn about people from the park's past; snowshoed, bird-watched and backpacked while exploring ecology and history with expert guides; and much more.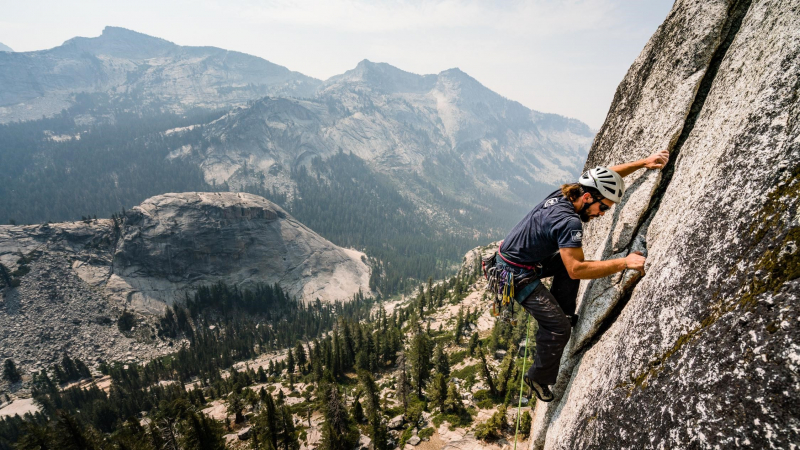 541 pitches (equivalent to approximately 65,000 feet) ascended by rangers and volunteers while furthering Yosemite's climbing-related stewardship efforts. Climbing rangers and eight Climber Stewards interacted with the public on and off the walls, led volunteer groups on projects to improve climbing trails in the Valley and Tuolumne Meadows, tallied up 17,000 conversations with visitors through the Ask a Climber program, and conducted outreach within and beyond the park, including during the annual Yosemite Facelift and through special events at climbing gyms.
"The Climbing Stewardship Program promotes lifelong stewardship of Yosemite National Park through innovative and diverse outreach, education, conservation projects and dynamic partnerships." — Ed Dunlavey, NPS
11 new "four-legged rangers" joined Yosemite's mounted patrol team in 2018, including two mustangs adopted from the Bureau of Land Management through the Rio Consumes Correctional Facility in Elk Grove, California. The mustangs, Drifter and Sandman, started their training with inmates, and are now polishing up their skills for work in the park.
"Throughout the training of the mustangs I was always incredibly surprised how supportive park visitors were of Sandman and Drifter. Adults and children alike could understand and resonate with their story and the type of partnership we are building with them." — Justin Fey, NPS, on the park's new mustangs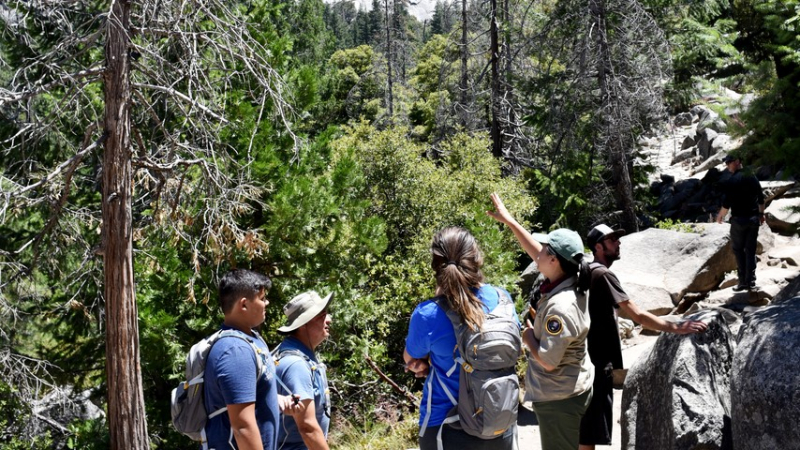 77 volunteers, including a 15-person Yosemite Conservancy Work Week crew, donated 1,145 hours to sharing safety messages through the park's Preventive Search and Rescue program.
5,700+ acres of Yosemite Wilderness were surveyed by park crews and volunteers scouting for impacted areas. Over the course of the season, "Keep It Wild" teams removed and restored 165 inappropriately located backcountry campsites and treated 2,160 square feet of non-native, invasive plants.
One of the privileges of being part of the Keep It Wild crew is the amount of time spent living and working in wild lands. The sense of getting stronger and hiking faster over the weeks of work while at the same time feeling oneself slowing down, internally, more noticing and less ignoring the wonder around you. … The sense of giving back, taking care of, preserving for the next generations, being a part of something. These are the things that make me come back year after year." — Anonymous, 2018 Keep It Wild crew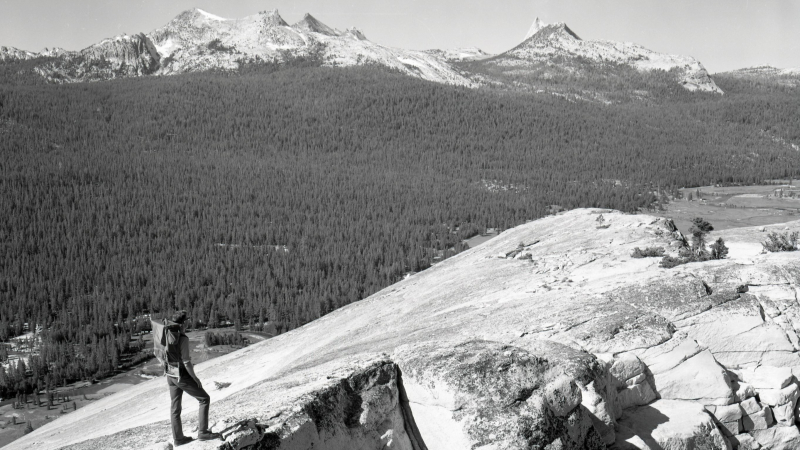 6,535 historic images were added to the public NPGallery website (bit.ly/np-gallery-yose), thanks to the hard work of park staff and Student Conservation Association interns who carefully sorted, researched and digitized photos from the Yosemite Archives.
300+ middle and high school students from the Bay Area and Central Valley experienced Yosemite through Adventure Risk Challenge, WildLink and Parks in Focus (three of the eight Youth in Yosemite programs Conservancy supporters helped fund in 2018). Whether immersing in the park on a weekend retreat, a weeklong camping trip or a multiweek summer course, the students got to connect with and learn from their natural surroundings – and one another.
"I already knew Yosemite pretty well before getting to work with Parks in Focus, but every time I take a new group of kids I get to experience falling in love with the park all over again through their eyes. I wish everyone had the chance to experience national parks with childlike wonder and be a part of a hands-on project to give back to their public lands. The impact this program has on these kids never ceases to amaze me. I am a part of the frontline effort to help the next generation build a connection and sense of belonging with their public lands." — Mirella Gutierrez, 2018 Parks in Focus trip leader (and Yosemite Leadership Program alum!)
435,000+ people were welcomed by our volunteer visitor information assistants, who dedicate a month of their time to helping visitors navigate and learn about the park. Whether directing visitors toward hard-to-find trailheads or helping people identify distant peaks from Olmsted Point, those knowledgeable, dedicated volunteers fill a critical niche in the park's visitor services every year.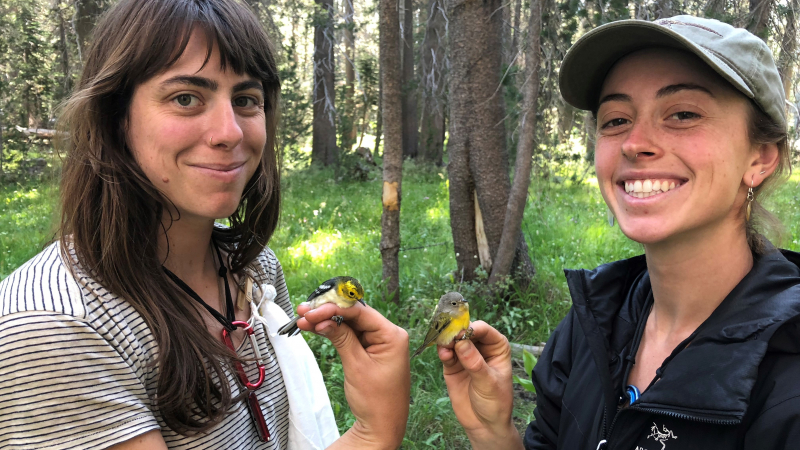 60 avian species were observed at meadow-based research stations, where scientists collected data on 2,124 individual birds through a 29th consecutive year of songbird research.
"It's hard to imagine what late morning and the preceding sunrise might be like without the dawn chorus of montane birds, which is precisely why we are here — to protect those beloved songs and understand what drives bird productivity and survivorship." — Sarah Hecocks, 2018 bird-banding intern
91,000 permit requests processed by our Wilderness team members, who also help visitors rent bear-proof food canisters to help protect wildlife (and their meals) while in the backcountry.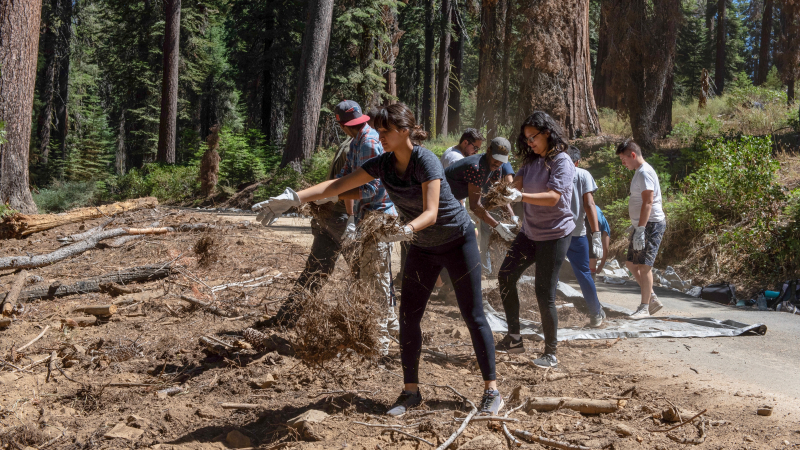 69 University of California, Merced, undergraduates participated in the campus-based Yosemite Leadership Program, completing rigorous coursework and capstone projects. Speaking of that campus, 13 student rangers working at the UC Merced Wilderness Education Center helped thousands of peers and younger students connect with Yosemite through field trips and presentations; and 15 UC Merced students were selected for summer internships in Yosemite, where they worked with park professionals in a variety of fields, including engineering, ecological restoration, education, and Search and Rescue. We were delighted to welcome a YLP intern, Vanna, to join our art team at the Happy Isles Art and Nature Center this year!
"Environmental stewardship is connected to positive environmental change because it is a result of a cascading effect started by one person. I was once a person who did not really care to recycle or pick up trash on the trails but people like Jesse, Jacob and Jessica educated us YLPers to be more aware of our impact. Not only that but they supported their words with actions. It inspired me to be a better environmental steward and in turn I have also been educating friends and family back at home about taking care of the environment." — 2018 Yosemite Leadership Program second-year student
Thank you to everyone who supported Yosemite and the Conservancy in 2018, by donating, volunteering, participating in our programs, and more. We're thrilled to dive into another year of inspiring people to connect with and care for the park. To that end, we recently announced our 2019 grants, and our 2019 programs are already underway: We're currently accepting volunteer applications open for 2019 season, have naturalist-led snowshoe outings scheduled for the coming weeks, and are gearing up for spring and summer day hikes, backpacking trips, art workshops and theater shows. Explore our website to learn how you can get involved and make a difference this year!
Curious about the collage at the top? Here's a cheat sheet!
– Top row, left to right: Yosemite Leadership Program interns at May Lake; Yosemite Conservancy guest artist Juan Pena leading a watercolor class; a Climber Steward on patrol.
– Middle row, left to right: A butterfly observed during 2018 scientific surveys; Keep It Wild crew members cleaning up a fire ring in the backcountry; a visitor stopping by the Ask a Climber program; Yosemite Conservancy volunteers donating time to help the park's Preventive Search and Rescue efforts.
– Bottom row, left to right: Yosemite Leadership Program students at Taft Point; a recently released California red-legged frog in its new home (the frogs were released in Yosemite Valley as part of a broader project to restore populations of native amphibians and reptiles); California Conservation Corpsmembers hike to a work site; a researcher carefully holds a songbird captured at a bird-banding station.