"In these areas it is as though a person were looking backward into the ages and forward untold years. Here are bits of eternity, which have a preciousness beyond all accounting."
— Harvey Broome, founding member of The Wilderness Society, on wilderness
---
Every year, crews survey and restore sections of the 704,624-acre Yosemite Wilderness. For decades, Yosemite Conservancy donors have supported that work by funding Keep It Wild, a long-running restoration program.
You don't have to be a restoration expert to help keep Yosemite's backcountry wild. Take our quick quiz to see how easy it is to minimize your impact on the natural world.
Ready to hit the trail? After you read each question, click on the choice you'd make to see where it leads.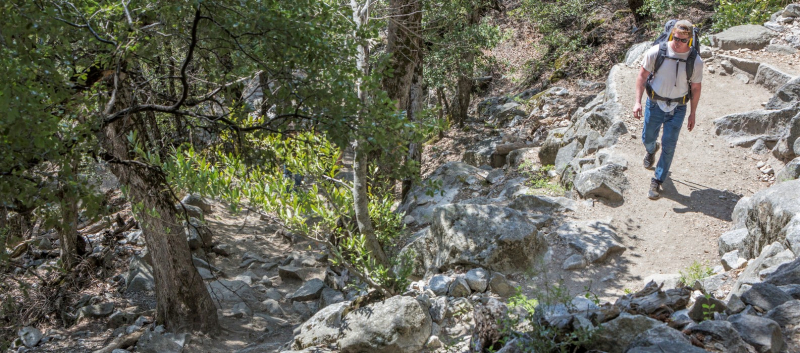 You hike a few miles, then reach downhill switchbacks. The sun is blazing, and you're eager to get to the shade at the bottom of the slope. What do you do?
​a) Skip the zigzags. It's not too steep, so you feel safe heading straight down.
b) Sip some water and let yourself cool off, then continue down the switchbacks.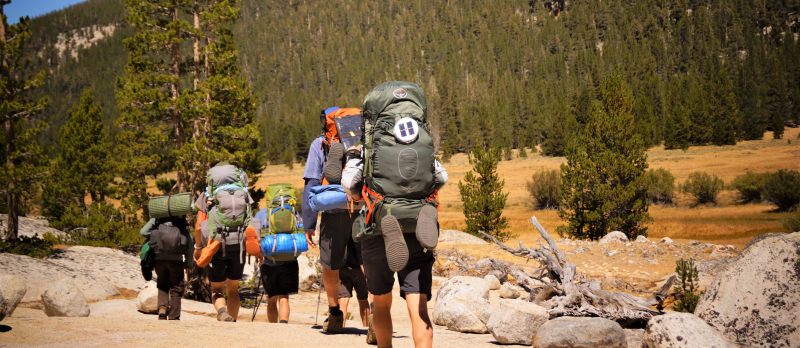 You've covered a lot of ground, and are working up an appetite. Where do you stop to rest and refuel?
a) Stay on the trail, and use a rock or your pack as a seat.
b) Leave the trail and find a comfy, out-of-the-way spot in a meadow.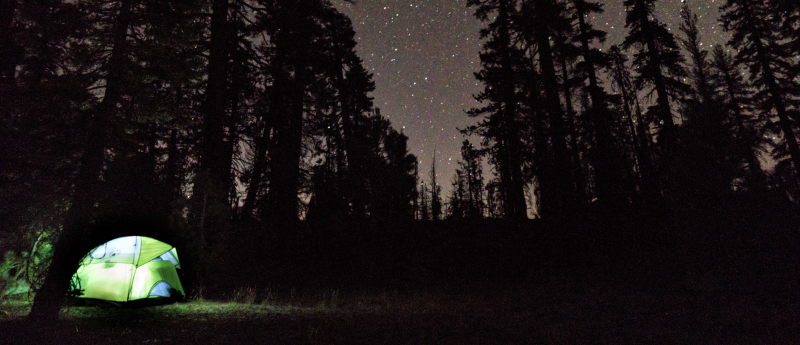 Good choice! Hike until you're ready to set up camp. Where do you pitch your tent?
a) On a soft patch of grass. You earned it!
b) On hard ground, or an already impacted area.
c) Next to a creek, where you can listen to the lullaby of flowing water.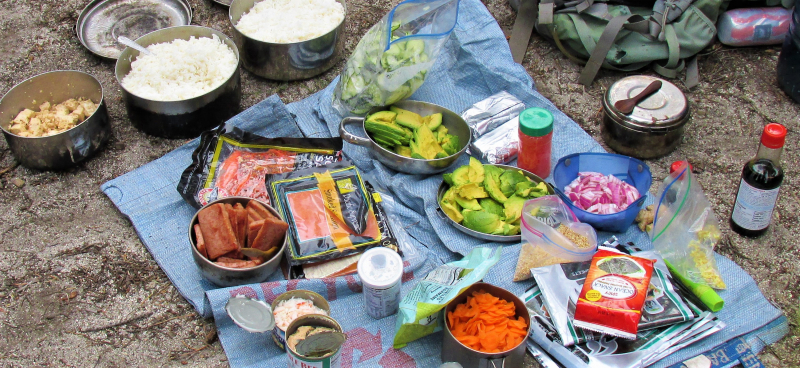 Way to go! Celebrate with a warm meal. Where do you cook and wash dishes?
a) At least 200 feet from any water sources, and from your tent.
b) On the shore of a lake or stream, so you can easily clean up spills and food scraps.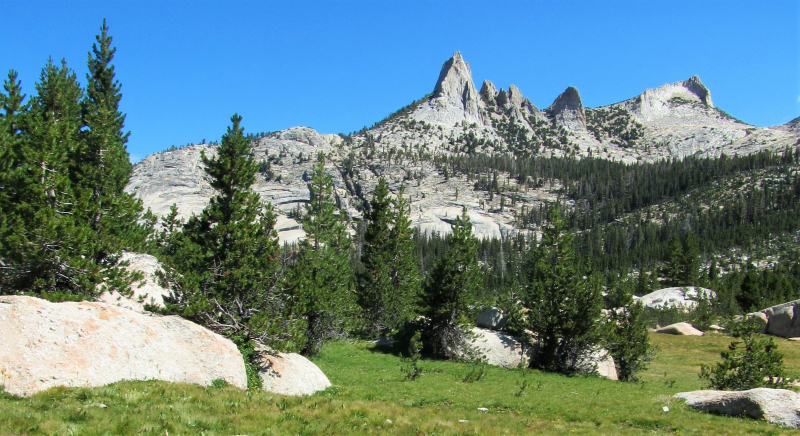 Great job minimizing your impact! Your efforts helped protect sensitive habitats and keep water sources pristine. You're not quite done … remember to pack everything out, and to prevent the spread of invasive plants by brushing of your gear and clothes.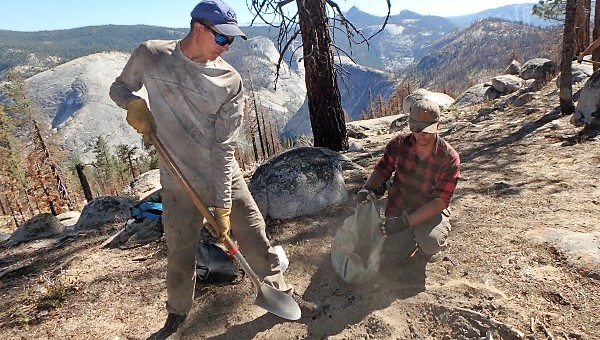 Why is it important to follow no-trace techniques? Naturalist Donald Culross Peattie once called protected wilderness areas "great reservoirs of the serene order of nature." Actions that are often avoidable, such as cutting switchbacks, camping or building fire rings in fragile meadows, and cooking close to water, can start to disrupt that order and impact natural resources.
---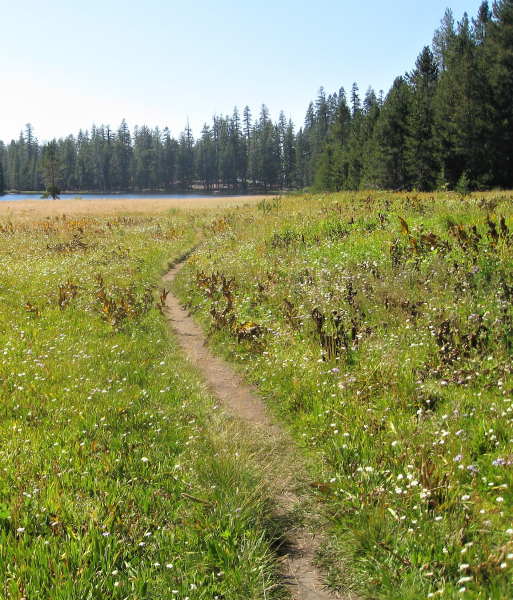 Impact alert: Walking and camping in meadows and other sensitive areas can damage plants, increase erosion and compact the soil.
It can be tempting to follow in the faint footsteps of previous hikers to avoid mud or take shortcuts, but doing so can carve informal "social trails" that cut through critical habitat. This hiker-generated path, near Lukens Lake, was later removed and restored. If you're traveling cross-country or otherwise need to head off trail, stick to durable surfaces, such as rock or sand, whenever possible.
---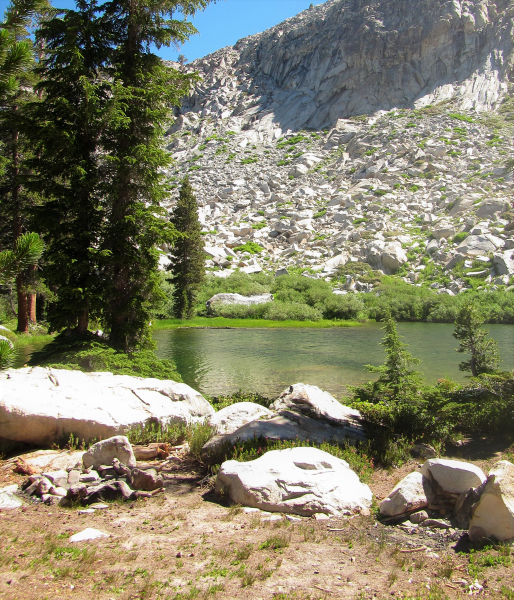 Impact alert: Camping and cooking near lakes and streams can contaminate water sources. Every year, Yosemite's wilderness restoration crews remove fire rings and campsites that are too close to water, like this one at Chain Lakes.
Set up your camp kitchen at least 200 feet from water. Keep your food far from your tent, too, since the aroma from your delicious meal might attract bears or other animals. Before you turn in for the night, seal any scented items, including leftovers, trash and toothpaste, in your bear-proof canister, and place it on level ground at least 100 feet from your tent. Steer clear of slopes and shorelines — bears can push containers down hills, over cliff edges, or into water.
---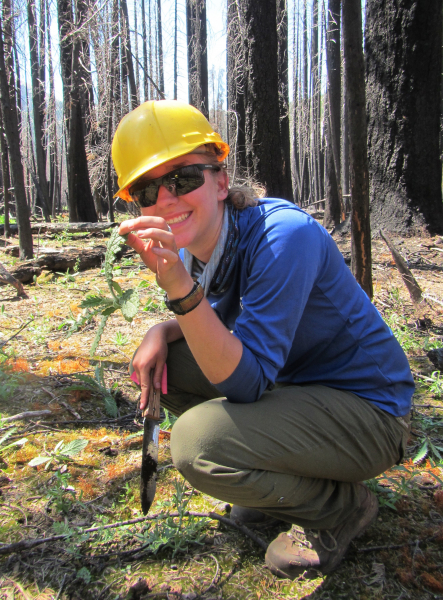 Those impacts add up! Every year, Yosemite staff and volunteers (including our Work Week groups and a Student Conservation Association team) search the backcountry for impacted areas. They shovel ash out of fire rings, loosen trampled soil, and remove non-native vegetation.
In 2016, wilderness restoration crews ….
… restored more than 1,300 feet of ruts and "social trails" to help protect wilderness habitats.
… treated 39 acres of invasive plants. Help stop the spread by cleaning your clothes, tent and pack!
… removed 326 campsites that were too close to water or trails, and/or were at elevations above 9,600 feet.
The next time you're out in the Yosemite Wilderness, or any natural landscape, make a positive impact by minimizing your impact. With a few simple steps, you can help ensure not only that you're not leaving a trace, but also that you're not leaving an example — whether a trodden path through a meadow, or the remains of a campfire too close to a lake, or a discarded granola bar wrapper — for others to find and emulate. Another easy way to help? Support habitat and trail restoration by becoming a donor.
For more information on backcountry tips and regulations, visit the Yosemite National Park website: nps.gov/yose. Thank you for helping to keep the Yosemite Wilderness wild!
---
Above: Close-up of Mount Conness (center peak), from Pothole Dome. © Yosemite Conservancy/Keith Walklet