TL;DR: Yosemite fire updates and resources
Yosemite fire news on NPS.gov — your go-to for regular fire updates from the National Park Service, including:
Yosemite Fire and Aviation Management — follow them on Twitter and Facebook.
Most major fires in California and across the United States are mapped and updated on either InciWeb (for fires on federal public land, including significant fires in Yosemite) or Cal Fire (for fires in state-managed areas).
Fire can be devastating…
Like many Western states, California is facing massive, historic, terrifying wildfires. Records have been shattered again and again in recent years. Entire towns have been consumed by fire, thousands of families have lost their homes, vital wildlife habitat has been destroyed, and air quality has been trending downward throughout the state.
Yosemite Conservancy staff members and volunteers, like many others across our state and our nation, have felt the devastating impacts of these fires. Homes have been lost in communities already facing housing shortages, and people have been confined indoors during the summer heat in homes that often don't have air conditioning to protect their lungs from smoke. Yosemite visitors have had to postpone long-awaited trips, and our instructors and guides have made the tough calls to cancel outdoor adventures and other programs.
Wildfire can be disruptive, frustrating, and heartbreaking.
…and yet, it is critically important.
Fire is a critical and quintessential part of Yosemite's ecosystems, as is true throughout most of California.
 This landscape adapted with wildfire, becoming both resistant to it and dependent on it. For example:
Mature giant sequoia trees are extremely resistant to low-intensity fire. Their thick trunks are devoid of vulnerable branches at the bottom. Their bark is flame-resistant. Their tiny, flake-like seeds are released from their cones when exposed to high heat. And fire burns up dead and downed trees and brush, which allows those small seeds to reach the topsoil below, instead of blowing away in the wind.

In a landscape where water resources have always been limited (even pre-drought), wildfire kept competition — and conifers — at bay. Low-intensity fire kills young, fast-growing lodgepole pine and other conifers while usually leaving mature trees intact. This also preserves meadows and wetlands from encroaching trees, which are important biodiversity hotspots that are essential within Yosemite's hydrological systems.

Yosemite is a haven for diverse flora and fauna, including many rare, endemic plant species that emerge only in the wake of fire.

For this reason, these rare flowers are colloquially called

"fire followers."
These are just a few among many examples of the important ecological benefits of wildfire, which plays a crucial role in healthy forest and meadow ecosystems. Fire in Yosemite benefits species from black oak trees to spotted owls and so many more.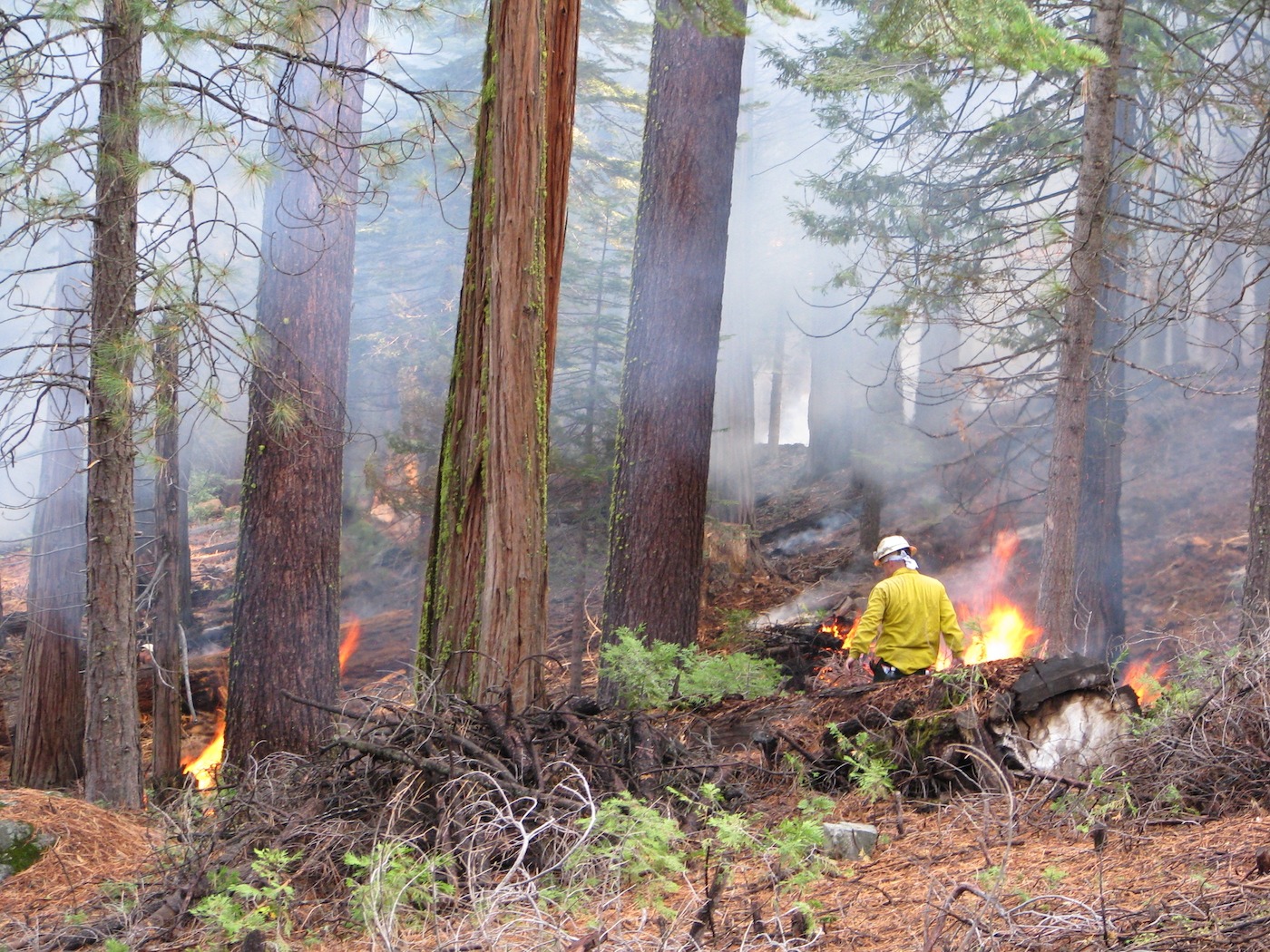 Cultural burning, the precursor to prescribed fire
For many millennia, fire has been integral to many Indigenous peoples' ways of life. Native Americans, Alaska Natives, and Native Hawaiians used fire to clear areas for crops and travel, to manage the land for specific species of both plants and animals, to hunt game, and for many other important uses. Fire was a tool that promoted ecological diversity and reduced the risk of catastrophic wildfires.
Throughout California, Indigenous nations have used fire for thousands of years as a tool to steward the land, and still do so today.  Cultural burns passed down through generations have benefited both land and people, by improving soil quality and spurring growth of certain plant species, creating a healthy and resilient landscape.
For more than 4,000 years, American Indians have relied on Yosemite Valley's meadows and oak woodlands to provide food, medicine, and materials for baskets, string, and shelter. Yosemite's early inhabitants periodically set fires to promote the growth milkweed, dogbane, sedge root, and bunch grass. Research on mud cored from Yosemite Valley showed a marked increase in ash deposits after people began living in Yosemite Valley.
Learn more about cultural burning at national parks and historic places across the country in NPS article "Indigenous Use of Fire."
Fire buzzwords, defined
SEVERITY

is used to describe a wildfire's impact to vegetation. A fire is considered high severity if it destroys a lot of trees and other flora, while a low severity fire has a minimal impact on the existing vegetation in the burn area.

INTENSITY refers to the physical temperature of a wildfire. A fire that burns very hot is considered high intensity. Low intensity fires are the inverse.
CATASTROPHIC is a value-based term, and it is often misused. A catastrophic wildfire burns a giant sequoia grove, or the homes in a community. If something that we as humans value is lost in a fire, that fire can be considered catastrophic.
CONTAINMENT is defined by the National Wildfire Coordinating Group as "the status of a wildfire suppression action signifying that a control line has been completed around the fire, and any associated spot fires, which can reasonably be expected to stop the fire's spread."
PRESCRIBED BURNING, or prescribed fire, is defined by the U.S. Forest Service as "the controlled application of fire by a team of fire experts under specified weather conditions to restore health to ecosystems that depend on fire."