Do you remember planning your first trip to Yosemite? As the day of your visit neared, and your excitement grew, you might have incessantly checked the weather while daydreaming about the majestic Sierra scenery and all the wild animals you'd get to see.
Upon arrival, you probably saw humbling domes, picturesque peaks, Valley views that took your breath away, and … squirrels. Squirrels? Really? They're adorable, but they don't exactly constitute a noteworthy wildlife encounter, especially if you see them daily in your yard or scampering along a sidewalk!
Many animals, including deer, squirrels and Steller's jays, are common sights in the park. Others are far less visible. Yosemite is a refuge for a variety of uncommon and threatened creatures, such as bighorn sheep, fishers and rare foxes. Many of those animals make their homes in the remote, rugged backcountry, and rarely cross paths with people.
Remote cameras offer a glimpse at the park's more elusive animals as they move through their natural habitat. We're sharing a compilation of still images and short clips of Yosemite wildlife, all shot by hidden cameras in backcountry areas at elevations of 6,000 feet and above. Can you identify all 12 species captured here?
Here's a list of the animals featured above, in order of appearance: Sierra Nevada bighorn sheep, black bear, mountain lion, coyote, mule deer, bobcat, badger, yellow-bellied marmot, Douglas squirrel, American marten, long-tailed weasel, porcupine.
Motion-activated backcountry cameras don't just offer a fun glimpse at animals going about their daily routines. They also play a key role in efforts to study and protect wildlife by enabling park biologists to identify and monitor rarely seen animals, such as the Sierra Nevada red fox.
The photo below was captured in October and recently retrieved from one such camera, as part of an effort supported by our donors to study the rare fox, which lives in and around the park's highest mountains. This image is the first detection of a red fox south of Tioga Road since surveys started in 2011.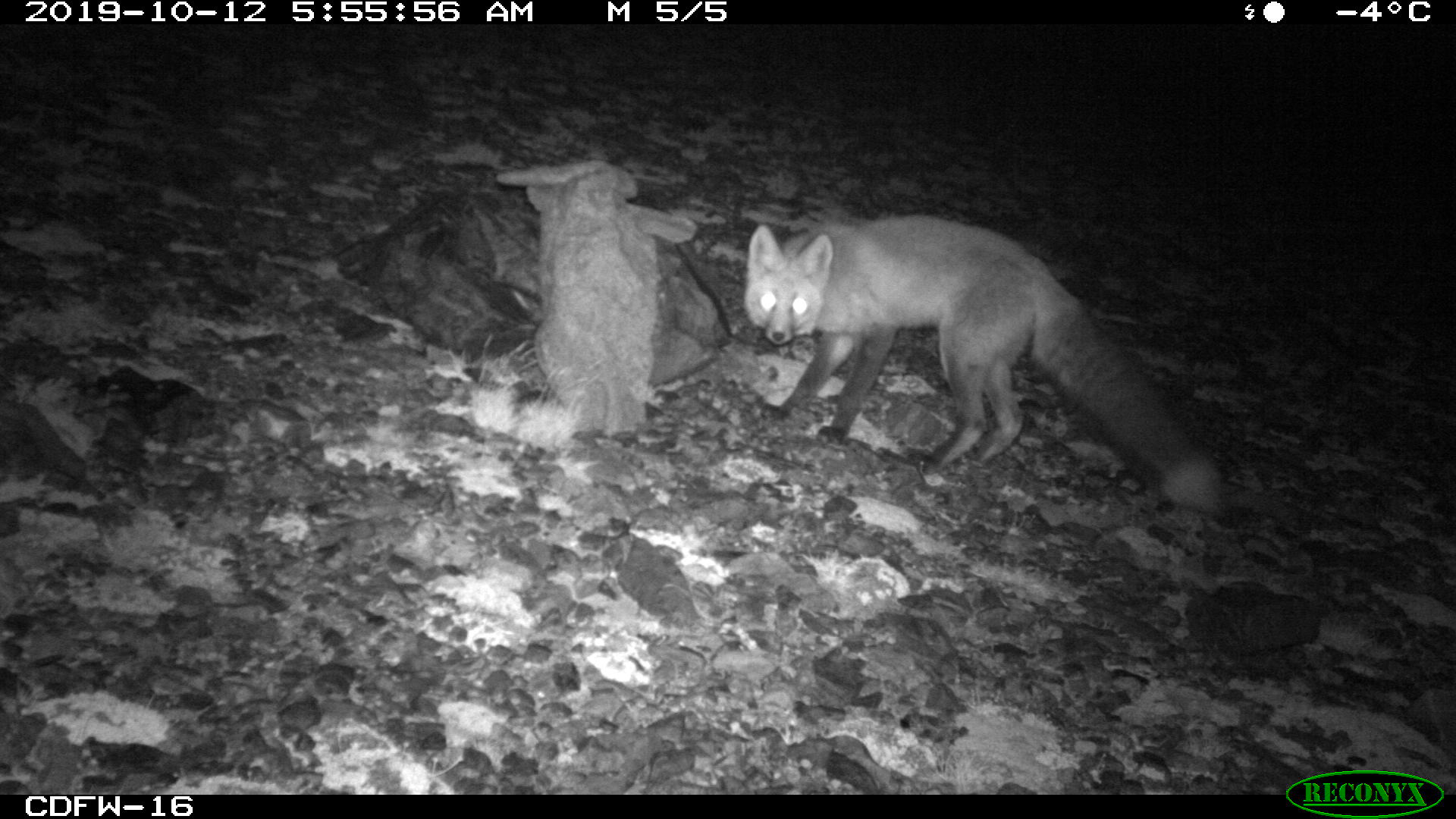 Amazing photos like this, combined with field surveys and genetic analysis, are helping researchers better understand these elusive mammals.
Of course, the current park closure has given Yosemite's animal residents the chance to roam about more freely while avoiding interactions with humans. The below video, brought to you courtesy of our National Park Service partners in Yosemite, shares a glimpse of the recent tranquility in the Valley, and how several four-legged friends are taking advantage of the quiet.
We hope this footage serves as a reminder of Yosemite's natural beauty and biodiversity — and of the many animals that rely on the park's protected forests, mountains and meadows as they hunt and forage, find shelter and raise their young, often far from human eyes.
When you're in Yosemite or elsewhere, appreciate the animals that you do get to observe (yes, that includes squirrels!), and help protect them by staying a safe distance away, storing food securely and minimizing your impact on their habitat. And while you might not ever set eyes on a rare red fox or a bighorn sheep, know that your support makes an enormous difference in ensuring that Yosemite's animals, and the ecosystems on which they rely, can thrive.