Happy. Excited. Ready. Hyped. Present-er (er, more present). Those are just a few of the words Yosemite's 2017 California Conservation Corps members used to describe their mindsets after five months of trail work, tent life and serious team bonding, made possible by a long-running Conservancy-supported program. The "C's," who are in their late teens and early twenties, shared their one-word impressions (and posed for the portraits featured above) at the end of September, as they wrapped up their season in the park.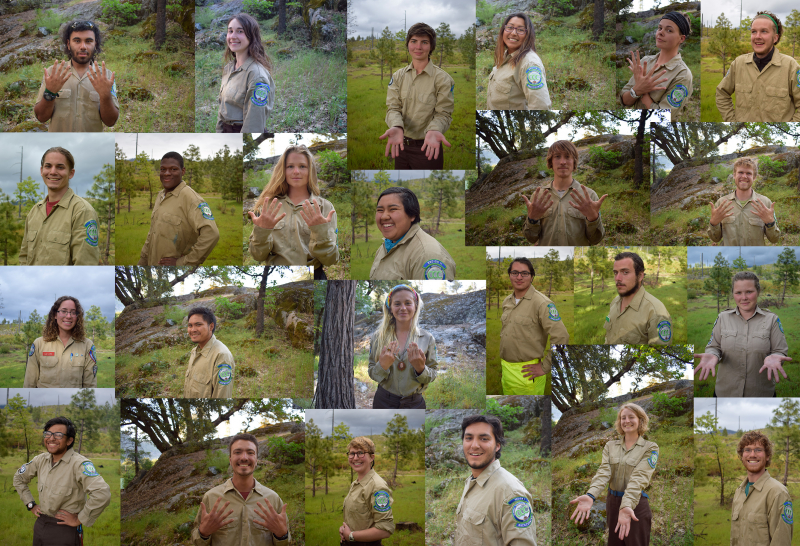 Back in May, our project coordinator, Ryan, stopped by the crews' Foresta and Hetch Hetchy camps to snap some "before" photos of the participants (see the collage at right). They had traveled to Yosemite from their hometowns—in California, Florida, Virginia, Maryland, North Carolina, Connecticut, Oregon, Oklahoma and Kentucky—to spend spring and summer working and learning on the trails. When Ryan caught up with them again, nearly a half-year later, they wore same big grins, but had a few more callouses and a slew of new skills.
Their single-word answers to a big prompt ("Describe how you feel") might seem simple, but they can convey a lot about the experience of sleeping, eating and working outside for weeks on end, pushing your muscles and mind to their limits, and waking up every day in the mountains.
Word: ADVENTUROUS (Cecilia, CCC Merced)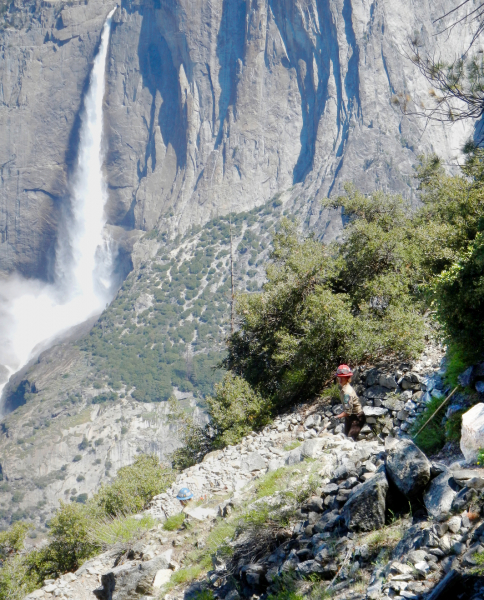 Any trip to a national park can be an adventure, but embarking on a five-month immersive experience in Yosemite brings "adventurous" to a new level. For Cecilia and her fellow crew members, signing up for a CCC season meant leaving friends, family and the comforts of daily life behind to embrace the unknown: a group of strangers as work- and camp-mates for the next 20 weeks; the challenge of honing a new set of skills on rugged terrain; and the unpredictable conditions that define summer in the Sierra.
The two crews started their season of adventurous learning in developed parts of the park (the "frontcountry"), making sure that trails in Yosemite Valley and around the Hetch Hetchy Reservoir were ready for the busy season. In June, the Merced Watershed crew set up their backcountry camp near Glacier Point and Illilouette Falls; their Tuolumne Watershed counterparts headed to Mount Gibson (north of Hetch Hetchy), and later moved west to Virginia Canyon. When not working on the trails, the crews got to take advantage of easy access afforded by their basecamps to strike out on adventures around the park.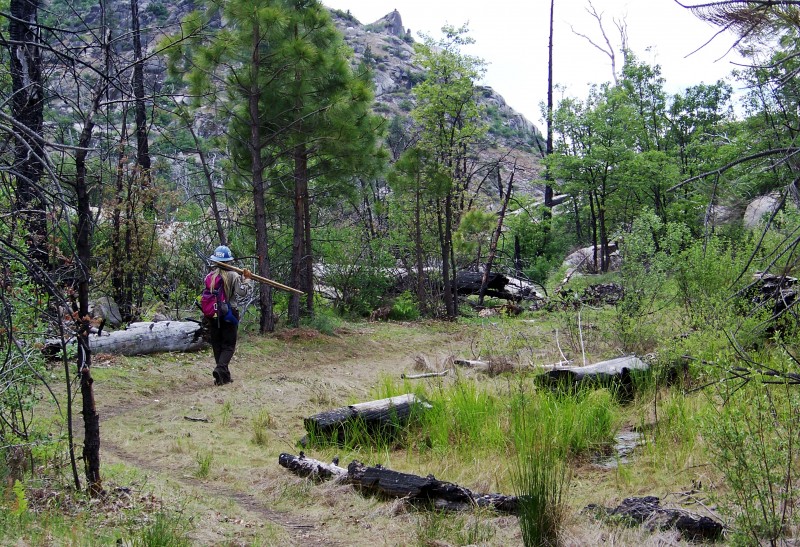 Word: TIRED (Masha, CCC Tuolumne)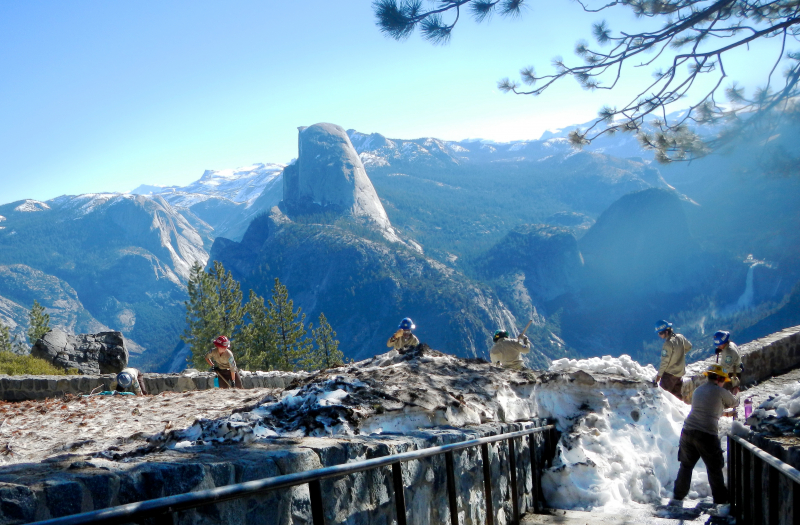 Yosemite's CCC crews don't stick to a 9-to-5 schedule. Like all corps members, Masha and her peers would rise early (often before dawn) to eat breakfast, pack up their supplies, and hike to the day's work site. Once there, they flexed their physical and mental muscles as they shaped trails, dug drainage features, moved heavy rocks and logs, and constantly learned from park pros and teammates.
This year, the crews dealt with the aftermath of record snowfall and heavy rain (remember the January floods?), as well as damage caused by rockslides, erosion and heavy foot traffic. As they learn to "leave no trace" while working in a protected landscape, CCC members help reverse marks left by natural events and hikers, and improve trails to prevent future issues: swales help direct water flow, riprap shores up fragile slopes, and rock walls and steps help encourage hikers to stay off sensitive habitat.
Word: ACCOMPLISHED (Dillon, CCC Tuolumne)
​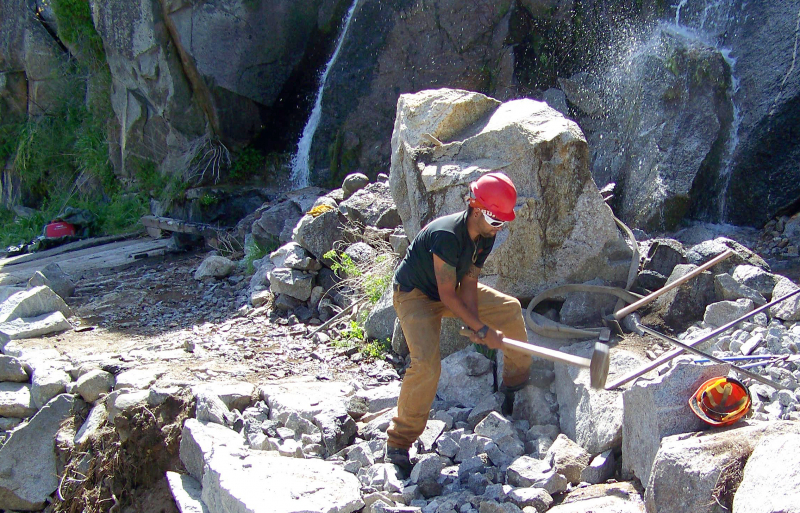 We can't think of a more apt term for Yosemite's California Conservation Corps members! Over the course of the 2017 season, Dillon and his CCC-mates worked on dozens of miles of trails in the Merced and Tuolumne watersheds.
Working together, they cleared heaps of snow from trails and overlooks, removed rockslide debris from the Tenaya Zigzags (on the Snow Creek Trail), built terraced steps and rock walls, repaired washed-out areas, and more. You'll benefit from their hard work when hiking in and around Yosemite Valley, through Mono Meadow, or in the Hetch Hetchy area. If you find yourself in the Yosemite backcountry, look for evidence of their accomplishments on the trails to McCabe Lakes, Red Peak Pass, Summit Pass and TilTill Valley, and on the Pacific Crest Trail between Glen Aulin and Matterhorn Canyon.
The CCC members' accomplishments extend beyond their time on the trails—throughout the season, they got to dive into a range of park-related topics with Yosemite experts, and even got an introduction to philanthropy thanks to a Conservancy-focused activity led by Ryan, our project coordinator (and CCC portrait-taker).
Word: GRATEFUL (Sophia, CCC Merced)
We'll take Sophia's word and turn it around: We're sincerely grateful for the miles, hours and hard work that she and her fellow California Conservation Corps members dedicated to Yosemite in 2017, and to the hundreds of young adults who have followed the same path in years past. We're also thankful to our donors for supporting this program in the park for two decades! Want to help celebrate the CCC's accomplishments? Embrace "Leave No Trace" ethics (especially the "stay on trails" guideline) and make a gift to support trail restoration in the park.
Finally, here's one more behind-the-scenes (or behind-the-C's) shot guaranteed to make you grin: fueling up for another day in the park!