What does it feel like to be suspended a hundred or a thousand feet above the ground? How do rock climbers get down from the top of a wall? What do terms like send, pitch, beta and bivy mean? Whether you're an avid climber, or just curious about how — and why — people scale granite walls, Yosemite's seasonal, grant-supported "Ask a Climber" program serves up a bevy of answers to questions about climbing history, culture and logistics, and provides insights into how climbers experience, and help care for, the vertical wilderness.
During hot summer months, Yosemite climbing rangers and Climber Steward interns lead weekly interpretive walks; in spring and autumn, they staff an "Ask a Climber" station in El Capitan Meadow, where you can use telescopes to get a close look at climbers on the walls, check out climbing gear, and, of course, ask questions. Take a few minutes to stop by the station or join one of the walks the next time you're in Yosemite Valley!
In the meantime, we asked a climbing ranger some of your cliff-scaling questions (and a few of our own). Read the answers below, and check out our previous FAQs post for even more climbing queries.
---
Is climbing fun?
Climbing is rewarding in a way that only something that challenges you physically, mentally and technically can be. Rock climbing is a vehicle to grand adventure and can be incredibly fun. However, it can also be very work-intensive or scary. Rock climbing encapsulates a broad spectrum of fun from type 1 (very fun in the moment), to type 2 (fun in hindsight), to type 3 (not fun at all, ever).
What Yosemite peaks or routes would you recommend for novice climbers?
Yosemite National Park is home to world-class climbing at every level of difficulty. From trail walking, to ridge scrambling, to peak bagging, to technical climbing, to big wall climbing, Yosemite has terrain suited for all mountain adventurers. Visit a wilderness center or contact a climbing ranger for more personalized advice. Also, guides and lessons are available through the Yosemite Mountain School.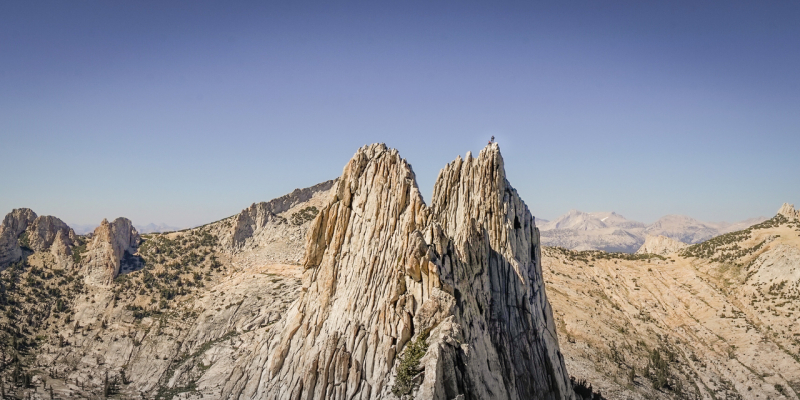 Have any climbers ever exchanged wedding vows on a wall in Yosemite?
Though we are not aware of many wedding ceremonies that have taken place on the face of El Capitan or other walls in Yosemite, many newlyweds have ventured into the vertical for their honeymoons. Imagine spending two of your first weeks of marriage literally tied together and hanging thousands of feet off the ground!
Are gusty winds as scary as they seem? What's the best way to stay calm in strong winds?
Climbers on the face of El Capitan are incredibly exposed to the elements. Whether they're facing wind, rain or snow, climbers must feel confident that they can withstand whatever weather may come their way before leaving the ground. Gusty winds can be scary, as several climbing and rope-management techniques can become more difficult in high wind. The key is to remain calm, maintain tight and orderly systems, and trust the many years of climbing experience that climbers on El Capitan usually have.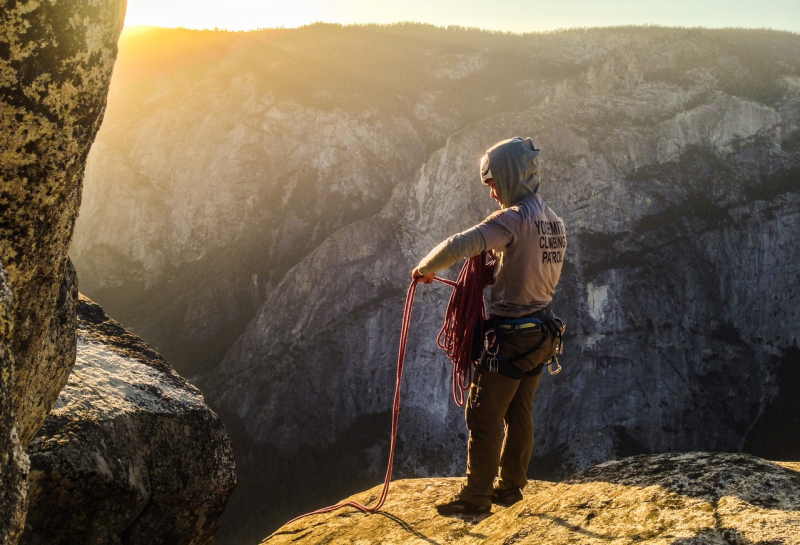 What is a climbing patrol?
Yosemite Climbing Rangers embark on climbing patrols similarly to how wilderness rangers hike backcountry trails on wilderness patrols. Climbing patrols are conducted by rangers for a variety of reasons including:
To make contacts with climbers
To educate visitors on wilderness ethics and regulations
To maintain familiarity with the climbing routes
How does climbing align with the NPS mission?
The mission of the National Park Service is to preserve "unimpaired the natural and cultural resources and values of the National Park System for the enjoyment, education, and inspiration of this and future generations."
Rock climbing has connected countless people to the resources here in Yosemite National Park. This connection inspires stewardship, and climbers are among the largest advocates of preservation and protection.
Also, those who have witnessed Yosemite's massive walls understand the tremendous power that they have to inspire this and future generations. Rock climbing is a form of recreation that is well-aligned with the NPS mission to preserve, protect and inspire.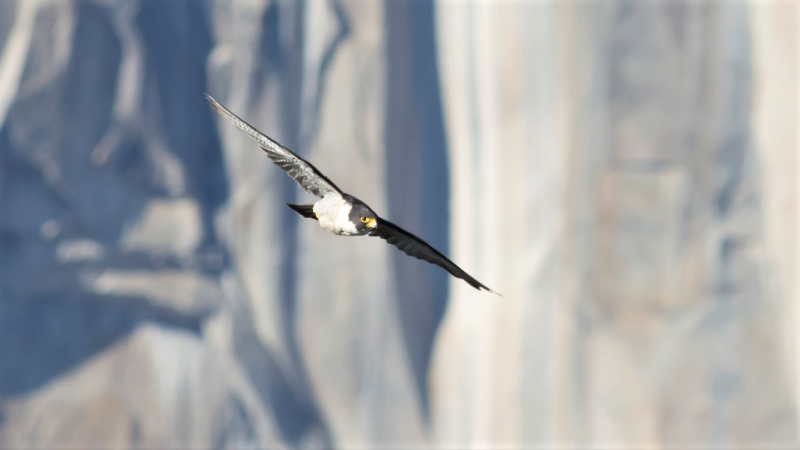 Why are seasonal closures for peregrines important?
The peregrine falcon is a fully protected species in California and a special status species in Yosemite due to its sensitivity to disturbance during the nesting season. To protect this species, climbing closures are in place during the spring on cliffs where there are active peregrine nesting sites. These closures have played a large part in the successful recovery of peregrines in the area and it is crucial that rock climbers respect them.
What do climbers do with litter while on the walls?
All waste accumulated while climbing on Yosemite's walls must be carried to the top and disposed of properly. This includes human waste. Nothing can be dropped or tossed from the wall.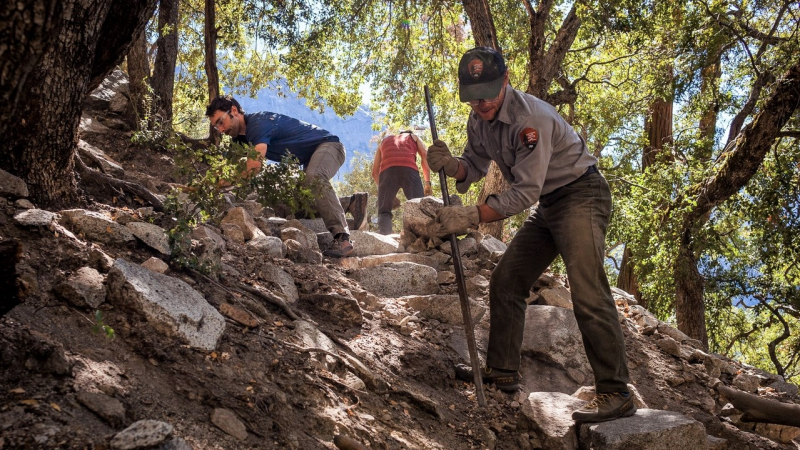 Why is it important to have defined approach and descent trails for climbing areas?
Rock climbing in Yosemite has rapidly increased in popularity in the last decade. There are many more climbers approaching and descending from popular climbing locations than there were historically. With a heightened number of visitors accessing climbs through the path of least resistance, use-generated trails are created, causing erosion, breaks in meadow systems, loss in vegetation, and confusion among climbers.
Yosemite's climbing trail restoration efforts help to delineate, maintain, and restore trails for a sustainable future for the ecosystem and climbers alike. Many miles of climber access routes have been built and maintained in recent years, and it is important that climbers use these to help preserve the surrounding ecosystem.
Are there any routes in Yosemite that climbers have yet to successfully complete?
New routes are still being discovered or climbed for the first time in Yosemite. This is a reflection of the sheer quantity of rock in Yosemite, but also of the impressive ability of modern climbers. Many inspiring routes remain unclimbed in Yosemite as projects for future generations.
---
In addition to supporting the Ask a Climber program, your gifts can help fund a variety of other climbing-related activities in the park, including the Climber Steward program, climbing patrols and educational efforts, and restoration work on approach trails. The Ask a Climber season runs from mid-May to mid-October — we hope you have the chance to connect with a ranger or steward on your next visit to learn more about the past, present and future of climbing in Yosemite.
Main image: A Yosemite Climber Steward conducts a climbing patrol on Lamb Dome. Photo: NPS/Eric Bissell