When she's not exploring Yosemite or teaching kids about the natural world, you'll probably find Jessica Rivas at the Wilderness Education Center at the University of California, Merced.
As a first-generation college student at the university, Jess completed the two-year Yosemite Leadership Program and got her first taste of a public lands career during a summer internship in the park.  She began working as a student ranger at the WEC in 2012; since graduating in 2015, she has continued to serve as a ranger on campus and in Yosemite. We asked Jess to tell us a little about her work.
To properly describe my experience working at the Wilderness Education Center, I have to provide some context about the community we serve here in Merced. Like me, many people on this campus arrive here as first generation students, not quite sure what to expect. Off campus, many Merced residents have never been to a national park, despite their proximity to Yosemite. Neither had I, until I started my college career.
Our mission at the WEC is quite straightforward: to connect the Merced community and campus to their public lands. But really, it's much more than that.
We tell our on- and off-campus community that national parks don't just belong to the people in uniform, or to the vast majority of people that visit places like Yosemite.  Public lands belong to all of us, whether or not you've ever visited them. We show people that we take care of these places for each other, not because we own them, but because everyone deserves a chance to experience them.
We show fourth graders their super steward strengths, and help them see that they, too, are park protectors and owners. And we take students of all ages to Yosemite, where we teach them a few factoids (because aren't we all lifelong learners?), but mostly focus on accompanying them as they journey through an incredible place that has been, is being, and will be protected for them.
My sister says I'm kind of like Dr. Seuss's Lorax, because I speak for the trees. The Lorax and I look very different, but she has a point. As stewards, we learn how to protect places and resources that don't have a voice. As rangers, we learn how to communicate that idea to others so they're empowered to do the same.
I am an optimistic 23-year-old, but I can say with confidence that this is the best job I've ever had. I work for an organization that truly cares about protecting public lands and ensuring that everyone can experience them. An organization that believes we are borrowing from our future instead of taking from our past generations. When I reflect on my experience here at the WEC, I see the faces of all of the wonderfully diverse people I've had the honor of serving — and I smile, knowing that the work that I am doing reaches beyond me.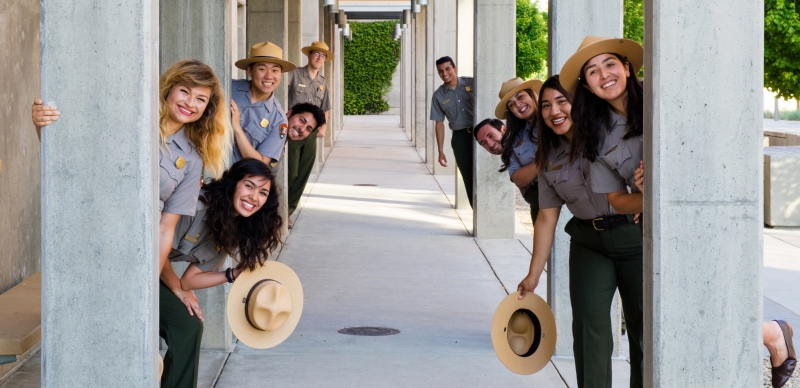 Through her role as a ranger at the WEC, Jess has shared her love for Yosemite with countless people, including young junior rangers, college students and faculty, and even the Obamas. If you haven't had a chance to read her reflection on meeting the president and first lady during their visit to the park, it's a great story!