Picking a map for a national park trip can be a personal choice. Each map will provide different information about the park. For some Yosemite adventures, it is essential to have the right kind of map – and to know how to use it properly in the field. And for others, a map is a treasured keepsake that will hold memories of special times with friends and family.
The NPS Classic: There are some of us who love to collect the classic National Park Service maps – "unigrids," as insiders call them. The iconic map with the black bar across the top, pictured above as the header image for this blog post, is given out at all entrance stations and visitor centers.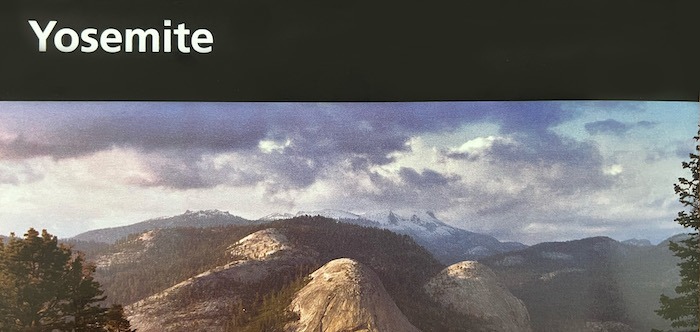 Yosemite National Park also has this map available in Spanish — see the next image for an example of the denoted Spanish Edition.

 

You can

download a pdf of the park map

online before you leave home.

These maps have all the roads, most trails, and amenities such as gas stations, food, and lodging denoted. 

 
Best for: Casual day-visits, scrapbooking, showing off to other National Park geeks.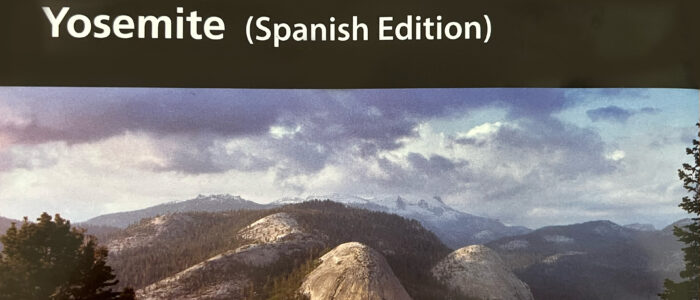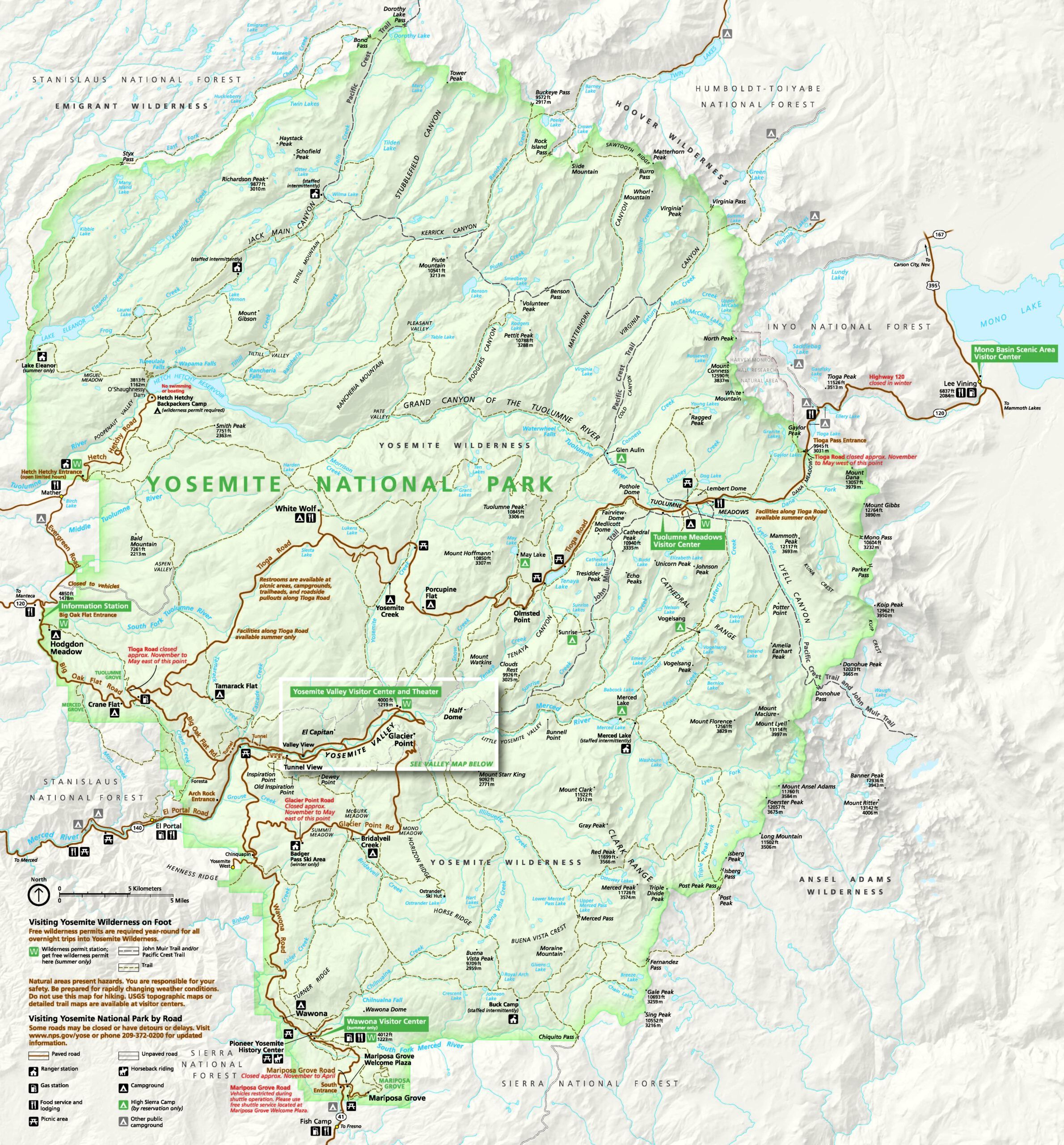 Yosemite Valley Special: Sure, the Valley is on the classic park service map, but there is a lot going on in Yosemite Valley – there are villages and a lot of "Authorized Vehicles Only" signs – and most of us are not authorized even if Google says to go that way! The Yosemite Valley Special, which can be found at volunteer-staffed Visitor Information Stations (the blue tents often near parking lots), can help set you up for success. 
Provides a focused look at Yosemite Valley – bike trails vs roads vs hiking trails

 

Hungry? This map shows you the closest restaurants

 

Need a toilet? Yes, those are there too.

 
Best for: Those spending a full day in Yosemite Valley, those who need to keep the National Park Service Classic map safe for scrapbooking (we understand).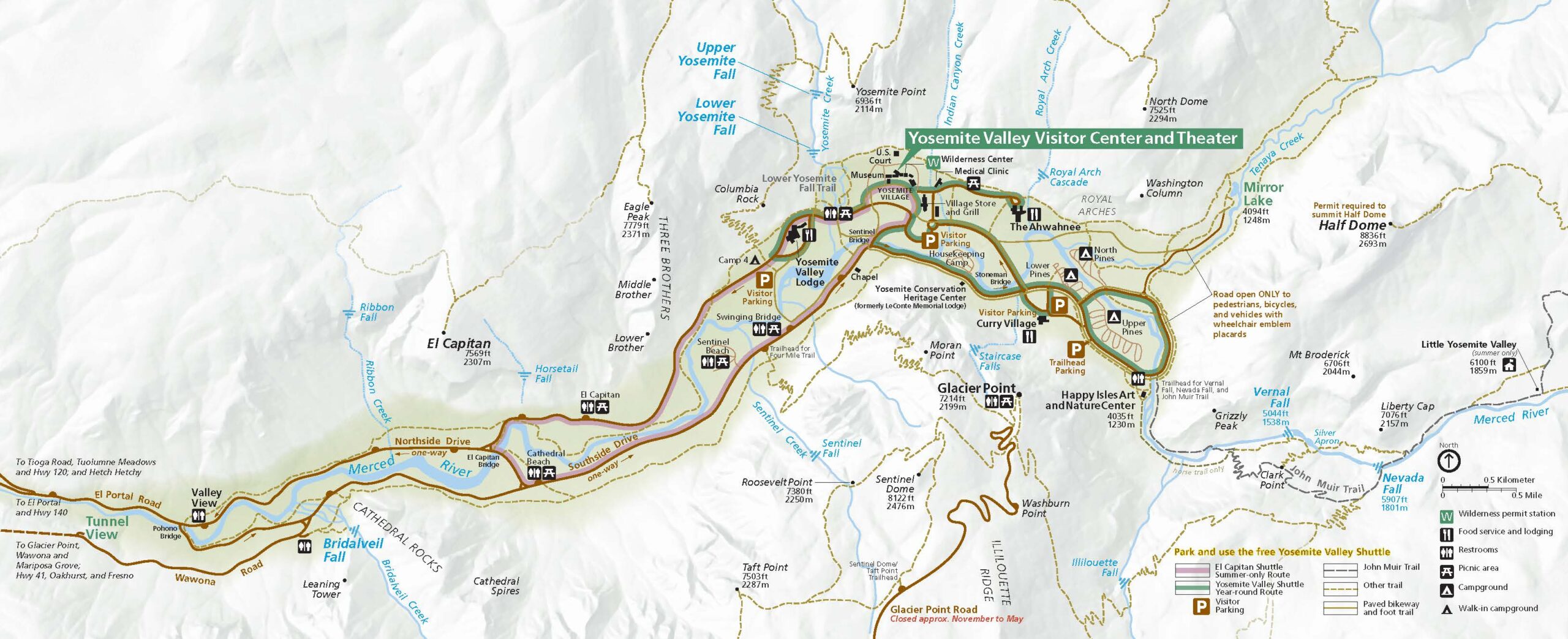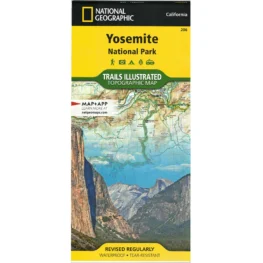 Topo-Tripper: Headed out into the backcountry? These maps pair well with Wilderness Permits and long day hikes. Similar to the apps on your phone (like Gaia or AllTrails), but better — these maps will never run out of battery. 
Topography lines are helpful when you're considering the elevation gain of certain hikes.

 

While there may be a creek on the map, it is always good to check in with Wilderness Rangers about water availability for overnight trips – especially during low snow-pack years. 

 

You can purchase the full Yosemite National Park map (depicted at right) or mix and match with various maps dedicated to specific corners of the park.

 

Please note: PERMITS ARE NOT INCLUDED with your map purchase. Please visit Recreation.gov for all Wilderness and Half Dome permits, which are required for anyone planning to hike Half Dome and/or camp overnight in the Yosemite Wilderness.

 

Visit our online store to view the

full selection of Yosemite topographical maps.

 

 
Best for: Backpackers, peak-baggers, and people who consider 10 miles a short day-hike.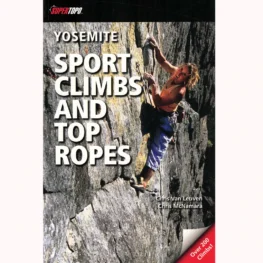 Crag-Hopper's Delight: Tired of horizontal hiking? Looking to spend time in Yosemite's Vertical Wilderness?
In that case, even the topographical maps will not cut it for you. We recommend purchasing a Yosemite Valley rock climbing guidebook — or two. While chunkier than a classic map, these resources are chock-full of the most helpful beta to prepare you for your next ascent. 
Best for: The next Alex Honnold's, Lynn Hill's, and Chelsea Griffie's of the world.
Yosemite's Accessibility: People of all ages, abilities, and interests come to Yosemite National Park every year. In order to provide equitable access to Yosemite's wonders, it can be immensely helpful for those traveling with accessibility needs to know what is available in Yosemite National Park. The Accessibility Guide is full of the information you need to know before coming to the park – and it comes with a helpful map on the back showing where the lots are in Yosemite Valley for those with accessibility placards in their vehicles. In addition to these locations, there is accessible parking at the Mariposa Grove.  
Best for: Visitors with accessibility placards. Also denotes "Accessible Trails" which are great for anyone with limited mobility or those traveling with strollers — these trails include Cook's Meadow, Lower Yosemite Fall, and Happy Isles.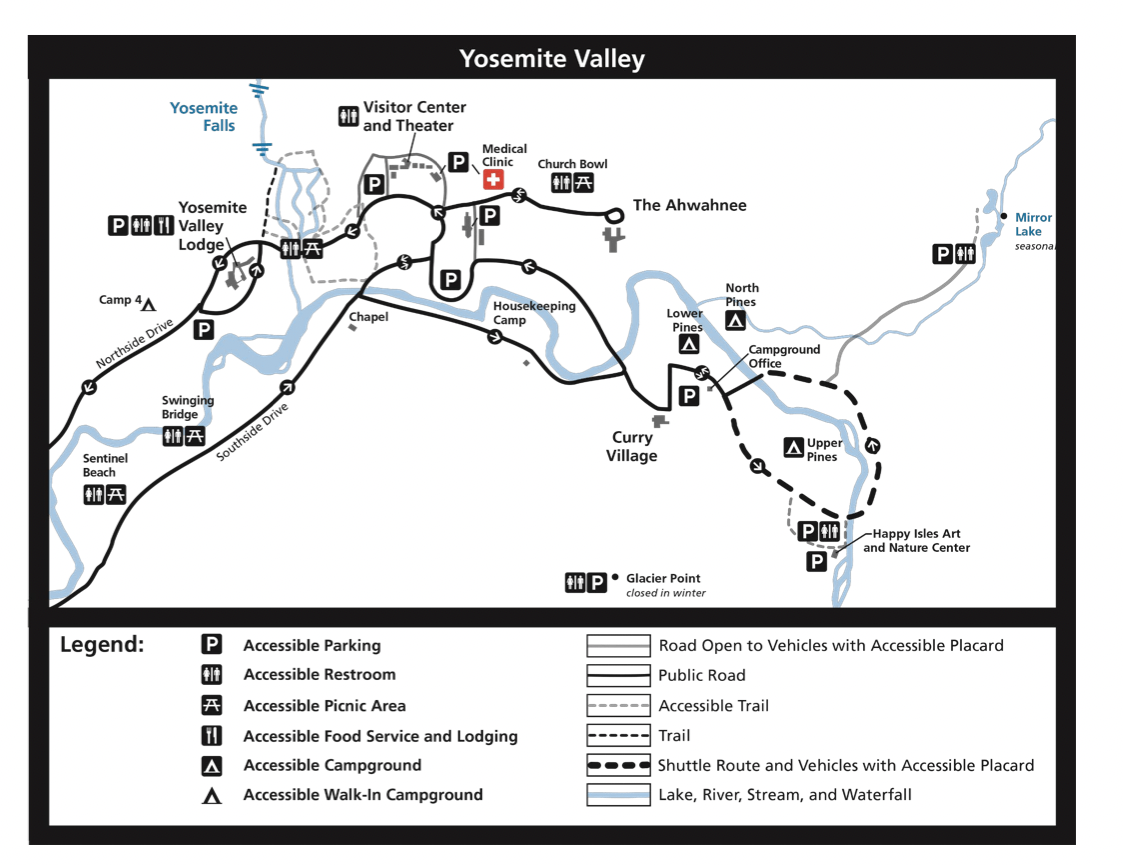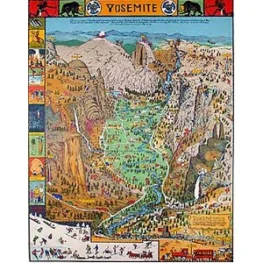 Build-Your-Own: True, this is not technically a map that one could use while visiting the park, but the Jo Mora Puzzle is a fun way to experience some classic Yosemite artwork and reflect on your fun memories of Yosemite Valley long after your trip is over!
Best for: Puzzle enthusiasts and art lovers.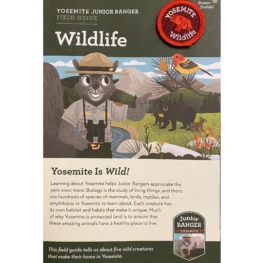 Guides on the Side: Looking for something to add to your orientation experience of the park? These lightweight field guides are great resources for junior ranger naturalists. Ranger Squirrel will help you not take Yosemite for granite by pointing out rock formations and wildlife species.
Best for: Junior Rangers, Senior Rangers, and those who really like cute patches.