Many people begin their work day by checking email. At the Conservancy, certain members of our marketing team instead begin each day more unconventionally — by checking the Yosemite webcams.
Even if opening Microsoft Outlook immediately follows, this short virtual visit to Yosemite can provide a sense of calm and reconnect our team to the "why" of our work. There is something soothing about watching clouds float by, seeing water cascade toward the Valley floor, and observing the seasons and conditions change in the park.
Our team hears regularly from donors and supporters who have also made the webcams part of their daily routine. In fact, tens of thousands of Yosemite enthusiasts visit the webcam pages each month.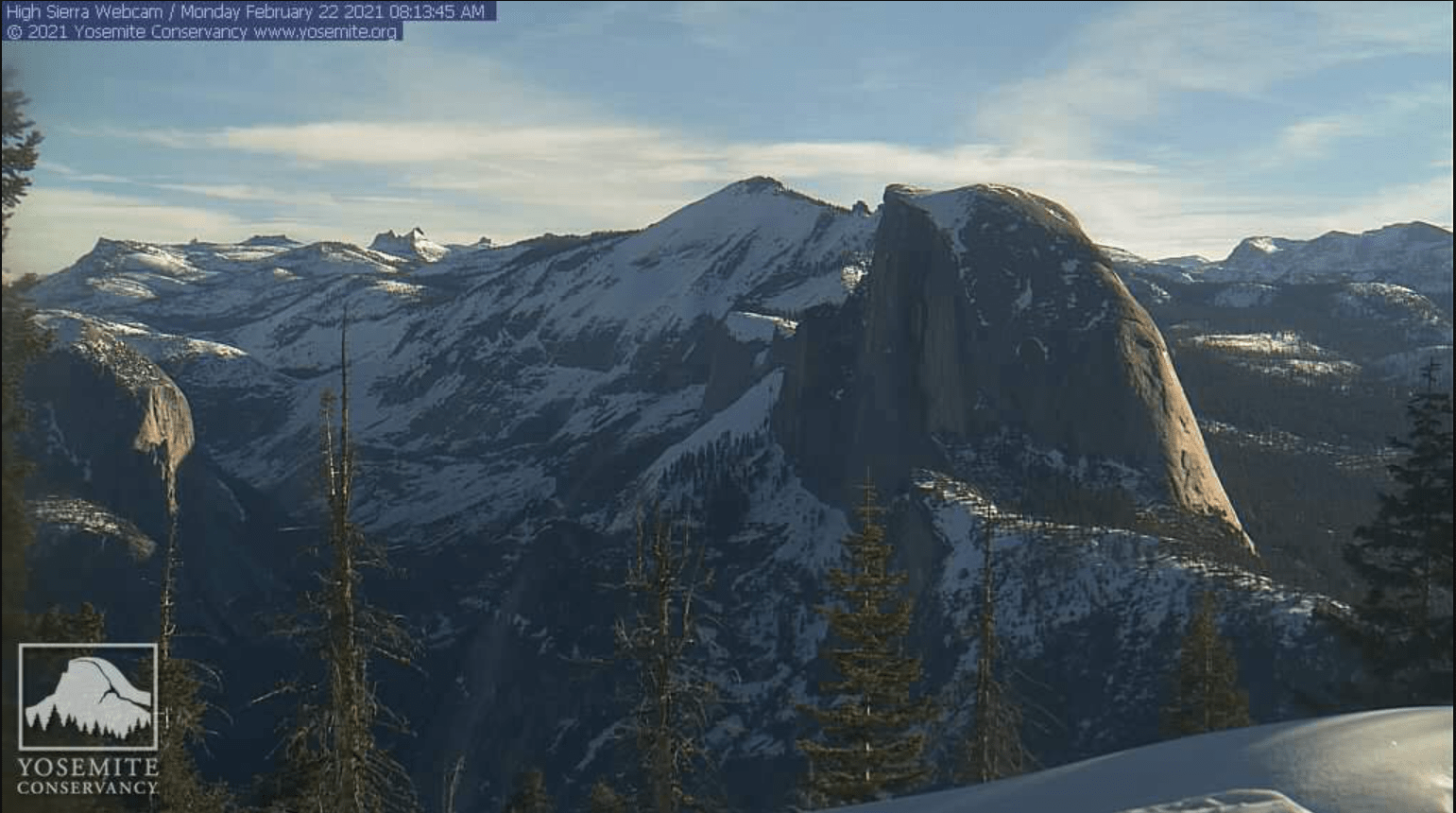 A Peek into the Future
Years before national park webcams became popular, Yosemite Conservancy was providing a way for visitors to stay connected with the park remotely.
Yosemite became an early adopter of webcam technology, thanks in part to the pioneering efforts of Steve Medley, former president of the Yosemite Association (the Conservancy's predecessor), who developed and implemented webcams for the park. Medley collaborated with Pixelcaster, which still helps run the Conservancy's webcams, to install the first cameras in 1998.
"Steve recognized that webcams would not only serve the park's mission, but that they'd also serve our organization well, which in turn furthers the park's mission," says Pete Devine, a longtime Yosemite resident and former resident naturalist for the Conservancy. "He went to great lengths to identify locations to place webcams with great views, plus the proper power and connectivity."
Unfortunately, the locations that provide some of the best views are often remote and susceptible to weather impacts and connectivity challenges. The higher elevation cameras located near Sentinel and Turtleback Domes are especially hard to reach, particularly in winter.
But these webcams have now endured for two and a half decades in Yosemite, and while outages are a regular occurrence, our team has the tools and experience to ensure the impressive views are always restored.
Staying Connected
During his long tenure as an interpreter in the park, Devine would sometimes point out the locations of the webcams to Conservancy donors, who help underwrite their cost. He saw this as an opportunity to help preserve visitors' memories of Yosemite and keep them close.
"We always want to share something that sticks with people," he says. "Not necessarily 'what year did Yosemite become a National Park,' or 'how many minerals compose granite,' but rather the meaningful, memorable feeling of 'I like this place, and I had a wonderful time there with my family.'"
The webcams, he says, were one of the best ways to capture and continue that nostalgic feeling, reminding folks that they can tune in to Yosemite from anywhere, and stay in touch with this incredible place that humbled them.
The cameras also offered support during the pandemic, when amid all the uncertainty and the closure of the park, the steadfastness of Half Dome provided comfort and reassurance. And when wild winter storms swept through the Sierra Nevada earlier this year, forcing Yosemite to temporarily close, Conservancy staff encouraged visitors to enjoy the park from afar. The newly-installed and upgraded El Capitan webcam, our first live-streaming video camera above the Valley floor, debuted just in time for the spectacular weather.
Caught On Camera
Beyond the sweeping views of the Sierras, the webcams have also captured some unusual Yosemite sights. In March 2009, the High Sierra webcam and its witnesses enjoyed a surprise visit from bigfoot.
Says Devine, "I have vivid memories of the day of the incident — we received many phone calls in the office that morning from various shocked webcam viewers, with requests like — can you ask the Park Service to identify this creature? And we sure did send the images along to our wildlife biologist friends, who laughed!"
Keep in mind that accessing the High Sierra webcam in winter, before Glacier Point road has reopened (which usually happens in April or May) requires skiing or snowshoeing 10 miles. That's quite a commitment for a prank.
The dust settled, the phone calls stopped, and the mystery remained until several months later, when a young climber named Adam Long arrived at the Yosemite Conservancy office in El Portal requesting to apply for a job at the Valley Visitor Center bookstore. He sat down to fill out the application paperwork, then paused, looked up and said, "Did you guys ever see those pictures of bigfoot on the webcam?"
Long had recently graduated from CalPoly in San Luis Obispo, where he took a performing arts class. His final project for that class was to ski out to the webcam with a rented bigfoot costume in his daypack.
He got the job.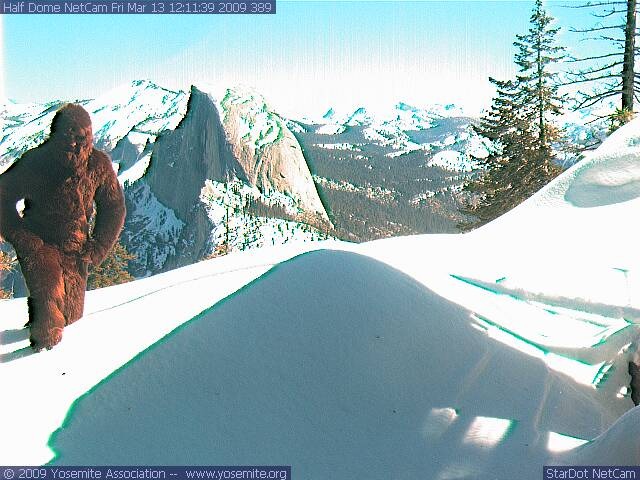 Worthwhile Webcams
Webcams are an important resource not only for staying connected after your time in the park, or when it's inaccessible. We often hear that they help with preparedness and trip planning, both for visitors and locals.
Staff at visitor centers in nearby communities often direct folks to yosemite.org to check the weather before a day of exploring, especially since the temperature and air quality varies greatly by location throughout the park. Climbers have been known to refresh the El Capitan webcam to get a sense of the conditions and haze before tackling any big walls. And when a rockfall closed Northside Drive in Yosemite Valley earlier this year, National Park Service staff reached out to the Conservancy to ask whether the webcam showed any sign of the event. Remarkably, the El Capitan webcam successfully captured the dramatic corresponding dust cloud, and our team provided them with the footage for their records.
As we look forward to another century of conservation and partnership with our favorite park, the Conservancy remains committed to providing this valuable resource as a way for staff, donors, and past and future visitors to stay connected to Yosemite.
We are grateful for support from our donors, who help make it possible for thousands of people all over the world to experience the beauty of Yosemite every day.