Our lead naturalist Cory Goehring shares insights on the rich biodiversity of meadows in Yosemite, and asks the question "What is a meadow?" in our centennial magazine, published in June 2023.
What is a meadow? This question frequently arises during my discussions in Yosemite National Park. I set aside a portion of every program to emphasize the importance of meadows, because in my view, meadows are the most crucial component of Yosemite. While most visitors first come and visit Yosemite for the waterfalls and towering cliffs, meadows often go unnoticed, as people may not understand their beauty or know how significant they are to the park's ecosystems.
Scientists have come to a consensus that meadows are ecosystems composed of one or more herbaceous plant communities that support plants using surface water and/or shallow groundwater, with woody vegetation being present but not dominant. Perhaps not the most exciting definition, but the story of meadows comes alive in what they offer to Yosemite.
Yosemite has almost 3,000 meadows, clustered in a few large and connected habitat hot spots, that range in elevation from 3,300 feet to more than 12,000 feet. Meadows are an important ecosystem in Yosemite National Park, despite only making up 3% of the park's total area. They contain 50% of Yosemite's biodiversity, and half of all the plant and animal species in Yosemite depend on meadows for their survival. Meadows function like sponges, absorbing water and filtering pollutants, benefiting both wildlife and humans.
To many visitors, meadows also serve as gathering spots in Yosemite. Many of the park's beloved scenic vistas of Half Dome and Yosemite Falls are found by meandering through meadows. Boardwalks have been erected to protect the fragile meadow ecosystem, allowing people to move freely into the open and observe Yosemite's majestic landscapes. People often ask, "Where is the best view of Half Dome, Yosemite Falls, or El Capitan?" and I will often mention a meadow that will provide them with a path and a wide-open vista of some of the most iconic sites in all the national parks.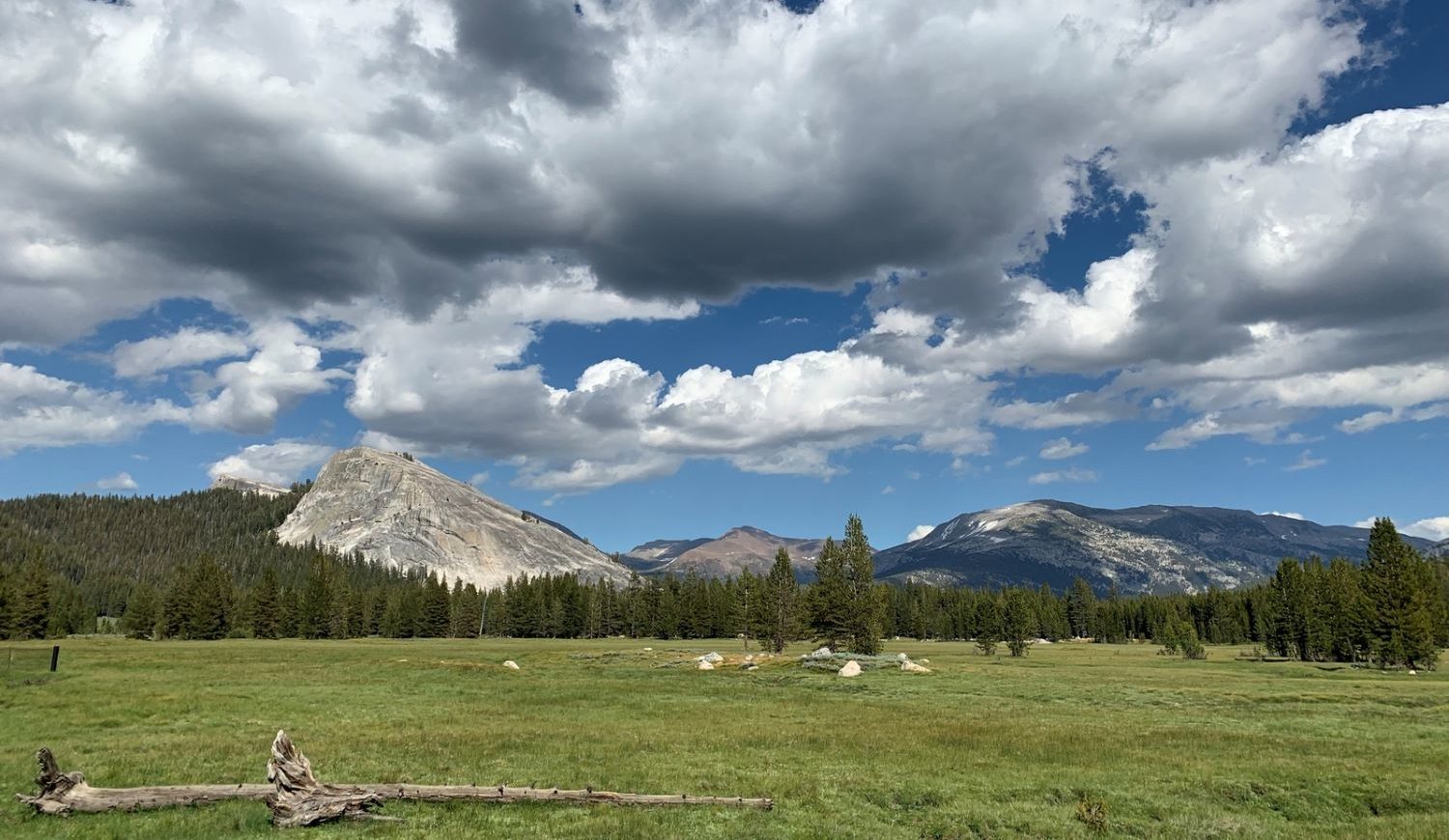 Meadows have served Yosemite in many ways. Historically, the meadows of Yosemite had various uses, including supporting human populations. The seven traditionally associated Tribes of Yosemite rely heavily on meadows, using plants from these ecosystems as a vital source of sustenance and using grasses to weave baskets. Tribes help preserve these meadows by employing regular burning practices, which help maintain the ecosystem's health and productivity. After forcibly removing the Native population, Euro-American settlers grew hay and grazed cattle in the meadows to support the growing population of visitors traveling long distances to Yosemite year after year.
Unfortunately, over time, these practices began to have a significant impact on the meadows' fragile ecosystem. Heavy grazing caused the degradation of native plant communities, and the construction of roads through the meadows dramatically changed the hydrology. Fortunately, we now understand these impacts, and with donor support and the help of Yosemite Conservancy, the National Park Service is restoring meadows today.
By 1923, most meadows were cleared of livestock, and Yosemite Conservancy was born as the Yosemite Museum Association. Since its inception as a national park, Yosemite has undergone a remarkable transformation. Gone are the days of bear-feeding shows, traveling zoos, and nightly firefall events in which glowing embers cascaded off the cliff's edge. Today, campgrounds are localized and campsites are reserved, in contrast to the old ways of pitching tents wherever one wished. We strive to support the restoration of Yosemite and make amends for past wrongs to safeguard Yosemite for future generations.
Today, through the work of the National Park Service and funding from Yosemite Conservancy donors, we have a clear path forward — a path that leads us to support the park in diverse ways. The landmark addition of Ackerson Meadow was donated to the park through a cooperative effort among The Trust for Public Land, Yosemite Conservancy, and the National Park Service.
"Now, as the meadow restoration proceeds, it will end up being a showcase restoration project," says Pete Van Kuran, a donor who facilitated the acquisition of Ackerson Meadow. From the restoration of Ackerson Meadow to boardwalks through sensitive areas, from restoring habitats to reintroducing threatened or locally extinct species, from supporting Tribal tending of black oaks to offering young people opportunities to experience Yosemite for the first time, the generosity of Yosemite Conservancy donors plays a vital role in helping fund the very paths we gather on today.
When I reflect on Yosemite Conservancy and its 100-year history, it feels like a meadow. It is a place where we can gather to safeguard and nurture something that is dear to us, a place where we can put our collective energy to ensure the next generation has a place to gather and be in awe of the natural world.
As we celebrate Yosemite Conservancy's centennial, I see parallels with a meadow's regeneration after being damaged. Conserving Yosemite requires tireless effort and collective action over many years, much as a meadow gradually heals itself. Let us cherish Yosemite's meadows and support their restoration, especially as we commemorate the  Conservancy's century-long commitment to preserving this national treasure.