How does Yosemite sustain us? Learn about how the Yosemite Veterans Education and Leadership Seminar supports peaceful reflection for veterans.
What do you come to Yosemite for ? For some, it's to fulfill a lifelong dream of climbing to the top of Half Dome. For others, it is to experience the majesty of Yosemite Falls in spring from the less dizzying terrain of the Valley floor. For many, including veterans, it's an opportunity to decompress and find some peace in the natural world.
Spending time in nature is shown to have a significant positive impact on our mental health, stress levels, short-term memory — even our ability to retain information. That's part of the beauty of Yosemite: It is a place of healing for everyone. The early lockdowns of the pandemic led to a renewed interest in, and enthusiasm for, exploring state and national parks. As people increasingly ventured outside during a time of uncertainty, they found solace and joy in nature. Getting outside is a great way to rekindle our deep-rooted connection to the natural world.
As John Muir wrote: "Everybody needs beauty as well as bread, places to play in and pray in, where nature may heal and give strength to body and soul."
Yosemite has long been a place for healing. Galen Clark, the first elected "guardian" of Yosemite, originally traveled into the mountains to recuperate from tuberculosis. At 39, he was told he had maybe a year left to live.
"I went to the mountains to take my chances of dying or growing better, which I thought were about even," Clark wrote. He was likely one of the first non-Native people to see the towering sequoias of Mariposa Grove. He found such solace that he made his home there, learning from local Tribes and establishing a rest station for fellow travelers. After serving in the guardian role for many years, he passed away at age 96.
Yosemite affords space for peaceful reflection and connection, allowing us to see the bigger picture. It is against this backdrop that the donor-supported Yosemite Veterans Education and Leadership Seminar was designed.
"The physical, mental, and spiritual health that comes from outdoor activity in parks can become part and parcel of an energetic, productive, and confident outlook on life," says Steve Shackelton, the seminar's program director with University of California, Merced. "That, then, becomes the foundation for success."
The seminar provides an opportunity to help veterans understand what benefits are available to them to transfer the skills they developed in uniform to civilian life. The park is playing a unique role in helping to teach veterans to continue to serve, albeit in a different way. The seminar is composed of talks and workshops facilitated by veterans and experts over a period of four days, during which participants stay in Yosemite and can find rejuvenation in the park.
One advisor, a former Navy SEAL Team 7 member, reflects: "It's interesting to sit around a campfire in the evening and talk through issues. People became present and slowed down, as we all do in nature — we fall into a different rhythm — and we found ourselves able to communicate with greater depth. Soldiers deal in environments of consequence. When you leave that, it can be unstimulating to get back to, perhaps, a more 'normal' work environment. A park with new terrain, animals, changing weather — which all come with consequences — has the power to enrich and nurture those who visit, without applying any of the same stressors as conflict."
Thanks to funding from UC, Merced and support from Yosemite Conservancy donors, the seminar is available at no cost to veterans who wish to attend.
After a hectic life in the military, Major General Anthony Jackson was not keen to return to working a regular day job. Instead, he applied his enthusiasm for the great outdoors to managing the state parks system in California. Jackson is part of the advisory committee for the veterans seminar, supporting development of the annual curriculum.
"Every veteran needs healing — and it isn't just them," he says. "Getting back to nature is relaxing and healing."
Following a 36-year career serving in the Marine Corps, Jackson's shift to civilian life leading California's state parks was, in many ways, a natural transition.
"Life in the military entails constant education, as people rise through their careers, and I thought it was a good idea to get parks to follow a similar system," he says.
"Being part of a military culture gives you a different perspective," reflects Dr. Juan Sánchez Muñoz, a former Marine, current chancellor of UC Merced, and a member of the Conservancy's board of trustees. "There is a camaraderie and an implicit understanding that you know, and that you get it. There's an immediate credibility and authenticity when something is made by veterans for veterans."
Those who attend the seminar are furnished with resources, networks, and community — all vital tools to find new ways to serve. In many ways, the skills learned through military service lend themselves well to service in both state and national parks. Helping veterans to access information on how to move into those careers enriches both our parks and the veterans who choose to continue serving. As a long-time supporter of the Conservancy, Ken Pitzer of the Pitzer Family Foundation is proud to support the veterans seminar. His late aunt Ann was married to naval aviator Fred Bromley, and the support for the seminar is in his memory. "It's a nice mix of different areas — from career development, to resilience and mental health, while sharing experiences of military careers," Pitzer says. "It's a meaningful program. We are happy to support this and hope it can be scaled up as time passes."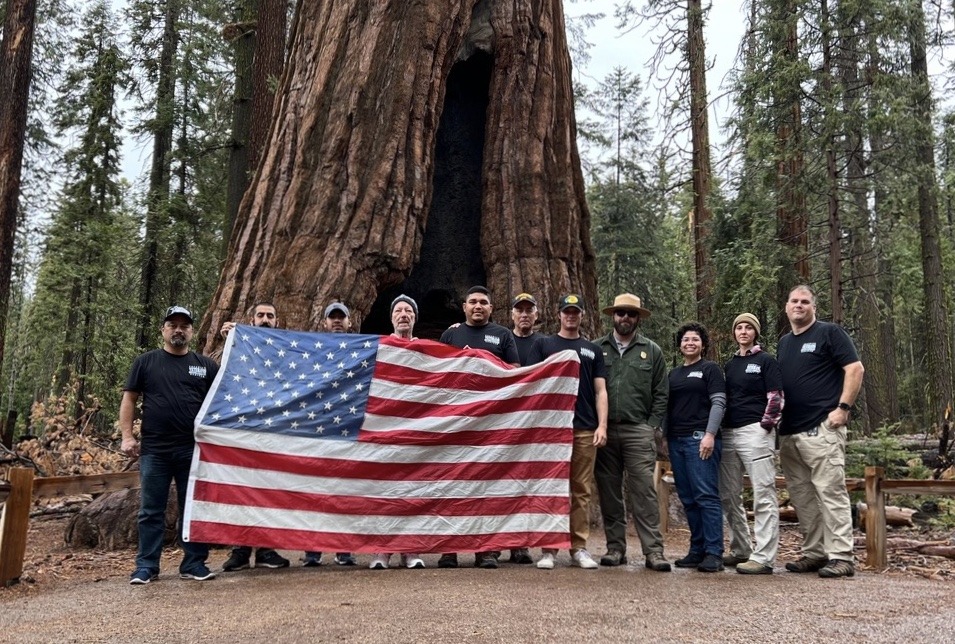 For those who attend, the experience is memorable, offering a reconnection to the camaraderie found in military life.
"I didn't know California had a whole veterans support network outside of the V.A.," says Sabrina, a member of the National Guard who attended the seminar last year. "I find it so healing in Yosemite. Everyone has stresses in their daily life. But when you get to Yosemite, the scale and beauty is so vast that you can put your worries into perspective. I am amazed there isn't a waitlist 100 people long to participate."

To learn more about the Yosemite Veterans Education and Leadership Seminar, please visit the UC Merced seminar page.
This story features in the Yosemite Conservancy Autumn/Winter Magazine 2022. It was written by Megan Orpwood-Russell.
"Yosemite is a therapeutic environment for those who come there. Nature, beauty, verdure. It is wondrous and magnificent, and it endures. This beauty has the power to sustain veterans and act as a reminder of why they chose to serve." Dr. Juan Sánchez Muñoz, Former Marine & Current Chancellor of UC Merced