Read archived magazine issues and extended articles by park experts and insiders.
Yosemite Conservancy magazine gives you a unique insider's view on park happenings, including project updates, new Yosemite Outdoor Adventure programs, special events and project plans.
Donors who annually contribute $25 or more receive Yosemite Conservancy magazine in the mail twice a year.
Give to Yosemite Conservancy to receive the next issue.
Exploring the Vertical Wild
Inside:
What it Takes to Climb a Legendary Peak
Restoring Yosemite's Trails
Expert Insights on Climbing Stewardship
Q&A with the Preventive Search and Rescue Supervisor
Protecting Yosemite's Wildlife
Inside:
Tracking Black Bears in the Park
Songbird Science in Yosemite
Expert Insights on Sierra Nevada Red Foxes
Q&A with a Biologist about Yosemite's Owls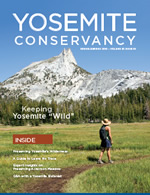 Spring.Summer Issue 2016
Keeping Yosemite "Wild"
Inside:
Preserving Yosemite's Wilderness
A Guide to Leave No Trace
Expert Insights on Preserving Ackerson Meadow
Q&A with a Yosemite Botanist
Youth Explore Yosemite's "Classroom"
Inside:
Transforming Young Lives, Transforming Yosemite
A Day in the Life with World-Class Trail Crews
Expert Insights on Reintroducing Bighorn Sheep to Yosemite
Presenting Favorite Yosemite Vistas
Extended Article: Q&A with National Park Service Rangers Moses Chun and Alejandra Guzman
Celebrating 125 Years with Yosemite National Park
Inside:
Scientists Research Fire in Yosemite
Expert Insights Review 125 Years of Change
Yosemite Goes Global
Extended Article: Q&A with Yosemite Museum's Chief Curator, Barbara Beroza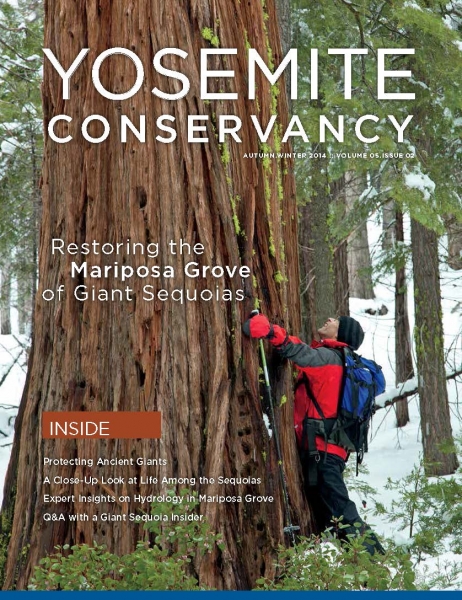 Autumn.Winter Issue 2014
Restoring the Mariposa Grove of Giant Sequoias
Inside:
Protecting Ancient Giants
A Close-Up Look at Life Among the Sequoias
Expert Insights on Hydrology in Mariposa Grove
Q&A with a Giant Sequoia Insider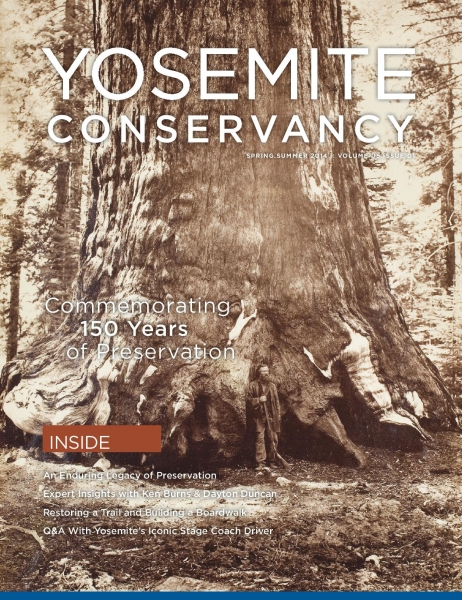 Commemorating 15o Years of Preservation
Inside:
An Enduring Legacy of Preservation
Expert Insight from Ken Burns & Dayton Duncan
Restoration at Tenaya Lake's Sunrise Trail
Q&A with Yosemite's Iconic Stage Coach Driver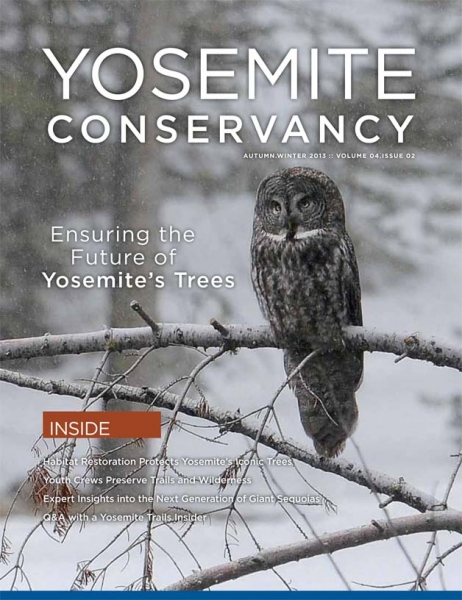 Autumn.Winter Issue 2013
Ensuring the Future of Yosemite's Trees
Inside:
Habitat Restoration Protects Yosemite's Iconic Trees
Youth Crews Preserve Trails and Wilderness
Expert Insights into the Next Generation of Giant Sequoias
Q&A with a Yosemite Trails Insider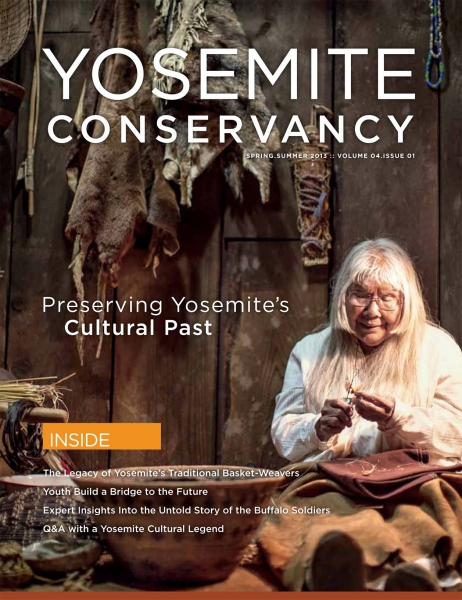 Spring.Summer 2013
Preserving Yosemite's Cultural Past
Inside:
The Legacy of Yosemite's Traditional Basket-Weavers
Youth Build a Bridge to the Future
Extended Articles:
Expert Insights into the Untold Story of the Buffalo Soldiers
Q&A with Yosemite Cultural Legend Julia Parker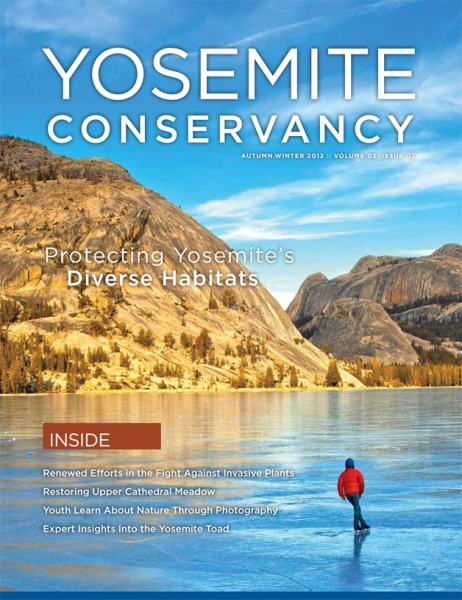 Autumn.Winter Issue 2012
Protecting Yosemite's Diverse Habitats
Inside:
Renewed Efforts in the Fight Against Invasive Plants
Restoring Upper Cathedral Meadow
Youth Learn About Nature Through Photography
Extended Article: Expert Insights into the Yosemite Toad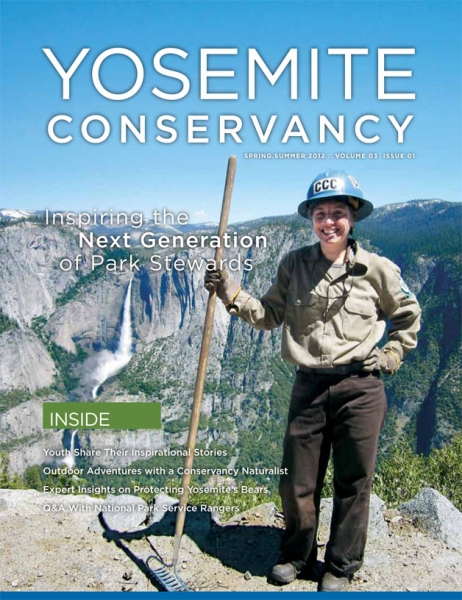 Spring.Summer 2012
Inspiring the Next Generation of Park Stewards
Inside: Outdoor Adventures with a Conservancy Naturalist
Extended Articles:
Youth Share Their Inspirational Stories
Expert Insights on Protecting Yosemite's Bears
Q&A with National Park Service Rangers Jesse Chakrin & Shauna Potocky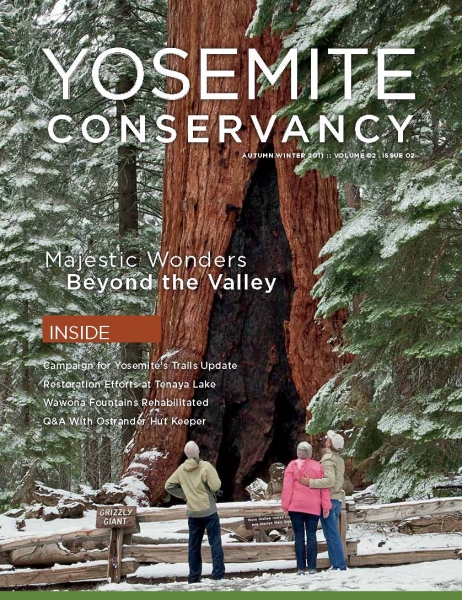 Majestic Wonders Beyond the Valley
Inside:
Campaign for Yosemite's Trails Update
Wawona Fountains Rehabilitated
Q&A With Ostrander Hut Keeper
Extended Article: Restoration Efforts at Tenaya Lake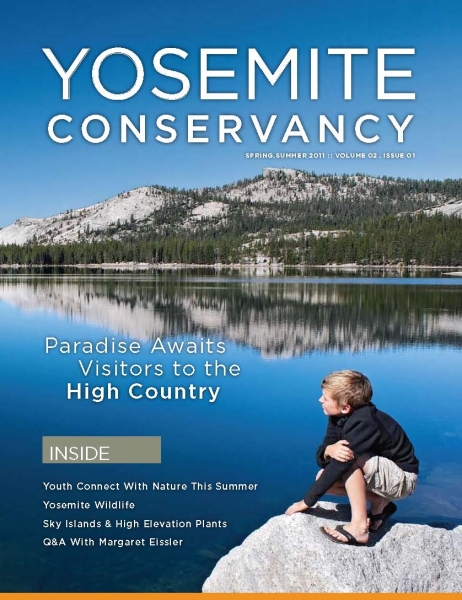 Spring.Summer 2011
Paradise Awaits Visitors to the High Country
Inside:
Youth Connect With Nature This Summer
Yosemite Wildlife
Extended Articles:
Sky Islands & High Elevation Plants
Peregrine Falcon Study by Sarah Stock
Q&A with Park Ranger Margaret Eissler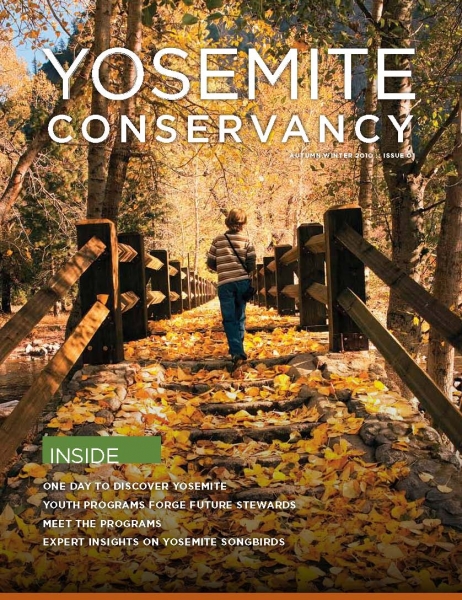 Inside:
One Day to Discover Yosemite
Youth Programs Forge Future Stewards
Meet the Programs
Extended Articles:
Expert Insights on Yosemite Songbirds
Q&A with Superintendent Don Neubacher