Heading to Yosemite? You might arrive in the park with a clear plan, charted from maps, hiking guidebooks and personal experiences. Or maybe you'll have a general idea for an itinerary, if not the specifics, and make some game-time decisions over a morning coffee. Or, perhaps, like a lot of people, you'll get to the park, realize just how many scenic spots and miles of trails lie within its nearly 750,000 acres, and have no idea where to start.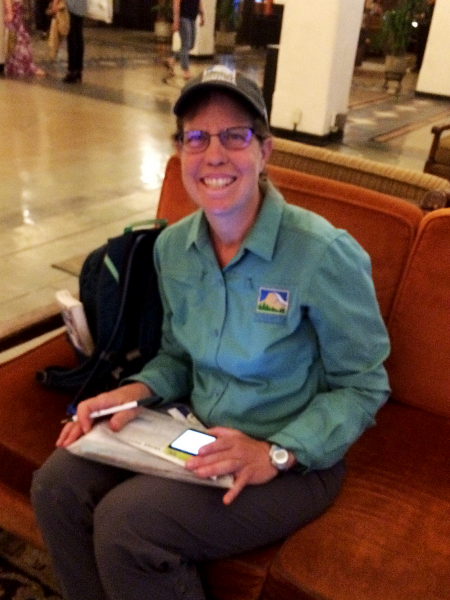 Jennifer Franz was in the latter camp when she signed up for her inaugural Custom Adventure with Yosemite Conservancy in 2018. We paired her with an expert naturalist, Andrea Canapary, who deftly sculpted two days of hiking and sightseeing tailored to Jennifer's ideas, expectations and experience level.
Andrea and the rest of our adventure leaders know that a first Yosemite visit—or even a second, third or thirtieth trip—can trigger a barrage of questions. How do I get to that waterfall I saw from the road? What's it going to feel like to hike at 8,000 feet? Where can I find a quiet spot to sit down and listen to birds? Luckily, they also know how to answer those questions in ways that fit individual visitors' physical abilities, timeframes and interests.
In Jennifer's case, the 2018 trip wasn't her first Yosemite visit, but it was her first solo trip to the park. She had visited Yosemite with her family when she was growing up but didn't have strong memories of the place.
A few years ago, Jennifer and her late husband headed to Yosemite to spend some time with friends visiting from Austria. During that trip, the group mostly stuck to the Valley shuttle and Yosemite Village, which offered easier activities for the two men, who were both somewhat disabled at the time. They did complete a few short hikes, though — Jennifer remembers "running like a chipmunk" down paths with her Austrian friend of almost 50 years. Afterwards, she was eager to spend more time on the trails but wasn't sure she'd be comfortable returning to hike on her own. She was (and still is) an active swimmer, walker,yos Zumba dancer and tennis player, but she lacked confidence in her hiking skills and didn't feel familiar enough with the park to plan a full itinerary.
Searching for guidance, she found the Conservancy's Custom Adventures program. Perfect! she thought. I don't really know Yosemite, and I don't know if I really know how to hike. A guide can show me how — and will know where to go.
Toward the end of September 2018, Jennifer found herself in the Valley again, this time for a week of wandering, including two days with her guide. "I had no idea what to expect, so I turned the process over to Andrea," Jennifer recalls. "I knew the standard touristy things, like the base of Yosemite Falls, but didn't know where different trails led."
Jennifer offered her guide some basic input: She hoped to learn about the Valley's granite cliffs and domes, for example, see "interesting and beautiful things," and not feel rushed ("I like to park myself somewhere and get to know the place," she says). Then, she let Andrea take the lead.
The duo started with a walk on the Mirror Lake Trail, in eastern Yosemite Valley. Later, they headed toward El Capitan Bridge to see the western part of the Valley. On the second day, they hiked from Church Bowl to Lower Yosemite Fall; the trail proved challenging, but they worked together and persevered. Jennifer vividly remembers the steep, rocky terrain, and questioning whether she could complete the hike. With Andrea's encouragement, she made it to their designated stopping point, and was amazed at how far she'd climbed.
From there, the pair walked across Cook's Meadow, followed the Valley Loop Trail, and spent some time admiring two historic buildings: the Yosemite Chapel and the Yosemite Conservation Heritage Center.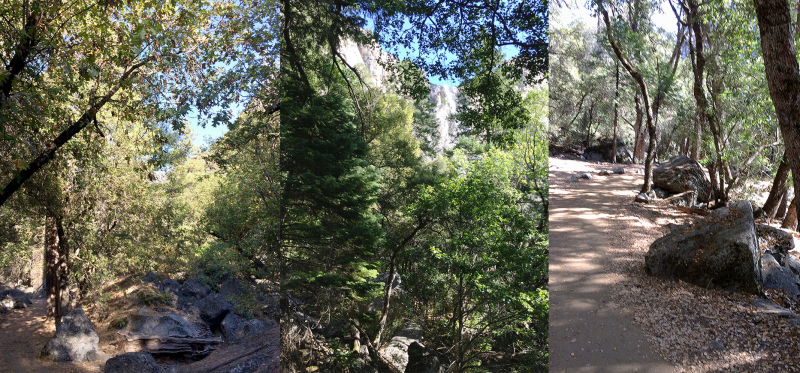 For Jennifer and Andrea, the experience was collaborative. They had to determine an optimal pace, discuss potential destinations, and figure out how to maximize their two days together without making the journey too exhausting — or too easy.
As both women recall, they quickly struck a balance.
"Andrea knew just how much to push me — not too much, not too little," Jennifer says. "'Sure, you can do that, give it a shot.' Or 'No, let's skip that for now, but maybe we can try it later.'"
For Jennifer, exploring the Valley with a naturalist guide represented more than a chance to see waterfalls and granite walls. As a widow, she says, she doesn't always feel comfortable walking or hiking alone; with Andrea, Jennifer relished the company, delightful conversation and, perhaps above all, a newfound confidence.
"I learned that I'm more capable than I usually think I am," she says. "I learned a lot about the flora and fauna, and about the history of the park. I think the most important learning, though, was being encouraged to challenge myself and finding out that I could do it."
Jennifer's experience in the park also reminded her of how much she used to enjoy spending time outside on trails. Before her Custom Adventure, she had been wary of hiking with friends in her hometown, for fear of being left behind; now, she feels confident that she can keep up. A few months after her trip with Andrea, she carried that self-assurance to Costa Rica, where she challenged herself with a strenuous (and successful) hike up a volcano — something she probably wouldn't have tried before.
"My relationship with Yosemite wasn't really cemented until my Custom Adventure," Jennifer says. "That trip made a huge difference in terms of my experience and confidence. I have fallen deeply in love with the park. Now, I want to do more, get better at hiking, and build my strength and stamina."
Jennifer can't wait to join Andrea for another adventure, and looks forward to exploring local trails with her friends and grandson. For now, as she looks back on her 2018 week in the park, one scene stands out: After her second hike with Andrea, she had ventured back to a trail they'd walked together. She found a rock, sat down for a while, and watched sunlight filter through lacy trees, awash in the "mind-boggling beauty" of an early autumn day in Yosemite.
We love helping moments like this happen! Ready to plan your own Custom Adventure? Whether you have a specific itinerary in mind or, like Jennifer, don't know where to begin, our team can help you connect with a guide and create a tailored experience.
Above: Half Dome and North Dome towering over the Valley, captured in all their granite grandeur by Jennifer Franz during her September 2018 Custom Adventure.