Photo: ARC
Twelve students. Forty days. A 1,101-square-mile national park.
Those are the basic ingredients of the Adventure Risk Challenge (ARC) Yosemite summer course. Add in rigorous academic instruction, outdoor leadership and life-skills training, and you'll find a program that is changing the lives of its participants — and inspiring a new generation of environmental stewards.
ARC, one of the Youth in Yosemite Programs our donors support, connects high school youth with "meaningful and transformational experiences in the outdoors."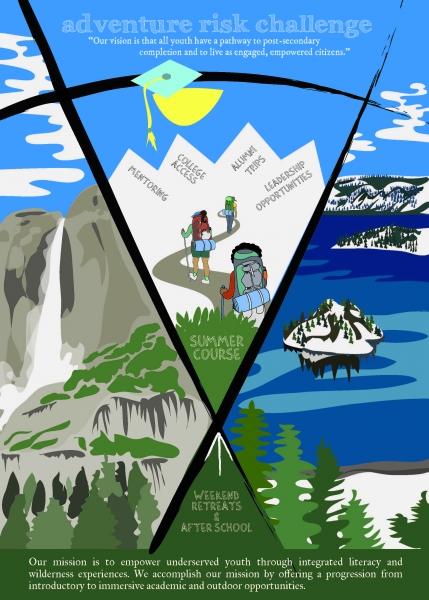 The Yosemite summer course introduces Central Valley students to the national park in their backyard, where they spend six weeks immersed in a granite-carved landscape, stretching their physical, academic and personal limits.
On July 25, 2015, ARC graduated its seventh Yosemite summer cohort; this year, continued support from our donors will help another group of teens benefit from the program.
ARC students backpack, kayak and climb. They study language arts and environmental science, write poetry and essays, and practice public speaking. They learn about conservation and complete stewardship activities. They tackle a 24-hour solo trip in the wilderness.
Busy summer, right? The experience doesn't stop there! ARC's services continue into the school year. Course graduates are mentored by ARC staff and by Yosemite Leadership Program students from UC Merced. They apply skills learned over the summer to lead weekend trips for their peers, and connect with other alumni at reunions.
We were delighted to hear from ARC Program Director Will Fassett about the most recent reunion, which brought together 20 ARC summer alumni for a late January weekend at the Blue Oak Ranch Reserve, a University of California field station and ecological reserve in San Jose. As part of the weekend's activities, the students went on a 9-mile hike through rolling hills, oak woodlands and chaparral canyons. One 2015 ARC graduate, Alondra S., said the hike "helped [her] connect to nature" and offered "a complete lifestyle change from the city to the outdoors."
That feeling of connecting to nature that Alondra found at Blue Oak Ranch echoes in students' words about Yosemite, too. As one 2014 participant observed, spending a summer in the park helps young people find their place in the wider natural world:
"In ARC, I have learned just how crucial everything is in the wild. Everything relies on each other, whether we know it or not, and everything holds a place in life. From the smallest of grass tufts to the biggest sequoias in the park, everything here has a place, and it all comes together to make our home."
As students explore their new "home" in Yosemite and dig into coursework at ARC's academic base in Wawona, they gain confidence and leadership skills. At the Blue Oak Ranch reunion, those skills were on display as the graduates spent Saturday evening reading poetry, performing stand-up and sharing ARC stories in an open mic talent show.
As Will says, the reunions aren't just about hiking, swapping stories and seeing old friends. They give students a chance to reflect on how ARC changed them, and how those changes will shape their futures.
"ARC gives students the opportunity of a lifetime," one alumni said during the Blue Oak Ranch reunion. "Every student that has been with ARC has changed in some way."
Take the story of Jesus A., a 2012 summer graduate who was hired as an ARC intern in 2015. Here's how Jesus described an empowering outcome from his experience as an ARC summer course participant:
"I didn't like speaking in front of people because I was worried about how I sounded as an English language learner … I was stuck with my story of how I immigrated here. I was the only one that knew my story and all my life I'd never shared it. The poetry gave me the opportunity to liberate myself from that burden. I wasn't afraid to say who I was and where I came from. It made me tremendously proud."
Today, Jesus works as ARC's Central Valley bilingual outreach coordinator during the school year, and is looking ahead to a career in outdoor education. His story is one of many tales of transformation that have come out of ARC's Yosemite program over the years. To read more, check out the ARC blog at adventureriskchallenge.org!