Keep up-to-date on the latest happenings in Yosemite.
Yosemite Conservancy magazine gives you a unique insider's view on park happenings, including project updates, new Yosemite Outdoor Adventure programs, special events and future project plans.
Donors who annually contribute $25 or more receive Yosemite Conservancy magazine in the mail twice a year.
Give to Yosemite Conservancy to receive the next issue.
Read the most recent issues of Yosemite Conservancy magazine below.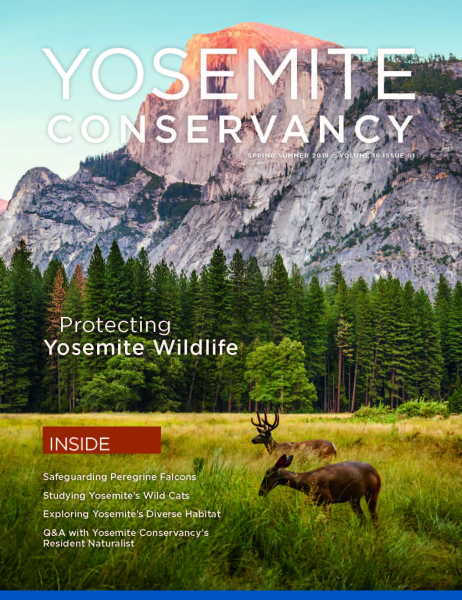 Spring.Summer Issue 2019
Protecting Yosemite's Wildlife
Inside:
Safeguarding Peregrine Falcons
Studying Yosemite's Wild Cats
Exploring Yosemite's Diverse Habitat
Q&A with Yosemite Conservancy's Resident Naturalist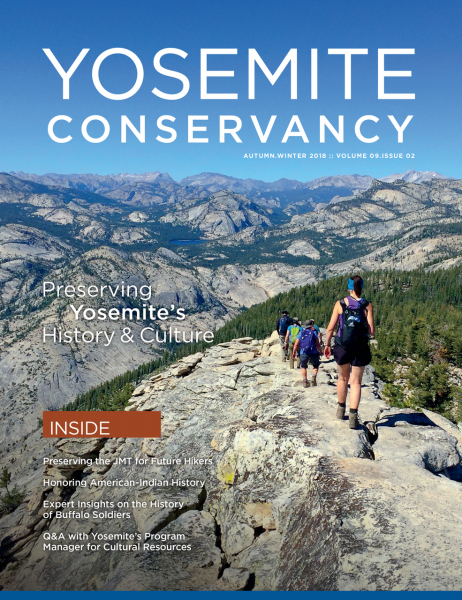 Preserving Yosemite's History & Culture
Inside:
Preserving the JMT for Future Hikers
Honoring American-Indian History
Expert Insights on the History of Buffalo Soldiers
Q&A with Yosemite's Program Manager for Cultural Resources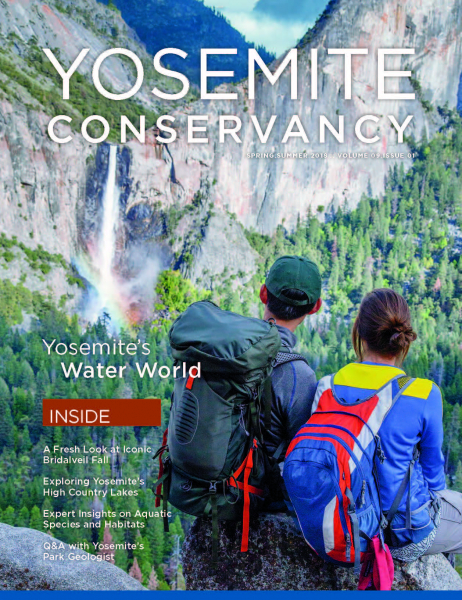 Spring.Summer Issue 2018
Yosemite's Water World
Inside:
A Fresh Look at Iconic Bridalveil Fall
Exploring Yosemite's High Country Lakes
Expert Insights on Aquatic Species and Habitats
Q&A with Yosemite's Park Geologist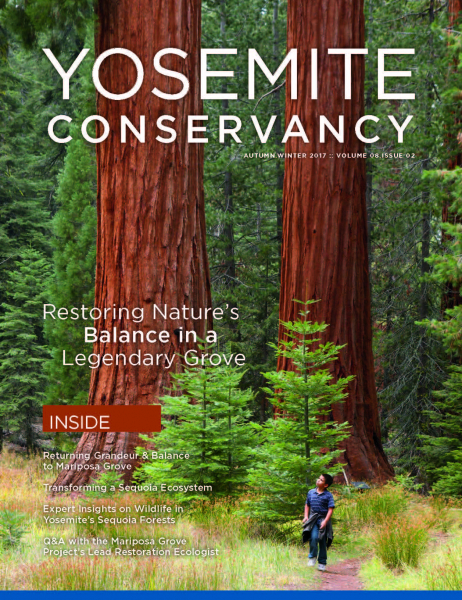 Autumn.Winter Issue 2017
Restoring Nature's Balance in a Legendary Grove
Inside:
Restoring Grandeur and Balance to Mariposa Grove
Transforming a Sequoia Ecosystem
Expert Insights on Wildlife in Yosemite's Sequoia Forests
Q&A with the Mariposa Grove Project's Lead Restoration Ecologist
Exploring the Vertical Wild
Inside:
What it Takes to Climb a Legendary Peak
Restoring Yosemite's Trails
Expert Insights on Climbing Stewardship
Q&A with the Preventive Search and Rescue Supervisor
Want to read more stories from Yosemite? Click here to visit our archive of past magazine issues.