Photo: Nancy Robbins
Nearly 100 years ago, the 1916 Organic Act established the National Park Service to manage the country's growing roster of protected natural places — including the views they provide. Part of the new agency's mission was "to conserve the scenery and natural and historic objects and the wild life therein and to provide for the enjoyment of the same in such manner and by such means as will leave them unimpaired for the enjoyment of future generations."
Magnificent Sierra landscapes captured by 19th century artists helped inspire the groundbreaking 1864 Yosemite Grant Act; today, those same views continue to inspire people to respect the land and do their part to steward the park.
Over the years, our donors have helped improve access to some of Yosemite's most beloved views by supporting the restoration of classic overlooks. Today, we're taking a look back at those projects and celebrating the spectacular scenery they've helped preserve!
---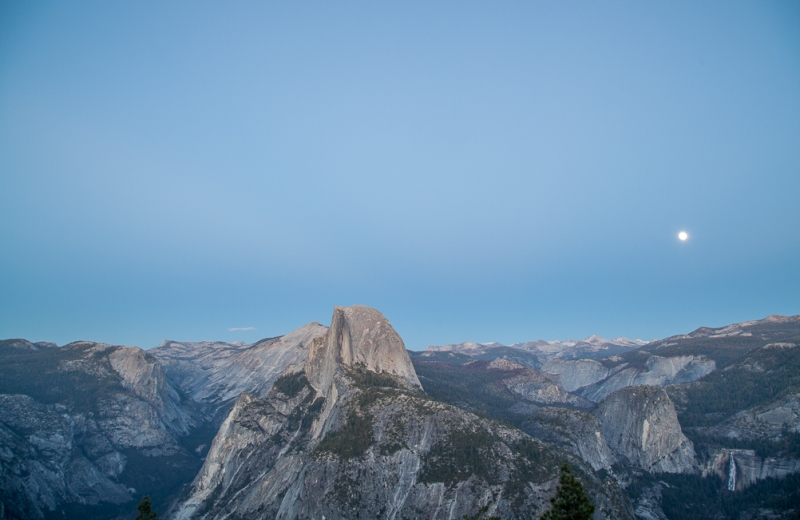 GLACIER POINT (1997)
Location: South wall of Yosemite Valley. Elevation: 7,214 feet.
History: In 1903, John Muir and President Theodore Roosevelt stopped by Glacier Point during their three-day camping trip, 13 years after Yosemite had become our third national park. In 1918, the 80-room Glacier Point Hotel opened, and its employees became the keepers of "Firefall," the long-running tradition of pushing embers over the cliff's edge to create the illusion of a blazing waterfall. The Firefall evenings ended in 1968; a year later, the hotel and nearby Mountain House burned in a real fire.
Known for: Panoramic views of the Sierra Nevada; breathtaking sunsets; stargazing, including seasonal "star parties" hosted by local astronomy groups; providing a welcome stopping point for adventurers hiking up from the Valley (or skiing along Glacier Point Road in the winter); and the Geology Hut, a small stone structure built in 1924 as the first trailside park museum.
Restoration: In the decades after the hotel burned down, the Glacier Point area began to show the impacts of visitor use. With support from donors, a multi-year project (1994-1997) revamped the overlook with a 150-seat amphitheater, a mile of accessible trails, new earth science exhibits, a concession building that transforms into a ski lodge in the winter, and restoration work on the surrounding habitat, including planting native vegetation.
Fun fact: Our President & CEO, Frank Dean, got to play a part in this project back when he was working for the NPS, as a management assistant in Yosemite!
---
OLMSTED POINT (2006)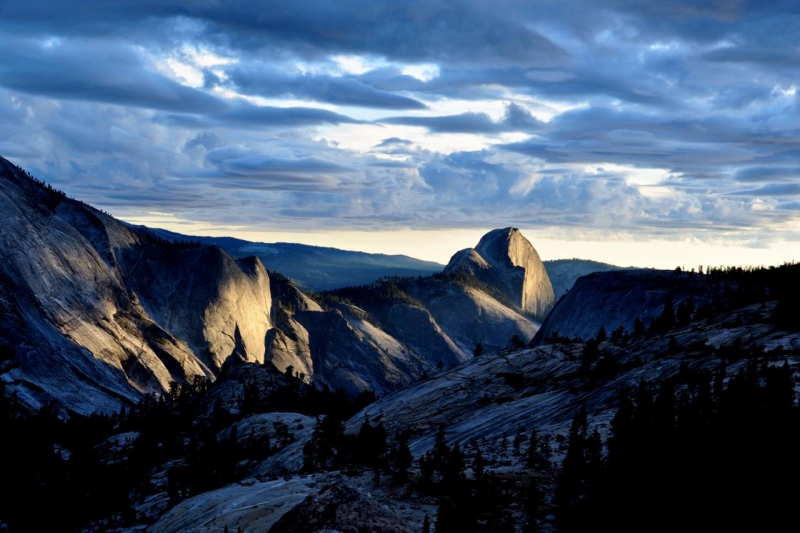 Location: Off Tioga Road, about 1.5 miles southwest of Tenaya Lake. Elevation: 8,400 feet.
History: In 1961, Yosemite's then-superintendent John B. Preston proposed naming this scenic high country spot after Frederick Law Olmsted and his son, Frederick Jr. The senior Olmsted, who is often called the "father" of American landscape architecture, chaired the commission created to manage the Valley and Mariposa Grove in the 1860s. His 1865 "Preliminary Report" on those newly protected landscapes lyrically captured the value of Yosemite scenery:
It is in no scene or scenes the charm consists, but in the miles of scenery where cliffs of awful height and rocks of vast magnitude and of varied and exquisite coloring are banked and fringed and draped and shadowed by the tender foliage of noble and lovely trees and bushes, reflected from the most placid pools, and associated with the most tranquil meadows, the most playful streams, and every variety of soft and peaceful pastoral beauty. This union of the deepest sublimity with the deepest beauty of nature, not in one feature or another, not in one part or one scene or another, not any landscape that can be framed by itself, but all around and wherever the visitor goes, constitutes the Yosemite the greatest glory of nature.
The younger Olmsted, who had followed in his father's architectural footsteps and served on the Yosemite Advisory Board, helped shape language for the 1916 Organic Act.
Known for: Polished granite domes and slopes specked with glacial erratics left behind after the ice melted; breathtaking views of the Valley (including the north side of Half Dome), Tenaya Lake and Clouds Rest; a short but rewarding hike; and marmots (a 1977 Yosemite Nature Notes story noted that visitors referred to the overlook as "Marmot Point" and reminded readers that small actions, such as offering snacks to animals, can have big impact on the natural world).
Restoration: By the early 2000s, a combination of harsh weather, years of use, and burrowing marmots had caused notable erosion at Olmsted Point. Major outcomes from the two-year restoration project (2005-2006) included sturdy retaining walls and seating areas; educational exhibits about the area's geology, wildlife and history (including its father-son namesakes); upgrades on the short stone trail that connects the parking area with a postcard-worthy viewpoint; and improved accessibility for visitors of all abilities.
---
TUNNEL VIEW (2008)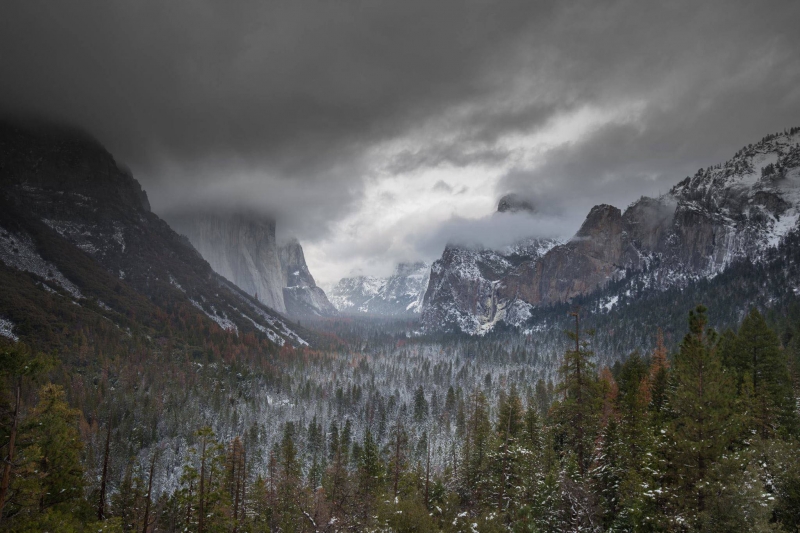 Location: West end of Yosemite Valley, at the mouth of Wawona Tunnel. Elevation: 4,400 feet.
History: The Wawona Road was originally completed in 1875 to usher stage coaches, and later automobiles, into the Valley. By the late 1920s, plans were in place to bore a tunnel through Turtleback Dome, part of an effort to make the road safer without scarring the granite cliffs. Construction on the Wawona Tunnel started in November 1930; two-and-a-half years and 230 tons of dynamite later, the 4,230-foot-long structure was complete, becoming what was then the longest vehicle tunnel in the western U.S. Civilian Conservation Corps members used the excavated material to build the aptly named "Tunnel View" overlook.
Known for: Primarily, the view, an awe-inspiring look through the Valley that prompts visions of a glacier slowing shaping its granite masterpiece thousands of years ago; draws millions of visitors who are up for quick jaunt from the Valley en route to destinations such as Glacier Point and Mariposa Grove; and provides a natural frame for the photographers who cart their cameras to the overlook in every season.
Restoration: By 2008, more than 70 years of vehicle and visitor use (as many as 5,000 people per day!) had left Tunnel View showing signs of disrepair. Traffic conditions had become unsafe, cars and pedestrians were jostling for space, and visitors were trampling the habitat around the overcrowded viewing area. Today, you'll find a fully redesigned overlook, with improved accessibility, an expanded viewing area, safer pathways for people and cars, and interpretive information (including a bronze relief map of the Valley). The project also restored surrounding habitat and created a new trailhead for the hike Inspiration Point, where you can pick up the Pohono Trail and head to Glacier Point. And now we've come full circle!
Check out some of our staff picks below for tips on exploring Yosemite's classic overlooks, and read about our current grants to see how you can support restoration projects in the park this year!