When I was a boy in Scotland, I was fond of everything that was wild, and all my life I've been growing fonder and fonder of wild places and wild creatures.
So begins John Muir's The Story of My Boyhood and Youth, an apt opening for a memoir by a man who remains famous for his affinity for the natural world, more than a century after his death. Muir's enduring renown is partly anchored in his writings, a vast collection of oft-quoted (and misquoted) observations and recollections from his adventures.
In honor of Muir's birthday (and just in time for Earth Day), we're taking a quick tour through his story, and highlighting some snippets from his literary legacy.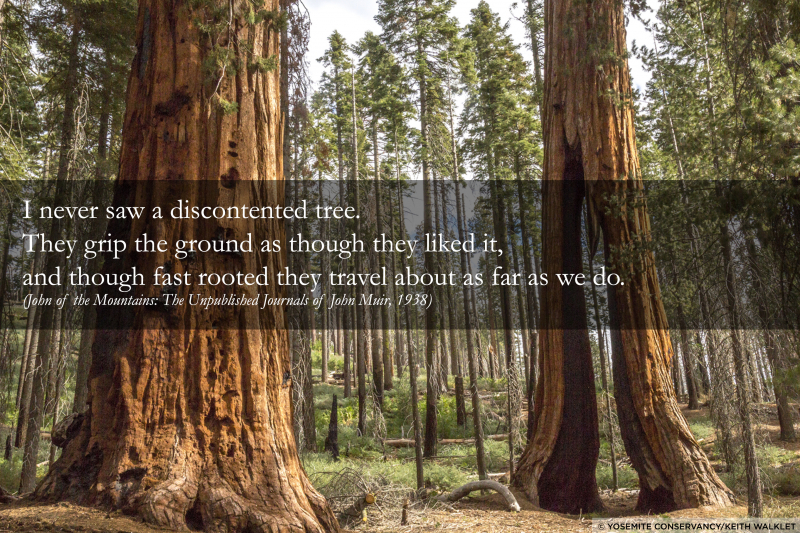 John Muir was born on April 21, 1838 in Dunbar, Scotland, where he spent free time wandering the fields and seashore. At age 11, he moved to Wisconsin with his family. There, Muir discovered the local musicians (partridges, jack snipes, brown thrushes, frogs) and "flower wonders" (water lilies, lady's slippers, butterfly weed), learned to hunt and farm, and nurtured new passions for poetry and mechanical invention.
Almost two decades later, after working his way through a few years of study at the University of Wisconsin in Madison, being temporarily blinded by a manufacturing injury, and walking 1,000 miles from Kentucky to Florida, a 30-year-old Muir found himself in San Francisco. From there, he embarked on another long walk, from the Bay Area to the Sierra Nevada.
(In Anywhere That Is Wild, a 2018 book from our publishing team, authors Peter and Donna Thomas trace the story of that hike — or saunter, as Muir might prefer — across California's Central Valley. Muir, a prolific writer, never recorded a full account of his 1868 walk, but when he returned to the mountains as a sheep herder the following summer, he kept journals that became My First Summer in the Sierra.)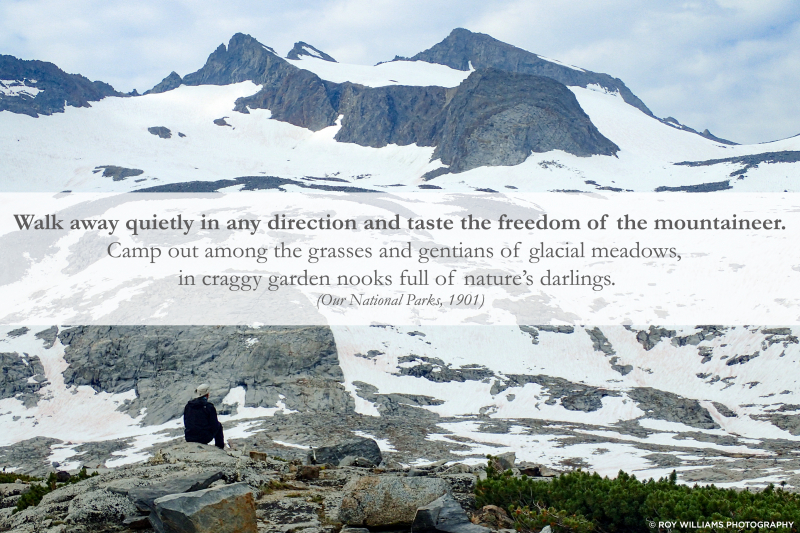 Muir settled in California, but continued to travel the West (and the world), climbing and studying glaciers and peaks, camping with poets and politicians, and regularly recording his observations. He earned an array of titles — most of them informal — over the years: scholar and scientist, adventurer and activist, rancher, Sierra Club co-founder, fossil-collector, inventor, botanist, educator, Juris Doctor (one of four honorary degrees), and father — of two daughters, and of our national park system. He advocated for the protection of public lands, including Yosemite, Sequoia, Mount Rainer, Grand Canyon and Petrified Forest national parks.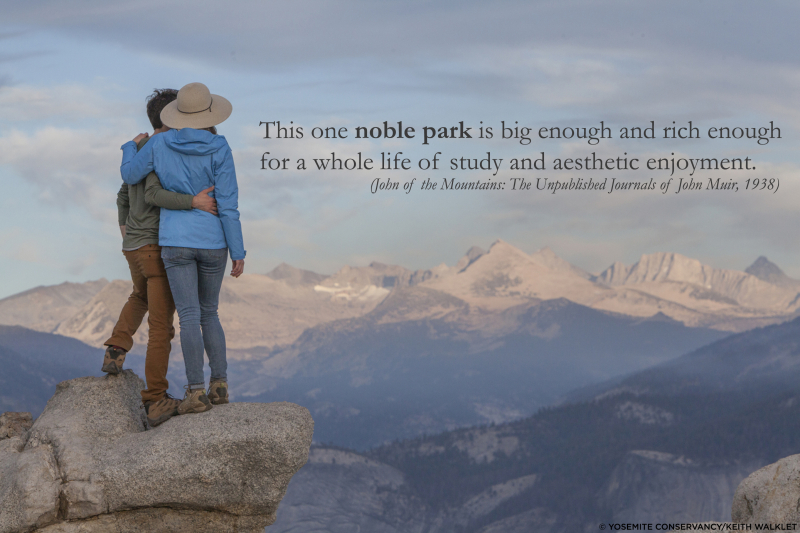 Muir passed away on December 24, 1914, at the age of 76. More than a century later, his presence persists, including in the many places that bear his name, such as Alaska's Muir Glacier; California's Muir Woods National Monument and John Muir Wilderness; and the multiple John Muir trails. Look for the plaque marking the location of his short-term Yosemite Valley cabin near Lower Yosemite Fall, or visit the 14-room Martinez mansion where Muir lived with his wife, Louisa (Louie), and daughters, which is now the John Muir National Historic Site.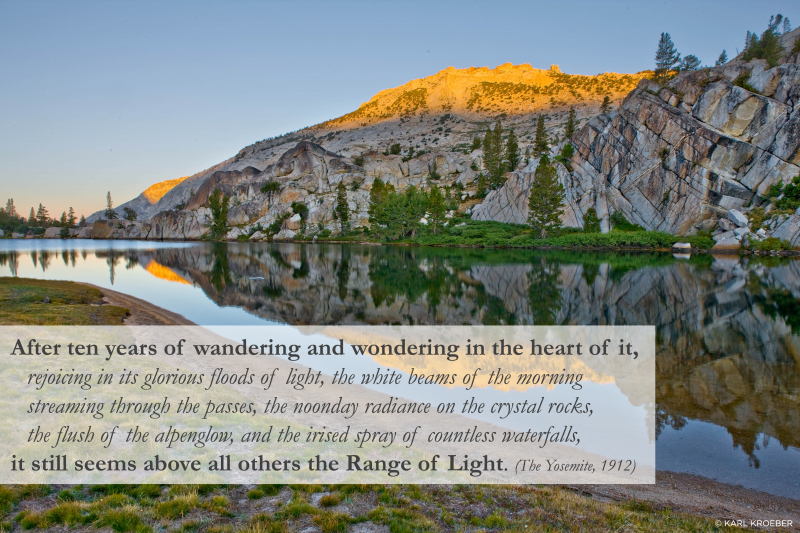 Muir is also palpably present at the Yosemite Theater, where actor and historian Lee Stetson brings the famed naturalist back to life through a series of engaging, entertaining and educational performances. We introduced Stetson on this blog in 2016, when he was preparing to walk Scotland's 134-mile John Muir Way, but his connection to our organization — and to Muir — goes back much further.
Stetson began portraying Muir in Yosemite in 1983; today, he is as Muir-ian as ever, morphing into character with a long white beard and Scottish accent, and captivating audiences with tales of adventures in the western wilderness (including many with canine companion Stickeen), of a storied 1903 camping trip with President Theodore Roosevelt, and of the battle to prevent the damming of Hetch Hetchy Valley.
Each time Stetson takes the stage, he transports us back in time, but makes us think about the present and future: What are we doing now to protect our parks and planet? What more can we do? What have we learned since his day; what have we forgotten?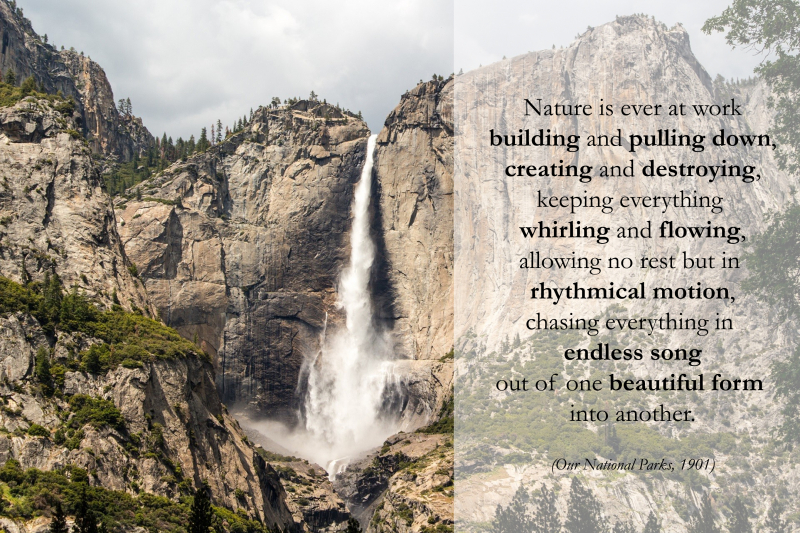 And of course, Muir lives on through his writings: more than 300 articles, 10 books (some published posthumously), plus abundant letters and journals. His prose often exudes a sense of exuberant curiosity nourished by deep woods and high mountains, whether in detailed observations of plants, birds and animal-mountaineers; in essays about glacial movements; or in the description of his first Sierra bear encounter, recalled with humor (and humility) as an occasion to learn "the right manners of the wilderness."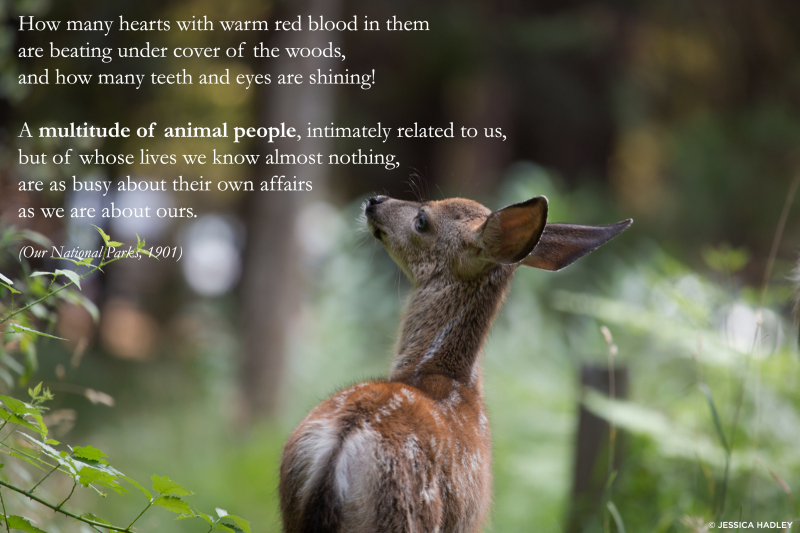 In one journal entry (published in 1938 as part of John of the Mountains), Muir mused: "How little note is taken of the deeds of Nature! What paper publishes her reports? …. Who publishes the sheet-music of the winds, or the written music of water written in river-lines? Who reports the works and ways of the clouds, those wondrous creations coming into being every day like freshly upheaved mountains?"
Who, indeed? Muir, for one.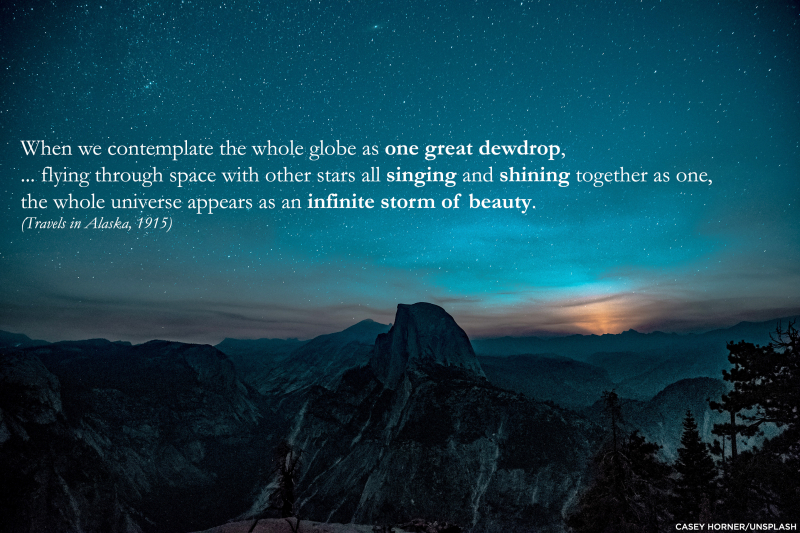 It can be easy not to take note of the natural world, not to observe and appreciate winds and rivers and clouds and mountains and stars. It's easy to skate along the surface of our planet and remain, as Muir said, on the world, not in it.
But if you can, try dipping below that proverbial surface once in a while. If you need motivation, keep some of Muir's endlessly quotable advice in your back pocket: Come to the woods. Lie down among the pines for a while. Seek out-of-the-way places. Keep close to Nature's heart.
Heed the call of the mountains, or the forests, or the shores — not just to snap a photo and say you were there, but to observe natural landscapes and processes, and to consider how your actions can help or harm the ecosystems around you.
The next time you find yourself in Yosemite (or any outdoor space), whether for National Park Week and Earth Day, or on a crisp autumn afternoon, or in the middle of a winter snowstorm, take time to immerse in your surroundings. Look closely at dewdrops and leaf patterns. Listen to woodpeckers and wind. Picture what the place looked like a hundred, a thousand, or a million years ago. Watch clouds and colors shift as dusk falls, and imagine the sun rising over a different part of the globe.
Give it a try, and notice how each observation, no matter how small, helps you — in Muir's words — get "near the heart of the world."
Above: John Muir in Yosemite, circa 1902. Credit: John Muir Papers, Holt-Atherton Special Collections, University of the Pacific Library, © 1984 Muir-Hanna Trust